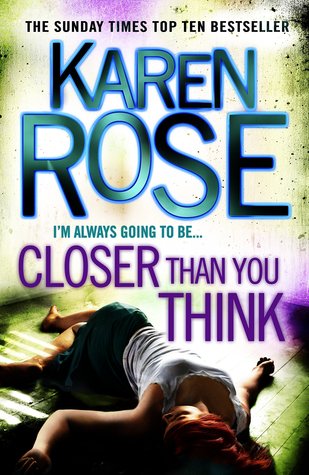 Closer Than You Think
by
Karen Rose
Series:
Faith Corcoran #1
Published by
Headline
on 02-03-2015
Genres:
Romantic Suspense
Pages:
544
Format:
eARC
Source:
NetGalley
Goodreads
Amazon
, 
Audiobook





Psychologist Faith Corcoran is desperate to escape the stalker who's made her life a nightmare for the past year—desperate enough to run to the one place that has been her nightmare far longer. Both boon and bane, her recent inheritance of her grandmother's old house in Cincinnati offers sanctuary in which she can start her life anew, but requires that she face the dark memories that still resonate to this day.

But she has no idea how close to home her fears still are.

Two college girls have gone missing in the area, and FBI Special Agent Deacon Novak is called to work on the case. When his inquiry unexpectedly leads him to Faith, he finds a beautiful and brave woman he can't help but fall for. Soon they'll discover that this seemingly simple investigation is anything but. Reaching back decades into Faith's own past, it will shatter everything she believes to be true and will give terrifying new meaning to flesh and blood.

This is one heck of a LOOOOONG book.  I was so interested and kept reading but hours kept flying by.   I read pretty fast and it still took more than one day with lots of reading time.
CLOSER THAN YOU THINK is the first book in a new series.  I did a little research since I had never read this author and because I definitely want to read the next book in this series.  I found this is sort of spin-off of a big series called Romantic Suspense, which has 15 books, but is also the 16th book in that series. From the author's website, the books all seem to share some characters but can be read stand alone.
The main guy in this book, Deacon, is in some of the earlier books.  It seems to be about the head of his old FBI team he worked with before moving back to Ohio where this book is set. I've already ordered up the first one from the library.   There are other related people in other cities too, though.
As a romantic suspense book, this had lots of action,  and some sexy times.  Because of the heightened emotions of the life and death situation, the relationship progressed faster than one normally would.  The world set up here in Cincinnati, Ohio had many details, a wide cast of characters, some real mysteries and some long-term plots.  It was fascinating and not overwhelming.
I cared about these people.  They were strong and realistic.  They had a wide range of emotions.  No one seemed to cliché. Most were rather complex, not being all bad or all good.  There was enough going on in their lives besides the big serial killer case to feel real, but not so much I got bogged down.
I really liked the amount of dialog between Deacon and Faith.  They really talked to each other and that gave me the feelings about their connection.  They've both made big changes in their lives recently moving to a new town and new jobs.  There are sexy times. ☺
There is also some funny and that is always necessary but especially with all the darkness and violence when a serial killer is on the loose.  I'm really glad these characters are smart, for the most part, and not too stupid to live. They are human, so they make a few mistakes.
I'm interested to see how this series continues.  It's the Faith Corcoran series so will it be about her in future books or will each book be a romance with a different couple perhaps?  Closer Than You Think is a well-written story packed with things happening and interesting people.  It's good enough I want to read on, as well as start at the beginning.  The next book, as yet untitled,  will be released in 2016 and based in Cinncinnati.
Giggle worthy quote:   
"Most teenagers are rebellious." She said mildly.

A growl rumbled deep in his throat. "Most don't get suspended from school twice in as many months."

His side of the conversation started to make sense. "You're going to the principal's office?"

"Yeah.  And not looking forward to it."

"Spent a lot of time there, huh?"

He slid her a wary glance. "Quantify 'a lot.'"

She chuckled, charmed in spite of her best intentions. "If I have to quantify it, that answers my question."
Latest posts by Anne - Books of My Heart
(see all)
Related Posts