Review copy was received from Publisher. This does not affect my opinion of the book or the content of my review.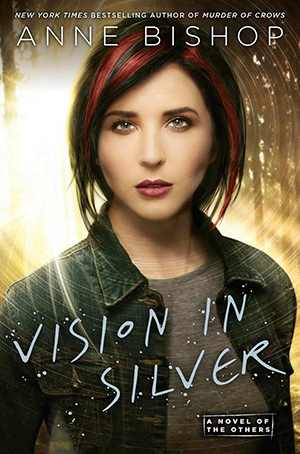 Visioin in Silver
by
Anne Bishop
Series:
The Others #3
Published by
Roc
on March 3, 2015
Genres:
Urban Fantasy
Pages:
400
Format:
eARC
Source:
Publisher
Goodreads
Amazon
, 
Audible
, 
Barnes & Noble





The Others freed the cassandra sangue to protect the blood prophets from exploitation, not realizing their actions would have dire consequences. Now the fragile seers are in greater danger than ever before—both from their own weaknesses and from those who seek to control their divinations for wicked purposes. In desperate need of answers, Simon Wolfgard, a shape-shifter leader among the Others, has no choice but to enlist blood prophet Meg Corbyn's help, regardless of the risks she faces by aiding him.

Meg is still deep in the throes of her addiction to the euphoria she feels when she cuts and speaks prophecy. She knows each slice of her blade tempts death. But Others and humans alike need answers, and her visions may be Simon's only hope of ending the conflict.

For the shadows of war are deepening across the Atlantik, and the prejudice of a fanatic faction is threatening to bring the battle right to Meg and Simon's doorstep…
Vision in Silver is on my most anticipated list for this year.  The first two books in the series were on my top 10 favorite reads of 2014.  I was so excited to get Vision in Silver and read it.  I do think it is best to read urban fantasy, in general, and this series in particular, in order.
The Others series, has all the things I love which make it a favorite.  The characters, the plots, the world building, the feelings inspired are all AWESOME!
This story is very unique; the world is so different.  It is so well-written; it is a pleasure to read and learn more about the species and characters.  The characters, world and species complexities are woven into the plot, it makes it fascinating and hard to predict what will happen next.
I'm worried about Meg's life but at least she has a life now.  I'm ecstatic to see her have friends and a "family."  I care about these characters, this world.
When cs821 told Jackson her name, tears ran down my cheeks.  And that's really what it's all about for me. A book that makes me laugh, cry, worry, rage and love; it's an amazing book.  I can hardly wait for the next book in March 2016, every book in this series is a favorite.  Vision in Silver is 5 PLUS stars for me and was my top pick for February 2015.  The Others series is in my top 5 series overall.
Giggle-worthy quote:
Sitting in the Business Association's meeting room with Vlad, Henry, and Tess,  Simon refocused his attention on Pete Denby and the excruciating list of papers that needed to be filled in or signed or some other such thing in order to purchase a building.

Why couldn't they just give the human female a bag of money and then just pee on the building so everyone would know it was theirs?
Latest posts by Anne - Books of My Heart
(see all)
Related Posts