Review copy was received from Author. This does not affect my opinion of the book or the content of my review.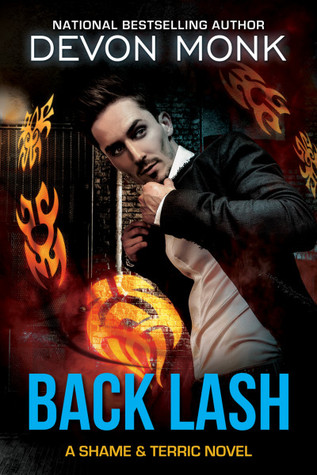 Back Lash
by
Devon Monk
Series:
Shame and Terric #1
Published by
Odd House Press
on November 12th 2015
Genres:
Urban Fantasy
Format:
eARC
Source:
Author
Goodreads
Amazon





Magic isn't a blessing with drawbacks, it's a curse with upsides.

Shame Flynn and Terric Conley hadn't meant to become the living, breathing vessels for Death and Life magic. But they hadn't meant to die, be reborn, break magic, save the world, and kill a few psychopaths along the way, either.

The one thing they had meant to do was to seal magic away so it could never be used to kill again.

When a string of dead bodies–people killed by magic–appear throughout Portland, Oregon, Shame and Terric must scramble to uncover who broke the locks on magic and how.

Before Terric's sister becomes the next target.

Before the Russian mob locks them in their sights.

Before the question of who can control magic is decided by bullets and blood.
I loved the feel of this because I love Shame and Terric. In fact, I read 25% and then struggled to pick it up again because I didn't want it to be finished. Back Lash felt so fast, so short. I looked now and it is 146 pages rather than around 300, so it is a shorter book.
I just enjoy their foibles and idiosyncrasies. I laughed and giggled at them and how true to themselves they are. There's just something about them. This was totally a Shame and Terric book, which included Dash, and Terric's sister, Jolie. Other favorites like Cody, Zayvion and Allie were only barely mentioned. No characters from other series had dialog or an actual part in this story. I'm also a HUGE fan of Cody and Stone, so I hope they will show up in the future.
The story is reasonable and fits the new landscape of their world, although the coincidences are a bit much. It feels a bit indulgent. I am not sure it would be as enjoyable as a stand-alone without the cumulative relationship with these characters. But I don't FREAKING care. I'm waaaaaaay emotionally attached.
It's a fantastic setup of our guys up for future adventures. Goodreads has it as Shame and Terric #1. I was thinking of it more as #3 after Hell Bent and Stone Cold. So if it is #1 in the Shame and Terric series, that means there will be more. Right? I can drool over Shame and laugh at their banter all day and night. *winks*
Giggle worthy quote:   
"Terric?" I said. " A word?" I walked out of the kitchen. "What happened to ten minutes ago? Where we decided there was no way we were going to let her live in this very dangerous house?"

"Where else is she supposed to go?" he angry-whispered. "Who else but you and I can keep her safe?"

"Keep her safe while we deal with someone killing with magic?" I asked. "If that goes to hell and we don't find out who's doing that, the Russian mob's going to look like fuzzy duckies compared to the fight we're headed into."

"I know."

"Someone is killing people with magic," I reminded him, as he had reminded me just a few minutes ago."Killing."

He inhaled, exhaled, his worry and pain churning between us. "What do you want me to do, Shame? Where can we send her so she'll be safe?"

I thought about the basement storage under Jak's shop and knew even that wouldn't keep her away from the mob for long. There wasn't any place I could think of where she'd be safe.

"Fuck."

"Exactly," he said.
Latest posts by Anne - Books of My Heart
(see all)
Related Posts