Review copy was received from Author. This does not affect my opinion of the book or the content of my review.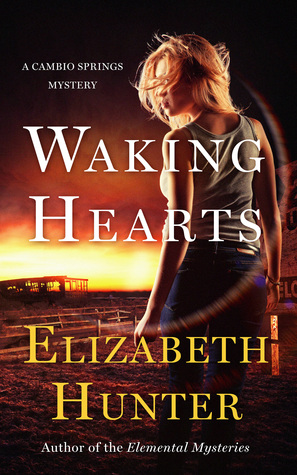 Waking Hearts
by
Elizabeth Hunter
Series:
Cambio Springs #3
on November 24, 2015
Genres:
Paranormal Romance
Format:
eARC
Source:
Author
Goodreads
Amazon





When everything you've longed for is standing right in front of you, would you find the courage to chase it when you've given up on dreams?

Fox shifter Alison Smith gave up on happy endings when her ex-husband walked out, but that didn't mean she was allowed to give up on happiness. With four growing kids, Allie is determined to look on the bright side and carry on, even when life seems to keep kicking the girl who's fallen down.

Four kids, two jobs, and a pile of debt left over from her ex seem overwhelming most days. Luckily, Allie has the best friends a girl could ask for. Especially a certain quiet bear who's always been her rock.

Patient. Oliver Campbell knows what it means to be patient. But twenty years of wanting one unavailable woman may have pushed him to the edge. With Allie working every night at his bar, their friendship has begun to fracture.

Then old ghosts offer one more kick to the little family that's already down, and patience is a virtue Ollie can no longer afford. Allie's ex-husband may be gone, but his actions are haunting his family. With danger licking the borders of Cambio Springs, the bear and the fox will have to work together. And twenty years of unspoken truths may finally come to light.

WAKING HEARTS is the third paranormal romance novel in the Cambio Springs Mysteries series.

[su_spacer]
Love it. Love it. Love it.  I think this is my favorite series of her series. Why?  They are all well-written and most of her books are 5 star reads for me.  I confess I have not read all of the original Elemental series YET. The other books are perhaps more adult, or complex or darker?  
Anyway,  Cambio Springs is comfort. It has family and close friends, big families, small town, romance, mystery and action.  And my other favorite?  HUMOR.  "I'm shocked. So shocked." Snickers. Maybe that's it – it has more humor.  And this series is more PNR (paranormal romance), while the others are maybe more UF (urban fantasy).  I usually think I like UF more.
The stories are about a small town full of shifters. As far as they know, they are the only shifters on earth. In this story, Ollie has his chance with the woman he has loved since high school. He's loved her for about 20 years.  I love these two people.  Allie is so strong, SO strong and light.  I don't know how she manages so much.  Ollie is Mr. Strong and Silent.  They've always been attracted and liked each other.  They work together at Ollie's bar, The Cave.  
I love the way they treat each other. I love the way they all support each other, the families and friends. Each character is real to me, including the children.  I love the distinct qualities of each of the shifter families.  I love seeing all the people from all the books and getting to know more about a couple and their families than the peek from earlier books.
Highly recommended. Waking Hearts is the ultimate comfort  for me.  Do read the books in order to experience all the relationships, connections and inside jokes.  It lays the groundwork for some great stories to come but not in a cliffhanger way.
Books in the series:
Giggle worthy quote:   
But now…

"What if she does end up having a rebound relationship, huh? You think you're going to be able to handle seeing her go out with another guy under your nose?"

Ollie knew the answer to that. He'd go insane. But he also didn't know what to do about it. He couldn't think of a way to broach the topic without coming across as a presumptuous asshole.

Morning, Allison. I've been in love with you for about twenty years now. Would you like to go out for coffee?  Or maybe just marry me and put me out of my misery?
Latest posts by Anne - Books of My Heart
(see all)
Related Posts