Review copy was received from Publisher. This does not affect my opinion of the book or the content of my review.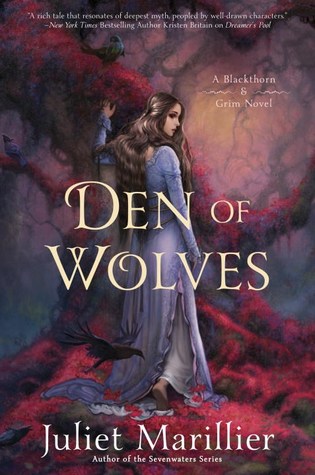 Den of Wolves
by
Juliet Marillier
Series:
Blackthorn & Grim #3
Published by
Roc
on November 1, 2016
Genres:
Fantasy
Pages:
448
Format:
eARC
Source:
Publisher
Goodreads
Amazon
, 
Audiobook





Feather bright and feather fine, None shall harm this child of mine...

Healer Blackthorn knows all too well the rules of her bond to the fey: seek no vengeance, help any who ask, do only good. But after the recent ordeal she and her companion, Grim, have suffered, she knows she cannot let go of her quest to bring justice to the man who ruined her life.

Despite her personal struggles, Blackthorn agrees to help the princess of Dalriada in taking care of a troubled young girl who has recently been brought to court, while Grim is sent to the girl's home at Wolf Glen to aid her wealthy father with a strange task—repairing a broken-down house deep in the woods. It doesn't take Grim long to realize that everything in Wolf Glen is not as it seems—the place is full of perilous secrets and deadly lies...

Back at Winterfalls, the evil touch of Blackthorn's sworn enemy reopens old wounds and fuels her long-simmering passion for justice. With danger on two fronts, Blackthorn and Grim are faced with a heartbreaking choice—to stand once again by each other's side or to fight their battles alone...
The words on the page here are beautiful; they are well-crafted into a flow of emotion and provide a view for the imagination. One can see the setting, the people. This is well-written. The characters are well developed, even the mentions are unusually defined. Den of Wolves is the third in the Blackthorn & Grim series, all of these books are excellent. I happily found these stories by receiving the second book, Tower of Thorns  (my review) in an AceRoc stars package. Even the covers are lovely.
The beginning takes us to a new group of folks at Wolf Glen and the daughter of the manor, Cara. Her mother has died (as in all fairy tales?!?). Cara is the age to begin finding a suitor. Her father and aunt are working to overcome her idiosynchrocies, as they see them. She gets sent to Oran's household, Dalraida, where Blackthorn, as a healer, is set to help her.
Meanwhile Grim takes on a large building project at Wolf Glen and is away much of the time. Blackthorn and Grim each learn pieces of the puzzle and have limited opportunity to share information and debate theories. And life goes on with other happenings. Blackthorn's hated Mathuin continues his horrid behavior which brings things to a head.
Blackthorn and Grim both grow and continue their way of helping others and solving puzzles. They discover more about the fey and some history of Conmael. Pieces of the three books intertwine and the couple learns more about themselves and each other. It looks like this will be the final book, but I'd love to read more of their solving problems, helping people and working to build their lives. Highly recommended trilogy.
Latest posts by Anne - Books of My Heart
(see all)
Related Posts