Review copy was received from Publisher. This does not affect my opinion of the book or the content of my review.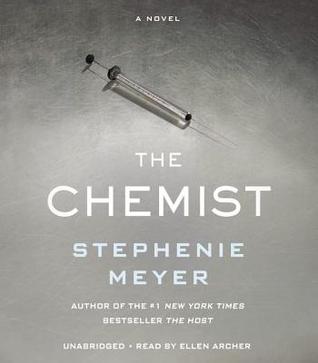 The Chemist
by
Stephenie Meyer
Narrator:
Ellen Archer
Published by
Hachette Audio
on November 8, 2016
Genres:
Science Fiction
Pages:
518
Length:
17 hours
Format:
Audiobook
Source:
Publisher
Goodreads
Amazon
, 
Audible
, 
Audiobook






In this gripping page-turner, an ex-agent on the run from her former employers must take one more case to clear her name and save her life.

She used to work for the U.S. government, but very few people ever knew that. An expert in her field, she was one of the darkest secrets of an agency so clandestine it doesn't even have a name. And when they decided she was a liability, they came for her without warning.

Now she rarely stays in the same place or uses the same name for long. They've killed the only other person she trusted, but something she knows still poses a threat. They want her dead, and soon.

When her former handler offers her a way out, she realizes it's her only chance to erase the giant target on her back. But it means taking one last job for her ex-employers. To her horror, the information she acquires only makes her situation more dangerous.

Resolving to meet the threat head-on, she prepares for the toughest fight of her life but finds herself falling for a man who can only complicate her likelihood of survival. As she sees her choices being rapidly whittled down, she must apply her unique talents in ways she never dreamed of.
I had no idea what to expect, so The Chemist was an awesome surprise. I loved it from beginning to end. If it were a book, it would be a page turner but since I was listening, I wanted to listen ALL THE TIME. There were so many things to love! It had great characters, SCIENCE, action / adventure, romance, humor and dogs!
The problem with listening is not knowing how to spell anyone's name and not being able to highlight the humorous quotes or make notes in the way I would with an ebook. I think it takes longer, too, since I can read faster but it is such a pleasure. Ellen Archer was great at capturing the emotion of the characters and making them individuals for me. Her pacing felt right. She was clear and easy to understand.
Since the characters are on the run the names change, so that's not such a big issue or maybe it's worse since there are more names I can't spell? I came to love these unusual characters and their strength and compassion. I liked how Julianna / A;ex came out of her isolated shell to build relationships in spite of the risks to her own life. Daniel was just a shining white knight. Kevin, well, he can be such an asshole, but a ninja one.  I do LOVE, LOVE the dogs. They added another strong note of loyalty and caring.
The suspense was fun and scary. They are so talented but things can and do still go wrong, when people are trying to kill you. I like the details the planning, the scientific and fighting skill preparations. Val added a unique skill to their little team, but I worried about trusting her. It wasn't easy worrying for people and dogs I loved might die at any time but I had to trust the author.  I really loved this.  Highly recommended.
Rating Breakdown
Plot
Characters
Dialogue
Narration (Audio)
Overall:
Latest posts by Anne - Books of My Heart
(see all)
Reading this book contributed to these challenges:
Related Posts