Review copy was received from NetGalley. This does not affect my opinion of the book or the content of my review.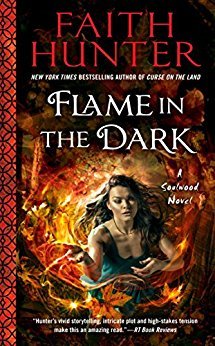 Flame in the Dark
by
Faith Hunter
Series:
Soulwood #3
Published by
Ace
on December 5, 2017
Genres:
Urban Fantasy
Pages:
368
Format:
eARC
Source:
NetGalley
Goodreads
Amazon
, 
Barnes & Noble






Nell Ingram has always known she was different. Since she was a child, she's been able to feel and channel ancient powers from deep within the earth. When she met Jane Yellowrock, her entire life changed, and she was recruited into PsyLED—the Homeland Security division that polices paranormals. But now her newly formed unit is about to take on its toughest case yet.

A powerful senator barely survives an assassination attempt that leaves many others dead—and the house he was visiting burns to the ground. Invisible to security cameras, the assassin literally disappears, and Nell's team is called in. As they track a killer they know is more—or less—than human, they unravel a web of dark intrigue and malevolent motives that tests them to their limits and beyond.
Wow!  Flame in the Dark was interesting on so many levels. There was some world-building in the types of supernaturals and also the traits of ones we already know.  The PsyLED team has a big, intensive new case. The team members of Unit 18 have various professional and personal developments. Best of all, Nell grows.
Nell is so strong and smart. She is NOT lazy. Nell chooses to do the right thing, in spite of the physical or emotional dangers. She has integrity and thinks of others. Nell has growth in so many aspects of her life and is learning about herself. It is incredible to be there with her.
I couldn't put this down! The Soulwood series, being urban fantasy, really must be read in order. And you want to read them anyway, since they are so good, including the Jane Yellowrock series.    This is really one of my favorite related series in urban fantasy. I am always excited to read Faith Hunter and look forward to more about Nell.
GIVEAWAY!
The tour giveaway is for 3 sets of the 1st 2 Soulwood books ( BLOOD OF THE EARTH and CURSE ON THE LAND ) and one $50 Amazon gift card (US residents only)!
How Occam Got His Name              Part Six
serial short story                                                        
By Faith Hunter
The big cat took off like its tail was on fire and was gone.

"Dayum, Trace. That thing was big. That was a jaguar fer sure." Wayman sounded spooked.

Trace said nothing. His senses were frozen, his ears deadened from Wayman's ear-piercing scream, his breathing fast from fear.

"Come on, Trace. Let's get back to the tent afore it finds us again."

They clattered down the hillock to the wash below, Trace wondering how the tent would protect them from a jaguar—if that's what it was, and not a devil-cat. His daddy's sermons about demons who take up the form of predators and hunt humans, banged around in his skull. The Nephilim and demons with huge teeth and claws. Like the spotted thing caught in his flashlight.

As they moved along the wash, Wayman's flash picked out their path. Trace kept his moving around the hillocks to either side and along the path behind them. Once, he caught a hint of movement, but when he backtracked with the light, the thing was gone. Just like his interest in the meteor shower overhead.

Though he kept seeing bloody bodies on the sandy wash bottom, images put there by the demon that was hunting them, they made it back to the small tent near 82—the main road through Dickens—and made a small fire from dried wood they found in the wash. Then they zipped themselves inside. It was stupid, but the thick layer of tent fabric made Trace feel safer.
Latest posts by Anne - Books of My Heart
(see all)
Reading this book contributed to these challenges:
Anne: 2017 New Release Challenge
Related Posts