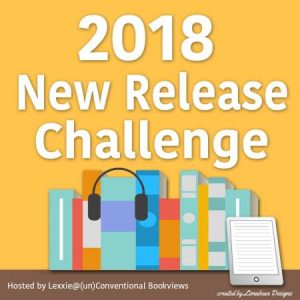 This was new to me in 2017 but is one of my easiest to participate challenges. I read new books all year, so why not do this?  Of course, some books, I don't want to write reviews.  And I need to watch myself to not leave all my January 2018 review books to read until after January 1.
I figure I read at least one new book a week, and I'm at -wow- ok,  I'm at 115 with a month left of 2017.  But I didn't review them all on the blog or the reviews aren't posted yet.  I guess I'm pretty sure I'll be a New Release Veteran with at least 80 books or audiobooks in 2018. Like Lexxie,  I have a New Release shelf on Goodreads (which will contain multiple years). (I love the select multiple shelves feature; it is like the intersection of a Venn diagram when I select New Release and whichever year)
Here is the info about the challenge and the sign up link:
The 2018 New Release Challenge is a year-long challenge in which we aim to read books released in 2018.    There is one post on the top of my homepage for all review links for the year, where the link is open for books you read and review each quarter..
There is a Facebook Group for the 2018 New Release Challenge, to have a place where we can keep up with each other, cheer each other on, and get to know each other better. It is also a place where we can help each other find even more new releases. For those of you who have already participated, it's the same group as before.
The rules for the 2018 New Release Challenge are simple:
Books have to be released and reviewed in 2018.
Other challenges can be used as well, if you are participating in the Netgalley / Edelweiss challenge or in the COYER challenge, books can count towards more than one challenge, as long as the ones you use for the 2018 New Release Reading Challenge qualify to the other rules.
The minimum length for a book to qualify is 100 pages, it can be in any format though, physical, e-book, ARC or audiobook.
The New Book Release Challenge is open from January 1st through December 31st 2018, and sign-ups are open until September 1st 2018.
You don't have to be a blogger to participate, you can link to your review on Goodreads or Booklikes instead – so don't be shy!
There are five levels  in the 2018 New Release Challenge:
1-30 books per year – New Release Newbie
31-60 books per year – New Release Pro
61-100 books per year – New Release Veteran
101-200 books per year – New Release Enthusiast
200+ books per year – New Release Obsessed
To sign up, please link your sign-up post in the linky below, and also make sure you use the quarterly linky for your reviews, as that will be the way the giveaway winner will be chosen. You can choose if you want to do monthly or quarterly challenge updates on your blog, but you will have the possibility to link up each quarter with your reviews.
I can't really remember any time when I wasn't reading. I LOVE books and what they give me. It's an opportunity to learn new things, see new places,live different emotions in a "safe" way. It lets me live in a new world.
I read all types of books but my favorites are urban fantasy and romantic suspense.I like some romance and some action / adventure / mystery in everything.I like sex in my books but please, only between TWO people.Intimate conversation is equally important to the sex in a book.It lets me see the characters.The other thing I enjoy is humor.
Friend me at Goodreads.