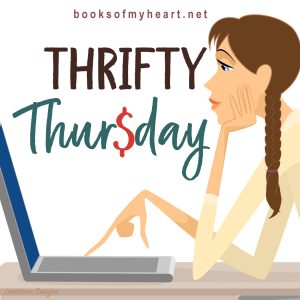 The purpose of Thrifty Thursday is to read a book which was free (at some point).
Kindle freebie on April 11, 2017  (currently $0.99 at Amazon and Barnes & Noble as of writing this post)
Overall rating 3.84. with 190 ratings and 31 reviews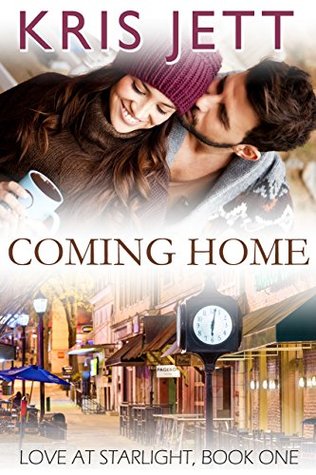 Coming Home
by
Kris Jett
Series:
Love at Starlight #1
on February 1, 2017
Genres:
Contemporary Romance
Pages:
230
Format:
eBook
Source:
Purchased
Goodreads
Amazon


Jessie Foster has long been the person everyone could count on, the one who stayed back with her mom to run the family business while her two older sisters, whom hadn't spoken to her in years, took off to live their lives. When her sisters suddenly drop back into her world wanting a job and a place to live, who could blame her for being angry? Sick of always doing what's right, Jessie is ready to shake things up. Even if it's wrong. And wrong has a name.

Enter the sexy Cade Stone, new to town and opening a snowmobile repair shop with his two equally hot brothers. Cade has an edge and a temper. He knows he's a jerk 90% of the time and he's generally unapologetic. Growing up in Chicago, he'd never dreamed he'd end up in the sleepy town of Snowy Ridge, population 1000. But somehow, he found himself caving to family pressure and doing "the right thing," no matter how much he hated it.

Neither were looking, and they're completely wrong for each other. But sometimes wrong and right blur and magic happen
I like small town romances and I'm very familiar with Wisconsin and snowmobiles.  I hoped for the quirky characters and a sweet, possibly funny romance. It seemed like a good choice with fairly high ratings and a winter, maybe even some holiday story.
Coming Home is the first in the Love at Starlight series. There is a novella prequel but they were only briefly mentioned here. There are three daughters in the family which owns the Starlight Pub.  The youngest, Jessie, has stayed in town and helped her mother run the business, while the two older girls left town. There is a new snowmobile repair shop being opened by three brothers.  The youngest brother is Cade.
The world-building lacked in descriptive aspects of the different settings, the weather and the people of Starlight. There wasn't much in long-time knowledge of others one sees in a small town either.
I can't say I liked any of these characters. They were just so self-absorbed, and not very well developed. No one cared much about anyone else. I didn't get the camaraderie even with friends, much less within the family groups.  Jessie and Cade did not have enough dialogue to build much of a relationship, much less to get to know them as people.
There was just too much drama on all fronts; it was ridiculous. Everything was a mess, with too many things happening. The motivations for their actions didn't always make sense. I have to say this wasn't for me, so I can't really recommend it overall.
Latest posts by Anne - Books of My Heart
(see all)
Reading this book contributed to these challenges:
Anne: 2017 New Release Challenge
Related Posts