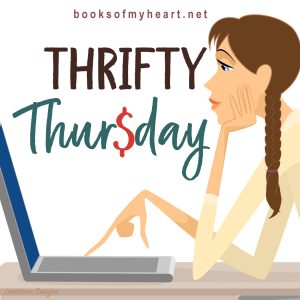 The purpose of Thrifty Thursday is to read a book which was free (at some point).
Kindle freebie on January 28, 2018  (currently still free at Amazon and Barnes & Noble as of writing this post)
Overall rating 3.85. with 11,279 ratings and 1,219 reviews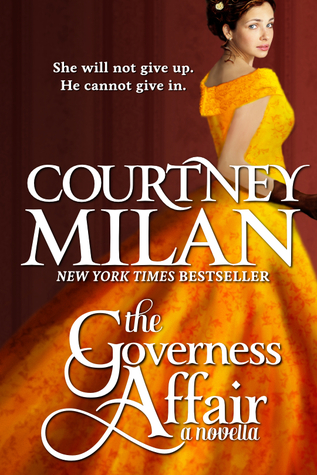 The Governess Affair
by
Courtney Milan
Series:
Brothers Sinister #0.5
Published by
Self-Published
on April 21, 2012
Genres:
Historical Romance
Pages:
110
Format:
eBook
Source:
Purchased
Goodreads
Amazon
, 
Audible
, 
Barnes & Noble





Three months ago, governess Serena Barton was let go from her position. Unable to find new work, she's demanding compensation from the man who got her sacked: a petty, selfish, swinish duke. But it's not the duke she fears. It's his merciless man of business—the man known as the Wolf of Clermont. The formidable former pugilist has a black reputation for handling all the duke's dirty business, and when the duke turns her case over to him, she doesn't stand a chance. But she can't stop trying—not with her entire future at stake.

He cannot give in…

Hugo Marshall is a man of ruthless ambition—a characteristic that has served him well, elevating the coal miner's son to the right hand man of a duke. When his employer orders him to get rid of the pestering governess by fair means or foul, it's just another day at the office. Unfortunately, fair means don't work on Serena, and as he comes to know her, he discovers that he can't bear to use foul ones. But everything he has worked for depends upon seeing her gone. He'll have to choose between the life that he needs, and the woman he is coming to love…
So I don't like historical romance, except when I do.  This came up as a freebie yesterday and I was thinking about what to choose for a February Thrifty Thursday post, which obviously needed to be a romance.  As always, I checked it out on Goodreads and saw that Jen at Red Hot Books had liked it. So I one-clicked it and read it and here we are.
So the characters and writing were fun even though there were a few things unrealistic because this is fiction. It felt clever and I do enjoy the details relating to attitudes and trappings of the era. There was a rather tragic event, similar to things still happening today, which may be a trigger for some. It reminds me of how mores have changed and yet some things stay the same.
I liked the main characters who were strong, smart and honest with themselves. Their journeys were not easy but ended well.  I think it is because of their choices. This sets up a series about their child, Brothers Sinister series looks like one I will have to continue reading. It appears it is complete with 3 more books and 2 more novellas. Recommended.
---
These are only Kindle freebies I get, or ones through author newsletters which anyone can sign up and get for free. I don't include things like Kindle Unlimited (I don't have it) or Prime Free Reading (I do have it). Both Tantor and Audible have occasional free audios (to anyone) and I do include those.  Since I one-click on 1-2 freebies a day or probably at least 5 a week, I came up with this feature to make sure I start reading them.
So I have thought about doing a Thrifty Thursday Challenge someday. For now,  what I think would be fun is if you have read and reviewed (anywhere) a freebie,  add your link to your review (Goodreads, blog, facebook or wherever) in a comment below  and I'll also post them on the next Thrifty Thursday review.  (I'm trying to do 1-3 a month which means I only add about 15 or so to my TBR every month. lol)
Latest posts by Anne - Books of My Heart
(see all)
Reading this book contributed to these challenges:
Related Posts