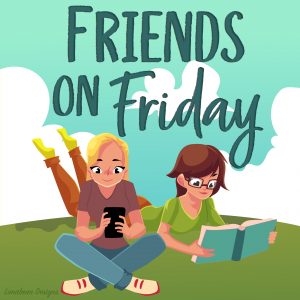 Today's friend is Stormi from Books, Movies, Reviews! Oh My!. I have gotten to know her a little through the COYER Challenge which is just the most fun, and the facebook group is the most active and helpful. She picks so many interesting reads, lots of them are mysteries which I really like.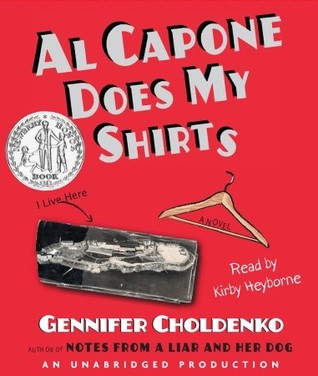 Al Capone Does My Shirts
by
Gennifer Choldenko
Narrator:
Kirby Heyborne
Published by
Listening Library
on September 8, 2009
Genres:
Historical Fiction
,
Young Adult
Length:
6 hours, 9 minutes
Format:
Audiobook
Source:
Library
Goodreads
Amazon
, 
Audible
, 
Audiobook
, 
Barnes & Noble




1935

I want to be on Alcatraz like I want poison oak on my private parts. But apparently nobody cares, because now I'm Moose Flanagan, Alcatraz Island Boy–all so my sister can go to the Esther P. Marinoff School, where kids wear their clothes inside out and there isn't a book in sight. Obedient Moose. I always do what I'm supposed to do.

When Moose's family moves to Alcatraz Island so his father can work as a guard and his sister can attend a special school in San Francisco, he has to leave his friends behind. But it's worth it, right? If his sister, Natalie, can get help, maybe his family will finally be normal.

But on Alcatraz his dad is so busy, he's never around. His mom's preoccupation with Natalie's condition (today, it would be called autism) is even worse now that there's no extended family to help. And of course, there's never enough money.

When Moose meets Piper, the cute daughter of the warden, he knows right off she's trouble. But she's also strangely irresistible. All Moose wants to do is protect Natalie, live up to his parents' expectations and stay out of
I was looking around on overdrive (digital library system) trying to find some cute MG books to read because I was just in the mood for something light and fun. I ran across Al Capone Does My Shirts and I had heard of it before and forgotten about it, so decided to check it out.
I am glad I did because it was a really good read.
It's 1935 and Moose Flanagan is twelve years old and his family is moving to Alcatraz Island because his father got a job working as an electrician/guard. Moose thinks this is going to be the worst thing to happen to him and they only moved there because his sister needs to go to a special school.
He meets some interesting characters and makes some good friends so things are not horrible. Piper is the warden's kid and he spends half his time mad at her and the other half thinking she is kind of cute. He has to watch out hanging with her because she can get him in trouble quicker than anything and if he gets in trouble it could get him and his family kicked off the island.
I thought this was a great coming of age type story and it also deals with a heavier of issue of living with a family member who is autistic. I don't know many people with autism so I don't know if it's accurate but the author has a sister with autism so I am pretty sure it is spot on. I felt sorry for Moose as he loved his sister but she could make him so mad, having to put off doing what he wanted to watch his sister or having to take her with him. He is at an age where taking your sister along with you is not cool, but most of his friends are pretty cool with hanging with her.
The author using a lot of historical facts about Alcatraz and puts fictional spin on it that makes it a great read. I think both young boys and girls with enjoy this series. I know I can't wait to listen to the next one in this Al Capone at Alcatraz series.
The narrator Kirby Heyborne does a great job with this book, he has a really pleasant voice which is easy for listening. I listened to this on 1.75 speed.
Listen to a clip here:
Latest posts by Anne - Books of My Heart
(see all)
Related Posts