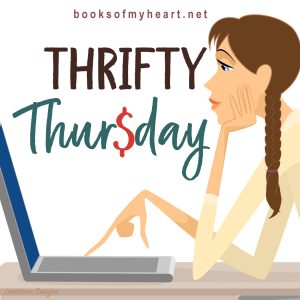 The purpose of Thrifty Thursday is to read a book which was free (at some point).
Kindle freebie on February 27, 2018  (currently still free at Amazon and Barnes & Noble as of writing this post)
Overall rating 4.29. with 47,178 ratings and 3,310 reviews
The Gamble
by
Kristen Ashley
Series:
Colorado Mountain #1
Published by
Forever
on December 11, 2012
Genres:
Contemporary Romance
Pages:
679
Format:
eBook
Source:
Purchased
Goodreads
Amazon
, 
Audible
, 
Barnes & Noble





Nina Sheridan desperately needs a timeout vacation. With a fiancé who can't even remember how she takes her coffee, Nina wants some distance to rethink her engagement. Flying halfway around the world from England to a mountain town in Colorado should do the trick. But when she finds a gorgeous man at her rental cabin, Nina's cold, lonely adventure suddenly heats up.

The owner of the house, Holden "Max" Maxwell is surprised by the beautiful woman who turns up at his door. But when Nina becomes ill, Max spends days nursing her back to health. A private man with a broken heart, Max finds himself drawn to the strong-willed woman. Soon it becomes impossible for Nina and Max to deny their growing attraction to one another. Yet even as these two wounded lovebirds think about taking a chance on a relationship, a dangerous secret from Max's past emerges-and threatens to end their love for good.
I've read some Kristen Ashley before, primarily the Dream Man series.  Because I'm a Harley rider, I bought some of the Chaos series books but I haven't read them yet.  They expand on the world from Motorcycle Man.  Since this came up as a Kindle freebie, I thought it would be great to try another of her series.
The Gamble is the first in the Colorado series. As with some other KA books, the guy, Max,  is a rather an alpha-hole.   His way is the only right way. I don't like the way he talks to Nina at times.  Luckily, Nina has some issues but she is smart and capable, and has a good job.
After they got to know each other better, their communication improved. And Max finally did start to listen to Nina and work with her. I still didn't like how much Max kept from her.  He asked about her family and relationships and everything but didn't share as much. He also didn't make it completely clear how he felt about her. This is rather a male thing though; they aren't focused on sharing their feelings.
OK,  you can skip down if you don't want to read my rant thoughts on Max calling Nina "baby."  If I am your baby, who are you, my parent? I'm old enough to have my own kids and technically, even grandkids. I don't want a parent (as a lover), and if we're having sex, you acting as my parent, that's just creepy.   I don't mind an alpha being protective and taking care of me, but I am a strong, smart women. I expect to equally protect and take care of him. Everyone has their ups and downs and needs some give and take in their relationship.  I want to be a partner, not someone's baby.  Now "babe" is a bit different, the connotation there is hot or sexy.
When I'm tired, or sick or confused over a decision, I appreciate a strong guy who can take over things for a bit. I wouldn't accept it full-time, though. Shockingly, even with 600+ pages there were a few loose ends. In the end, I enjoyed this story and plan to read more in the series.
---
These are only Kindle freebies I get, or ones through author newsletters which anyone can sign up and get for free. I don't include things like Kindle Unlimited (I'm trying it) or Prime Free Reading (I do have it). Both Tantor and Audible have occasional free audios (to anyone) and I do include those.  Since I one-click on 1-2 freebies a day or probably at least 5 a week, I came up with this feature to make sure I start reading them.
So I have thought about doing a Thrifty Thursday Challenge someday. For now,  what I think would be fun is if you have read and reviewed (anywhere) a freebie,  send me your link to your review (Goodreads, blog, facebook or wherever)  and I'll post them on the next Thrifty Thursday review.  (I'm trying to do 1-3 a month which means I only add about 15 or so to my TBR every month. lol)
Latest posts by Anne - Books of My Heart
(see all)
Reading this book contributed to these challenges:
Related Posts