Review copy was received from Publisher. This does not affect my opinion of the book or the content of my review.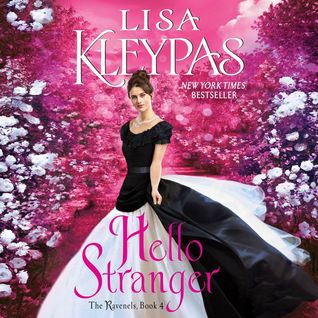 Hello Stranger
by
Lisa Kleypas
Narrator:
Mary Jane Wells
Series:
The Ravenels #4
Published by
HarperAudio
on February 27, 2018
Genres:
Historical Romance
Length:
10 hours, 1 minute
Format:
Audiobook
Source:
Publisher
Goodreads
Amazon
, 
Audible
, 
Libro.fm




A woman who defies her time

Dr. Garrett Gibson, the only female physician in England, is as daring and independent as any man—why not take her pleasures like one? Yet she has never been tempted to embark on an affair, until now. Ethan Ransom, a former detective for Scotland Yard, is as gallant as he is secretive, a rumored assassin whose true loyalties are a mystery. For one exhilarating night, they give in to their potent attraction before becoming strangers again.

A man who breaks every rule

As a Ravenel by-blow spurned by his father, Ethan has little interest in polite society, yet he is captivated by the bold and beautiful Garrett. Despite their vow to resist each other after that sublime night, she is soon drawn into his most dangerous assignment yet. When the mission goes wrong, it will take all of Garrett's skill and courage to save him. As they face the menace of a treacherous government plot, Ethan is willing to take any risk for the love of the most extraordinary woman he's ever known.
I am a fan of historical fiction.  I got hooked in middle school, after buying a grocery bag full of Fawcett Coventry Romances.  I believe those must have been my 'gateway' books, because before long, I was hopelessly addicted to Jane Austen and Johanna Lindsay.  (Now did you ever imagine those two authors being paired in the same sentence?)  My particular penchant, born of those sweet historicals, is still Regency, which led me to The Wallflower series by Lisa Kleypas.   Of course, when one finds an author who does historical with charm and intelligence, one keeps reading, even when her series span eras.
Hello Stranger is the fourth book by Lisa Kleypas in The Ravenels series, which takes place in Victorian England.  This series focuses on Ethan and Dr. Garrett Gibson.  Ethan hides a past which is as mysterious as his present role as spy and assassin for Her Majesty.  Both of these circumstances lead him to believe he is destined to spend his life alone and in the shadows.  Dr. Garrett Gibson is the complete opposite of a proper Victorian woman.  As the first (and only) female physician in England, she struggles to prove she is as capable as any man.  I enjoyed both characters, appreciated their challenges, and think they were well-matched.  I was intrigued by the descriptions of medical practices used during that time as well as of ones considered to be experimental, such as blood transfusions or ligature material.  The author included just the right amount of detail so as to not bog down the story.
What bothered me about Hello Stranger was there seemed to be inconsistencies in behavior, contrived drama, and coincidence.  Several times Ethan is supposed to melt into his shadowy spy world so Garrett will never see him again, only to show up on the next page.  Considering that Garrett seems to be a social pariah because of her chosen profession, she is still accepted at high society events.  In the end, I was distracted from the actual romance by scenes of certain death, government conspiracies, and long-lost sibling reunions.
The narrator, Mary Jane Wells, gives an excellent performance in Hello Stranger.  I was familiar with her style, as she has narrated the other books in The Ravenels series.  While I simply love the sound of her voice, she has a particular gift with nuance and expression.  Her pacing was perfect for the story.  I'd also like to give a nod to her french prononciation which was très bonne.
While I was a bit disappointed with this story overall, I really appreciated that Ethan never regarded Garrett as anything other than an equal.  He valued her talents and saw her for the amazing, strong woman she was.  When they were able to meet the challenges of their pasts and present-day circumstances, they were an unstoppable team.  My final thoughts, I enjoy reading this series as Lisa Kleypas does a great job of revisiting characters in subsequent books.  I can't wait to see how Garrett and Ethan's life progresses in future installments.
Listen to a clip:
Rating Breakdown
Plot
Writing
Characters
Dialogue
Narration (Audio)
Overall:
Related Posts