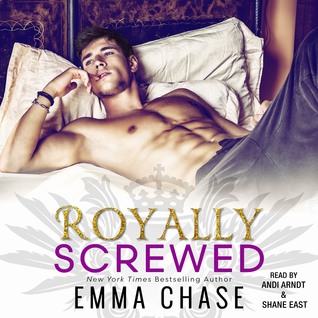 Royally Screwed

by Emma Chase
Narrator: Andi Arndt, Shane East
Series: Royally #1
Published by Simon & Schuster Audio on October 18, 2016
Genres: Contemporary Romance
Length: 9 hours, 39 minutes
Format: Audiobook
Source: Library
Goodreads
Amazon,  Audible,  Audiobook,  Barnes & Noble





Nicholas Arthur Frederick Edward Pembrook, Crowned Prince of Wessco, a.k.a. "His Royal Hotness," is wickedly charming, devastatingly handsome, and unabashedly arrogant―hard not to be when people are constantly bowing down to you.

Then, one snowy night in Manhattan, the prince meets a dark haired beauty who doesn't bow down. Instead, she throws a pie in his face.

Nicholas wants to find out if she tastes as good as her pie, and this heir apparent is used to getting what he wants.

Dating a prince isn't what waitress Olivia Hammond ever imagined it would be.

There's a disapproving queen, a wildly inappropriate spare heir, relentless paparazzi, and brutal public scrutiny. While they've traded in horse drawn carriages for Rolls Royces and haven't chopped anyone's head off lately, the royals are far from accepting of this commoner.

But to Olivia―Nicholas is worth it.

Nicholas grew up with the whole world watching, and now Marriage Watch is in full force. In the end, Nicholas has to decide who he is and, more importantly, who he wants to be: a King...or the man who gets to love Olivia forever
Did you ever dream of falling in love with a prince?  When channel surfing, do you automatically stop for Pretty Woman, The Princess Diaries, or Sixteen Candles?  If you answered yes to either of those questions, you will want to try Royally Screwed, the first book in the Royally Series by Emma Chase.  Funny, sexy, romantic, and sweet, you will be swept away into the modern-day rags-to-riches story Olivia and Prince Nicholas.
Olivia, the plucky heroine, is full of spirit, smarts, and backbone.  She's working hard to hold her crumbling family and family business together.  She has a sassy sidekick for a best friend and an impish little sister.  Obviously, she needs a knight-in-shining-armor to sweep her away from her bleak existence.  Nicholas, His Royal Hotness, is an indolent ass.  He's rich, entitled, and bored.  He's disillusioned with life, resigned to the future, and tortured (on the inside, of course) by his past.  Obviously, all he needs is the love of a good woman to turn him into Prince Charming.  Yes, I KNOW this story has been done hundreds of times, and there is a reason for that.  It is timeless.  It lets you step out a reality for just a moment and dream again.  Royally Screwed will make you smile, laugh, cry, and possibly blush.
The narration was superb.  Andi Arndt captured Olivia perfectly and did a great job on the characters.  However, it was the narration by Shane East (aka Steve West) that stole the show, and my heart.  His smooth, swoon-inducing British accent fit Nicholas perfectly.  He also did a fabulous job on the secondary characters, especially the queen.  I'd pay money to listen to him read the phone book, let alone dirty-talk his way through a sex scene.  *fans self*
If you are in the mood for a Cinderella story, or perhaps you're just wondering what it would be like to be Megan Markle, give Royally Screwed a try.  In this instance, I think the story was definitely enhanced by the narration and I would recommend the audio book over the print/eBook.
Listen to a clip:
Rating Breakdown
Plot
Writing
Characters
Dialogue
Narration (Audio)
Overall:
Reviewer
at
Books of My Heart
Reading has always been more than just a hobby, it's been a life-long obsession.  To illustrate my point, one of my kids is named William Bennet (think Fitzwilliam Darcy and Elizabeth Bennet).  Of course, if you are reading my obscure bio-page, you can probably empathize.  I read a broad range of genres, but particularly enjoy kick-butt heroines, complex world-building, first person narration, nerdy references, or  hockey.  I like all of my books to have a romantic element, even just a little bit.
I've developed a preference for audiobooks over the last few years, which allow me to complete chores, run carpool, or work on my many building and craft projects while 'reading.  I prefer reading romance the old-fashioned way, probably because listening to steamy scenes makes me blush!
My all time favorite selections include Diana Gabaldon's Outlander series, Karen Marie Moning's Fever series, and all of Robin Hobb's books set in the Farseer world.  Honorable mentions to Elle Kennedy, Penny Reid, Meljean Brook, Ann Aguirre, Krista and Becca Ritchie, Jim Butcher, Jeaniene Frost, and Kristen Callihan.
Friend me at Goodreads.
Related Posts