Review copy was received from NetGalley. This does not affect my opinion of the book or the content of my review.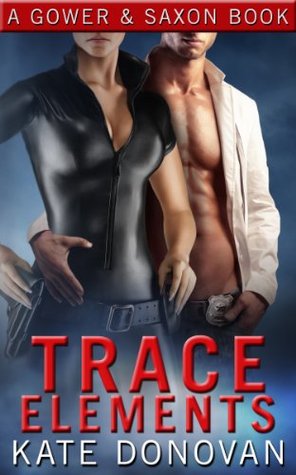 Trace Elements
by
Kate Donovan
Series:
Gower and Saxon #1
on July 24, 2013
Genres:
Romantic Suspense
Pages:
191
Format:
eARC
Source:
NetGalley
Goodreads
Amazon
, 
Barnes & Noble



Special Agent Annika Trace is the hottest thing in law enforcement—at least on TV. Her long legs, designer suits, and hunky sidekick have garnered millions of fans, one of whom—a four-year-old kidnap victim named Linzie—is refusing to talk to the real FBI. In desperation, Special Agent Trace—a.k.a. actress Nikki Gower—is called in to help.

Special Agent Josh Saxon became a hero when he brought Linzie back safely. Now he's out to catch the kidnappers and doesn't need some Hollywood caricature of a federal agent interfering in his case. But when Nikki establishes a rapport with the child, Josh admits she might just get him enough information to track down the culprits. And even as Josh and Nikki spar over the best way to get the job done, another rapport is being established—on a much more physical and decidedly more adult level—as Josh discovers firsthand how Nikki makes the airwaves sizzle.
Trace Elements was one of the first books I got on Netgalley. It is in one of my favorite genres – romantic suspense. Somehow, I lost the book on my Kindle, so in the end I purchased it, so I could review. I'm on a mission to clean up those back ARCs (there are only 3 more).
The plot kept me interested in the FBI case. There were many unrealistic aspects, however. Linzie, at four years old, should not be watching such a violent, adult TV show.  Her mother's constant flirting with the FBI agents was unnecessary. Having a TV actress so involved with the case, without even trying a psychologist, and then to have her so unsupervised seems unprofessional. I couldn't suspend my disbelief even though it is fiction.
Josh and Nikki were likable enough characters for the little they were developed. Trace Elements is just under 200 pages and could have been expanded to a more normal 300 to allow for more character and relationship development. It was insta-lust jumping to insta-love quickly.  Since this is listed as first in a series, perhaps more of their background will follow.
Nothing seemed very real about the people. My attention was kept well enough while reading but there wasn't enough world-building or character development to garner my emotional connection.  I enjoyed  a very fast, light read.
Latest posts by Anne - Books of My Heart
(see all)
Related Posts