Review copy was received from NetGalley. This does not affect my opinion of the book or the content of my review.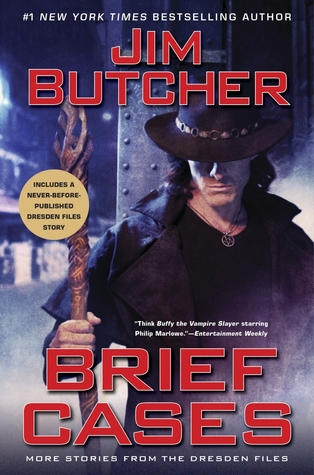 Brief Cases
by
Jim Butcher
Series:
The Dresden Files #15.1
Published by
Ace
on June 5, 2018
Genres:
Urban Fantasy
Pages:
448
Format:
eARC
Source:
NetGalley
Goodreads
Amazon
, 
Audible
, 
Audiobook
, 
Barnes & Noble






The world of Harry Dresden, Chicago's only professional wizard, is rife with intrigue--and creatures of all supernatural stripes. And you'll make their intimate acquaintance as Harry delves into the dark side of truth, justice, and the American way in this must-have short story collection.

From the Wild West to the bleachers at Wrigley Field, humans, zombies, incubi, and even fey royalty appear, ready to blur the line between friend and foe. In the never-before-published "Zoo Day," Harry treads new ground as a dad, while fan-favorite characters Molly Carpenter, his onetime apprentice, White Council Warden Anastasia Luccio, and even Bigfoot stalk through the pages of more classic tales.

With twelve stories in all, Brief Cases offers both longtime fans and first-time readers tantalizing glimpses into Harry's funny, gritty, and unforgettable realm, whetting their appetites for more to come from the wizard with a heart of gold.

The collection includes:

• "Curses", from THE NAKED CITY, edited by Ellen Datlow
• "AAAA Wizardry", from the Dresden Files RPG
• "Even Hand", from DARK AND STORMY KNIGHTS, edited by P. N. Elrod
• "B is for Bigfoot", from UNDER MY HAT: TALES FROM THE CAULDRON, edited by Jonathan Strahan. Republished in WORKING FOR BIGFOOT
• "I was a Teenage Bigfoot", from BLOOD LITE 3: AFTERTASTE, edited by Kevin J. Anderson. Republished in WORKING FOR BIGFOOT.
• "Bigfoot on Campus", from HEX APPEAL, edited by P. N. Elrod. Republished in WORKING FOR BIGFOOT.
• "Bombshells", from DANGEROUS WOMEN, edited by George R. R. Martin and Gardner Dozois
• "Jury Duty", from UNBOUND, edited by Shawn Speakman
• "Cold Case", from SHADOWED SOULS, edited by Jim Butcher and Kerrie Hughes
• "Day One", from UNFETTERED II, edited by Shawn Speakman
• "A Fistful of Warlocks", from STRAIGHT OUTTA TOMBSTONE, edited by David Boop
• "Zoo Day" - brand-new novella, original to this collection
I am up-to-date in my Dresden Files series reading, so for the first time I could request and review one when released.  I totally love this series and all its wonderful characters.  I started to read this with excitement a few weeks ago and couldn't seem to get going on the first story.
So I began again with trepidation, rather than glee. It still took a moment but then I settled into the story. The first one is about Warden Luccio and I am sure if I had been ensconced in the voice of James Marsters, the two week pause would never have occurred.  Also, if the first story had been one about a character more familiar, and this one placed a bit later in the order, I would have been off and running with no end in sight. Once I did get going I read until 4 in the morning and could barely put it down to sleep, finishing the next day.
I loved all these stories SO much. It was amazing to hear the backstory in the little forewords to each one. I particularly enjoyed getting so many others point of views, such as Molly, Butters, Maggie and Mouse. I cherished every word, laughing all the way.
I own the rest of the series on audio. I love James Marsters' narration.  When preparing the review format last month,  I added the links to purchase. I went ahead and pre-ordered the audio version for myself. I'll love it many times for many years. I want more of this series and this author, and will  treasure each book.
" When people come to the only professional wizard in the Chicago phone book for help, they're one of two things: desperate or very smart.  Very rarely are thy both. The smart ones come to me because they know I can help; the desperate ones come because they don't know anyone else who can……

My newest client wanted something different, though. He wanted me to meet him in the woods. This did not make me feel optimistic that he would be one of the smart ones."
Rating Breakdown
Plot
Writing
Characters
Dialogue
Narration (Audio)
Overall:
Latest posts by Anne - Books of My Heart
(see all)
Reading this book contributed to these challenges:
2018 New Release Challenge
Related Posts