Review copy was received from Publisher. This does not affect my opinion of the book or the content of my review.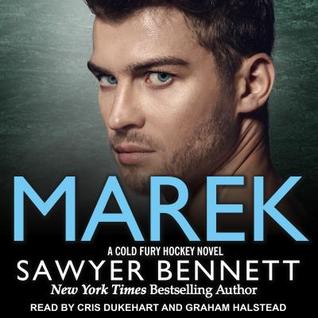 Marek
by
Sawyer Bennett
Narrator:
Graham Halstead
,
Cris Dukehart
Series:
Cold Fury Hockey #11
Published by
Tantor Audio
on May 22, 2018
Genres:
Contemporary Romance
Length:
6 hours, 43 minutes
Format:
Audiobook
Source:
Publisher
Goodreads
Amazon
, 
Audible
, 
Libro.fm
, 
Barnes & Noble




Marek Fabritis is used to delivering blows, not receiving them. But when he gets tipped off by an anonymous email about his ex-girlfriend, the news leaves him ice cold-and it's not because Gracen Moore is getting married to a total jerk. It's the fact that Marek has a three-year-old daughter he never knew about. Now he's going back home, not to play knight in shining armor but to make damn sure that no man takes what's his. For the first time, there might be something more important than hockey. Gracen Moore has always loved Marek. That's why she let him go, so he could pursue a career in the NHL. And that's why she never told him about Lilly. Only now does Gracen realize that she made an unforgivable mistake. But is that any reason for Marek to crash her wedding and make an epic scene? If the spark that still smolders between them is to be trusted, maybe. Still, Gracen's not getting her hopes up. Because she knows better than anyone that appearances aren't always what they seem . . . Contains mature themes.
Sawyer Bennett is the very awesome author of the hockey romance Carolina Cold Fury series.  I am always eager for the next installment, and Marek, the eleventh book in the series, was no exception.  It was the very detailed set-up in the prior book, Reed, which made me doubly excited.  I'm sorry to report it fell short of my expectations.
For the most part, this is a second chance romance with a secret baby.  Pro hockey player, Marek, makes it to the big league and breaks up with his long-time sweetheart, Gracen so that he can enjoy all the perks of being a pro without any baggage.  Gracen is devastated when her true love decides his freedom is more important than her.  In fact, she's so sure he doesn't want anything to do with her ever again that she fails to tell him he's a father.  Despite the bad choices each character makes, there is potential for the couple to find redemption and an HEA.  Of course, throw an adorable toddler into the mix for sweetness and comic relief.
My real problem lies with Marek.  He's a self-absorbed asshat, that doesn't see anything wrong with forced imprisonment and verbal shaming to get his way.  While Gracen's sin was definitely significant, I think he was partially to blame.  He never really owns up to the part he played in their drama and that just rubbed me the wrong way.  In addition, Gracen's decision making process and life choices were less logical and more for the purpose of creating drama on the page.  Therefore, I didn't really buy into the crisis that brings Gracen and Marek together.
Narration:
It is like a bonus when we get two narrators instead of just one.  It was a good audio performance with excellent pacing.   Cris Dukehart does an exceptional job communicating emotion with her voice.  I might have wished for a deeper, sounding Marek, but Graham Halstead's performance was well done.  I was relieved the narrators left off the accent that one would expect from New York natives, Marek and Gracen.
Listen to a clip:

Rating Breakdown
Plot
Narration (Audio)
Overall:
Related Posts