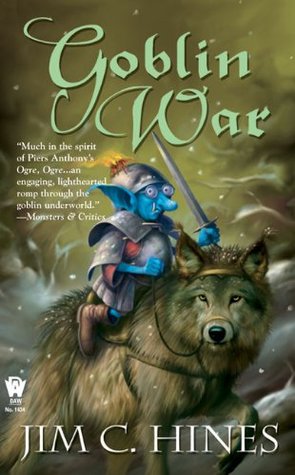 Goblin War

by Jim C. Hines
Series: Jig the Goblin #3
Published by DAW Books on March 4, 2008
Genres: Fantasy
Pages: 336
Format: eBook
Source: Library
Goodreads
Amazon,  Barnes & Noble,  iTunes







If you think it's hard being a hobgoblin or a human, try living a goblin's life for a while. In fact, try imagining what it's like to be the runtiest goblin in the caves, the lone worshiper of a god who's been forgotten for a good reason, and the target everyone points to at the first hint of trouble. Try picturing yourself as Jig Dragonslayer, and see how you like it…Despite impossible odds, Jig was still alive. He'd survived an adventurer's quest against a dragon and a necromancer, a pixie invasion that had ogres and trolls dropping like flies, and, most frightening of all, the threat of being made chief of the goblins. He wasn't sure how much more he could stand. Naturally, he was about to find out.War was brewing in the world outside the Mountain, and when the goblin's lair was invaded by human warriors in search of the Rod of Creation, Jig knew it was just the start of another really bad day…
I can't believe I'm on my last Jig story. This has been a really fun fantasy series. It follows Jig the goblin, who is a runt and half blind. He isn't looked highly upon by his fellow goblins. Jig has learned how to hide and to be cunning it when it comes to dealing with his brutish brethren. He has even outwitted humans, hobgoblins, necromancers, and more. He is now known as "Jig the Dragonslayer".
So in these stories, Jig becomes a unlikely hero. He is a great leader, though getting people to listen to a half-blind runt of a goblin isn't easy. Especially when you're dealing with humans who have egos the size of a continent.
In this last of the trilogy, we finally learn a lot more about Tymalous Shadowstar, the god that has been helping Jig along the way. We also learn more about the other gods, and of course they are all related and are the ones mucking things up in the real world.
I really loved the ragtag crew of people that help Jig on this one last quest. Jig also has a pet fire spider who has been with him since the beginning, named Smudge. I really liked Smudge, even though he is just a normal pet and doesn't talk or anything special. He just seems to be there when Jig needs support the others aren't giving him.
I'm not going to go too much into the plot of the story. It is a typical fantasy quest style story. But, if you like fantasy stories and unlikely heroes, this is a great series for you. There is plenty of humor to keep you entertained as well. I will miss Jig, Smudge and the different groups that have been with Jig in each book. I will also miss Tymalous Shadowstar and his snide remarks.
Last, isn't that cover so cute??
Rating Breakdown
Plot
Writing
Characters
Dialogue
Overall:
I'm Melanie, and I like to live vicariously through fictional characters. I enjoy reading and listening to mostly fictional books in the paranormal genre, including Urban Fantasy, Paranormal Romance and Horror. I will read contemporary romance on occasion, but not often. I will occasionally throw in a biography, usually autobiographies of people that I find interesting. Listening to autobiographies that are narrated by the author have been great in my experience.
I started listening to audiobooks when a new book in a series was coming out and I wanted to get a refresher, but didn't have time to read all the books (I think it was Anita Blake). I fell in love. I stayed with strictly re-reading books that I'd already read for a long time. I eventually tried an audiobook for something that I hadn't read first and was hooked there too. Now, I listen to audio for both re-reads and first time. I have some series that I've given up reading and only listen. I try to get any many books/audiobooks from the library to help save on my budget. Books on CD and the newer digital downloads from the library really allow me to listen more. I then purchase my favorites (because who can wait in line for your favorite book??) and less mainstream books from Audible or some other online retailer.
Friend me at Goodreads.
Related Posts