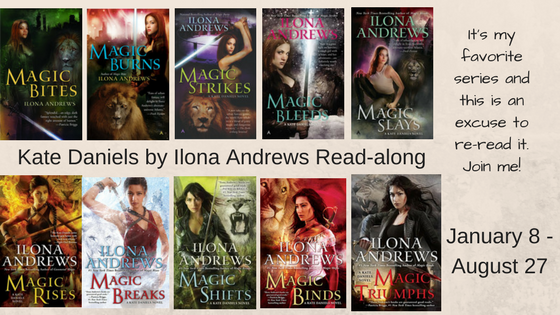 Book 10: Magic Triumphs
Review copy was received from NetGalley, Publisher. This does not affect my opinion of the book or the content of my review.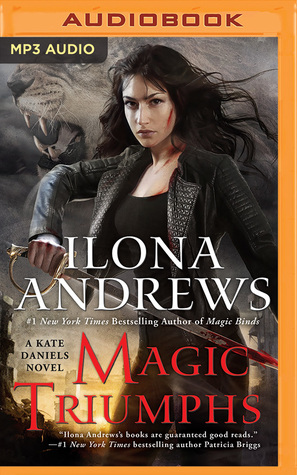 Magic Triumphs
by
Ilona Andrews
Narrator:
Renée Raudman
Series:
Kate Daniels #10
Published by
Ace
,
Brilliance Audio
on August 28, 2018
Genres:
Urban Fantasy
Pages:
352
Length:
12 hours, 7 minutes
Format:
eARC
,
Audiobook
Source:
NetGalley, Publisher
Goodreads
Amazon
, 
Audible
, 
Audiobook
, 
Barnes & Noble






Kate has come a long way from her origins as a loner taking care of paranormal problems in post-Shift Atlanta. She's made friends and enemies. She's found love and started a family with Curran Lennart, the former Beast Lord. But her magic is too strong for the power players of the world to let her be.

Kate and her father, Roland, currently have an uneasy truce, but when he starts testing her defenses again, she knows that sooner or later, a confrontation is inevitable. The Witch Oracle has begun seeing visions of blood, fire, and human bones. And when a mysterious box is delivered to Kate's doorstep, a threat of war from the ancient enemy who nearly destroyed her family, she knows their time is up.

Kate Daniels sees no other choice but to combine forces with the unlikeliest of allies. She knows betrayal is inevitable. She knows she may not survive the coming battle. But she has to try.

For her child.

For Atlanta.

For the world.
Robin and I both read Magic Triumphs and also listened to the audio version. Robin was on the beta team. I was fortunate to get an eARC and we both received the audio for review. It is hard to do such an amazing book justice.   I've said many times how it is my favorite series. So we decided to try to answer some questions for you (without spoilers).
1. If you could give people your reasons for reading the Kate Daniels series, what would you tell them?
Anne: How much time do you have?  Getting right to the point, though, I love the action, the mythology of the world-building and the "villains", the amazing growth and development of the characters, the touch of romance, the smart battles, Kate's compassion for others, her collection of allies (even ones who don't like her or believe her) and the humor.  Reading the Kate Daniels series is fascinating, exciting and an emotional journey.
Robin: Kate Daniels is a book series I totally push into everyone's hands. I almost feel a little pushy about it but console myself that they will thank me later.  Kate's a strong woman with a very clear morale code and she sticks to it.  I love that she is who she is and for the most part is really comfortable with that, plus she has a sword and kicks some ass.  Even though Kate is so awesome (she is my spirit animal) the real magic in these books comes with the supporting cast of characters.  The humor they add to the story and the relationships Kate build make ending the series bittersweet.  Plus the cool Magic/Technology tides world is just amazing.
2.  Name 2 characters in the series you love and why?   Name a character you don't like and why?
Robin: Two??? How can I only pick two?  It is almost impossible as it is hard for me to think of characters I don't like.  Even the ones I hate I love. There are characters I love for the comic relief and others I love for their devotion to Kate.Okay *deep breathe* I love Curran, to be sure, but besides him I really love Kate's BFF Andrea.  They are what true great friends should be. Andrea calls Kate on her bullshit but would still back her up against anything.  If either of them needed anything the other would drop everything to be their for them.
The other character I'm completely obsessed with is Derek.  I've loved him since he made Julie a metal rose and threatened Red.  He is totally in Kate's corner.  That guy will always have her back and protect her and anything she loves with his life, no questions asked. He is like a best friend and a son all rolled into one and I love how simple life is to him when it comes to Kate and Curran.
Gah…I love them all. Even the villains I love hating.  Voron maybe, I'm super mad at what his plans for Kate were.   While I love how he trained her to help her be the person she is in this series, I really hate how he planned to use her for some kind of revenge.
Anne:  I love them all! I'm going to highlight Christopher because he is so smart, so broken and so devoted to Kate. She saves him, as she does so many, and then they become part of her life and circle of allies.  Another one is Ghastek. He fascinates me, although his motivations are rather transparent. He has such a hard time with Kate for many reasons, but their interactions always make me laugh. He is skilled but it is so easy to tease him.
I don't like Jim, at least how he treats Kate. He can be an asshole who uses Kate for his own purposes when he needs her but offers no support or loyalty unless he must. But he is our asshole, as they say.
3.   Did you think Ilona Andrew would be able to do a series finale which would be amazing?
Anne: Yes.  I have complete faith in Ilona Andrews. They never disappoint. Magic Triumphs is amazing!
Robin:  I get nervous anytime a series I love is ending.  I mean I've read a few where the last book totally ruined the magic for me.  But in IA I Trust.  I knew they could do it.  For one, they had a clear plan of when the series would end instead of just popping out more books just because they could.  It almost feels natural that this is where the story went.  That said, I was a little worried Kate being a new mom was totally going to hijack everything and I'd loose interest in the story.  *Pfft* I was so wrong -Momma bear Kate is even better.
4.    Does Magic Triumphs meet your expectations for a series finale?
Robin:  OMG yes!!! This has everything in it I've come to expect from the Kate Daniels series.  It has humor and heart, action and substance, good moments and hard moments.  Magic Triumphs is Triumphant!
Anne:   I completely agree with Robin. Magic Triumphs is everything I wanted and expected.
5. What do you like best about Magic Triumphs (without spoilers)?
Anne: I feel like I say the same things over and over. Nothing beats great world-building, amazing characters who grow and develop, intelligent plots, action, and the emotional savvy of compassion, courage and caring brought to each book in this series.  Humor is the crowning jewel.   I also feel the wrapping up of various plot lines was ingenious. It was done in a way they could keep their moral integrity.
Robin:  Momma Bear Kate!  I totally loved how, having a child, she had some of the same first time parent issues everyone has.  All the worries and concerns of a new parent but then she has to contend with Roland coming for her.  I thought it was so well done and added to the story instead of sidetracking it.
6.  How do you feel about the series ending?
Robin: Bittersweet for sure.  I'm so happy they ended it well and before  the series became stale.  I think this series is still at the top of its game and so it is ending at a high.  I'm just sad because I love this world and the characters in it, I don't want to say goodbye completely.  I'm really hoping *crosses fingers and bribes Ilona with yards of yarn*  Ilona and Gordon revisit the world and want to write more stories in it.  We get more Hugh/Elara stories and I'm really excited about that, for sure, but I really hope Julie and Derek get their own series eventually.   I'm holding out hope inspiration will hit after they've written some other things and Ilona Andrews will want to come back to the Kate Daniels world too.
Anne:   I'm surprisingly not sad. I know I can go back and reread these amazing characters and stories any time, and I'll always learn and find new details. Because Ilona Andrews did it right and ended it perfectly. Plus we still have Hugh in the Iron Covenant series, and probably Derek and Julie, Grey Wolf series stories. There might even be some novellas or Conlan stories!  I'm also excited to read other series and new ones by Ilona Andrews.
Narration:
Renee Raudman is the voice of this excellent series. Her performance brings it all to life. She is very steady and has become the voice in my head for many of the characters, especially Kate. I still don't love her voice for Curran but one character out of a cast of double digits really isn't bad. If you have liked her in the other audios of the series you will like her in this one. I can't even imagine any other narrator. I listened at my usual 1.25 speed and completely abandoned myself to the joy of listening to Magic Triumphs!
---
Read-along of the Kate Daniels series:   
We have been doing a read-along of the series leading up to today.
Miss a post?
Jan 15:  Magic Bites
Feb 12:  Magic Burns
Mar 12:  Magic Strikes
Apr 9 :  Magic Bleeds
May  7:  Magic Slays
Jun  4:  Magic Rises
Jul  2:    Magic Breaks
Jul 30:  Magic Shifts
Aug 27:   Magic Binds
---
Magic Binds' Giveaway: (US only)  Thanks Ace!
Read-along Giveaway: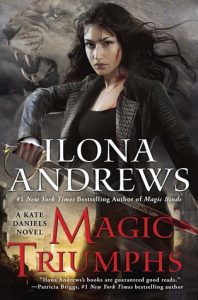 Rating Breakdown
Plot
Writing
Characters
Narration (Audio)
Overall:
Latest posts by Anne - Books of My Heart
(see all)
Reading this book contributed to these challenges:
2018 Audiobook Challenge
2018 New Release Challenge
COYER BSBB
Related Posts