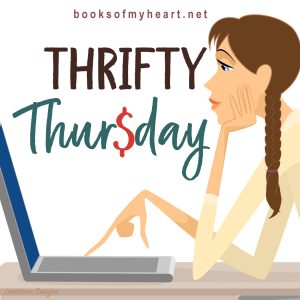 The purpose of Thrifty Thursday is to read a book which was free (at some point).
This is the HoHoHo Readathon edition
I always pick my Thrifty Thursday books on a variety of criteria. I look to find something in the genre I am wanting and the overall ratings. Sometimes, I try to find one to fit a reading challenge. This time of year, I am working to read all the new release ones since they count for the New Release Challenge.  Primarily, this group has a holiday or winter theme.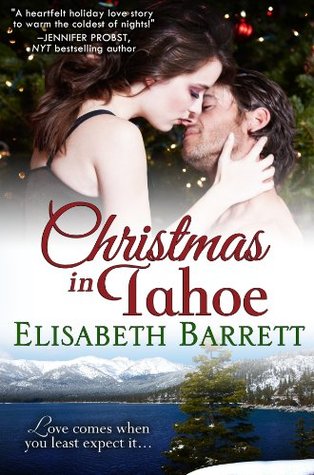 Christmas in Tahoe

by Elisabeth Barrett
Published by Indie on November 11, 2013
Genres: Contemporary Romance
Pages: 123
Format: eBook
Source: Author
Goodreads
Amazon,  Barnes & Noble





Silicon Valley actuary Ann Smith is an expert at calculating probabilities, but lately the odds haven't been in her favor. Two years ago her fiancé died a week before their planned Christmas wedding, leaving Ann heartbroken and alone. When a friend suggests heading up to Lake Tahoe for a long Christmas weekend of skiing, wine, and relaxation, Ann thinks it might be just the thing to help get her life back on track. But Ann's plans go awry when her friend cancels at the last minute, and Ann ends up driving to Tahoe with Chase Deckert, a sexy snowboarder who pushes all her buttons.

Chase Deckert is a man who lives by his own rules. A few years ago his business partner betrayed him by selling out their biomedical research for a quick profit. Chase left science far behind, and now spends his days snowboarding in Tahoe, wanting nothing to do with the dog-eat-dog world of Silicon Valley. Chase has closed his mind and his heart and only believes in one thing: fate. But fate seems to be in a giving mood, because joining him for Christmas is a brave, beautiful woman who shows him the true meaning of the season and helps him rediscover a part of himself he'd long forgotten.

Fueled by the mountain scenery, the season, and their unbelievable chemistry, Ann and Chase end up learning more about each other—and themselves—than they ever imagined possible. Can one long, steamy Christmas help them realize they're meant to be together? Or when the holiday is over will they be right back where they started?
This was an author newsletter giveaway.  (currently $2.99 at Amazon and Barnes & Noble as of writing this post)
Overall rating 4.03 with 117 ratings and 49 reviews
While not completely believable, I enjoyed Christmas in Tahoe.  We start with two people who are stuck in their lives.  They let go and have a great vacation and holiday together which allows them to see new possibilities.  I loved the skiing, the conversations and the holiday cheer. This is the start of the West Coast Holiday series, which I can see myself continuing as I like this author and the quirky cast of characters in this world.
HoHoHoRAT #2
---
Secret Santa Baby

by Robin Covington
Published by Entangled Publishing on December 17, 2012
Genres: Contemporary Romance
Pages: 65
Format: eBook
Source: Author
Goodreads
Amazon,  Barnes & Noble




Tessa Stoneman hasn't been able to get long-time friend and business partner Nicholas Boone out of her head since they shared a single kiss in college. Even when she dated Nicholas's best friend. Now that she's giving up her position at GameNerdz to strike out on her own—and now that she's single—maybe it's the right time to see if there's still something between them.

Nicholas knows once Tessa leaves the company she helped found, they might drift apart. Before she starts her own company in the new year, he wants to woo the woman he fell in love with during college. So he poses as her Secret Santa, gifts her with items from the song "Santa Baby," and plans a big reveal at the company holiday party. But when his best friend wants to rekindle his romance with Tessa, will Nicholas lose his last chance?
This was also an author newsletter giveaway  (currently $0.99 at Amazon and Barnes & Noble as of writing this post)
Overall rating 3.56 with 494 ratings and 126 reviews
Secret Santa Baby was very short, sweet and a story line I have read many times. A woman is friends with two guys, has a relationship with one of them which never works but the other one has been in love with her since the beginning.  Now he is her Secret Santa and decides its time to come clean and be real with her. A cute take on this story, fun, but too short to develop the characters enough beyond the comfortable cliche.
HoHoHoRAT #6
---
Merry Christmas, Baby

by Katie Reus
Published by Indie on January 23, 2016
Genres: Contemporary Romance
Pages: 72
Format: eBook
Source: Author
Goodreads
Amazon,  Audible,  Audiobook,  Barnes & Noble






After unexpectedly inheriting a bookstore, Nora and her younger sister settled in Holly, NC, a place where it's Christmas year-round. As the legal guardian for her sister the past few years, romance has been the last thing on Nora's mind. But she broke her rules for the town's golden boy—former SEAL Jackson O'Connor.

When Jackson does something stupid and almost loses Nora for good, he realizes just how far he's willing to go for the woman who's stolen his heart. But it might take a Christmas miracle to get Nora to give him a second chance.
This was also an author newsletter giveaway  (currently $0.99 at Amazon and Barnes & Noble as of writing this post. It is also in the Audible Romance package)
Overall rating 3.99 with 333 ratings and 99 reviews
The O'Connor family series is by an author I always enjoy and the books are set in North Carolina, all with a holiday theme.  While I got this one through the author, I bought a box set recently including the first 4 books for $0.99.  They aren't long books but enough to build the world and the characters.
I really liked how Jackson and Nora opened up and talked to each other and worked through their issues, even though they started because of their chemistry.  There is the development of the characters in town, their family and friends, which will will no doubt, help along the rest of the series. Nora owns a bookshop!  They are nice, ordinary folks who get their relationship on track during the holidays.
HoHoHoRAT #7
---
MIstletoe Magic

on November 21, 2013
Genres: Contemporary Romance
Pages: 41
Format: eBook
Source: Purchased
Goodreads
Amazon,  Audible,  Audiobook,  Barnes & Noble






Spending a quiet Christmas housesitting and reading novels about hot cowboys sounds perfect to Caitlin Butler. Until a stray kitten brings her face-to-face with Noah, her crush from college. Watching the handsome vet in action melts Caitlin's heart and brings back long forgotten emotions. She would be safer back at the house lost in the pages of a book. But a toe-curling mistletoe kiss tempts her to stay. Maybe she won't be spending this Christmas... alone.

Veterinarian Noah Sullivan isn't a Scrooge, but the Christmas Eve tradition of hanging mistletoe in the clinic's waiting room annoys him. Kissing doesn't belong at the Copper Mountain Animal Hospital. Noah rethinks his position when Caitlin arrives with a stray kitten she found freezing in the snow. All he wants now is to maneuver the pretty preschool teacher under the mistletoe. If he's not careful, he'll wind up on Santa's naughty list.
Kindle freebie on December 20, 2013  (currently $0.99 at Amazon and Barnes & Noble as of writing this post. It is also in the Audible Romance package. )
Overall rating 3.78 with 1,783 ratings and 268 reviews
I really enjoyed this novella and liked its main characters.  In spite of the very short number of pages, the world and characters had pretty good development.  Mistletoe Magic is a second chance romance so with the history, I'm comfortable with the quick resumption of a relationship. There's only kisses but the emotional feels are big. A chance meeting over saving a frozen kitten is endearing.
HoHoHoRAT #8
---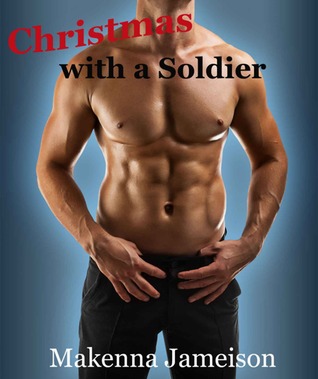 Christmas with a Soldier

on December 16, 2012
Genres: Contemporary Romance
Pages: 52
Source: Purchased
Goodreads
Amazon,  Barnes & Noble




Single-mom Meghan Jones is heading home to finish last-minute Christmas preparations with her five-year-old daughter. Major Trent Harrison is returning to town to say goodbye to his father. When a sudden snowstorm leaves them both stranded, heated animosity between them quickly turns into a night of sizzling passion.

Is Trent what Meghan has been searching for? Are Meghan and her daughter what Trent never realized he was looking for all along?
Kindle freebie on December 20, 2013   (currently $2.99 at Amazon and Barnes & Noble as of writing this post)
Overall rating 3.58 with 346 ratings and 39 reviews
A woman gets stuck behind a tree down on the bridge, during a blizzard and instead of turning around and driving a little further out of her way, she decides to take off on foot without supplies or calling anyone or leaving a note with the car? Since she has lived there her whole life, it might make sense if she knows the area really well, it's a short, well-known path and called first.  Instead she takes off into the blizzard through the woods with a stranger and no clue to get lost.  How about just climbing over the tree and staying on the road to walk into town? This leaves her parents and her 5 year old not knowing.  Yes, there's a romance with the stranger in a cabin in the woods. I can't suspend disbelief long enough to enjoy this one.
HoHoHoRAT #9
---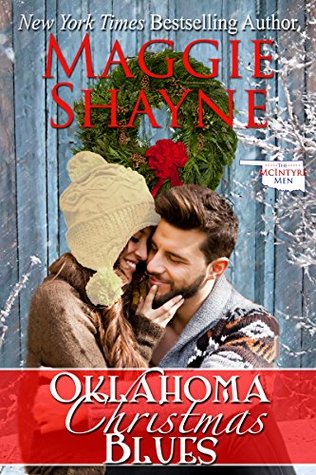 Oklahoma Christmas Blues

by Maggie Shayne
on November 10, 2016
Genres: Contemporary Romance
Pages: 176
Format: eBook
Source: Purchased
Goodreads
Amazon,  Audible,  Audiobook,  Barnes & Noble





Darryl is on a quest for peace. His chance at fatherhood was taken from him long ago, and an IED in Iraq ensured he'd never get another. In Big Falls, the McIntyre brothers hire him to keep an eye on their beautiful cousin Sophie in case her criminal ex shows up. He doesn't expect to fall head over heels.

Sophie McIntyre's life was blown apart by a drug dealing ex who cost her her job and nearly her medical license. She comes to Big Falls because she has nowhere else to go. And the minute she gets there, things start to get better.

Is it because of that letter to Santa her Aunt Vidalia convinced her to write?

Within days she meets a beautiful man with a deeply wounded soul. And oddly, she finds herself giving him the same advice the town Santa gave to her—try believing again, and if it's too much to believe, then just try hoping.

Love, magic, and miracles ensue.

Because this is Big Falls, Oklahoma. Miracles are an everyday occurrence around here. Especially at Christmastime.
Kindle freebie on December 13, 2016   (currently $2.99 at Amazon and Barnes & Noble as of writing this post. It is also in the Audible Romance package.)
Overall rating 4.09 with 1,110 ratings and 107 reviews
Oklahoma Christmas Blues has a woman coming home to her extended family. She works in their bar to help out and pay her own way, where there is a new bouncer.  Since Sophie and Darryl are both new in town; it makes sense they talk and get to know each other. Plus he is actually her bodyguard so he is always around her. They each keep their feelings and secrets close.
There are letters to Santa full of hope. The relationship happened a bit too fast for me but I enjoyed the Christmas magic. Heartwarming events led to miracles for the season.
HoHoHoRAT #10
---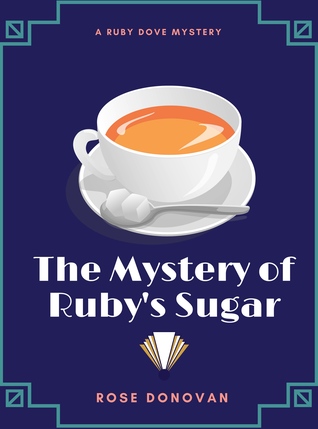 The Mystery of Ruby's Sugar

Published by Indie on December 16, 2017
Genres: Mystery
Pages: 226
Format: eBook
Source: Purchased
Goodreads
Amazon,  Barnes & Noble




Christmas, 1934.

The snow lies heavy around Pauncefort Hall. Dress designers Ruby Dove and Fina Aubrey-Havelock leave behind their Oxford exams to rescue Lady Charlotte's wardrobe. But what Lady Charlotte doesn't know is that Ruby is on a mission—a mission to avenge her family and bring down an empire.

As the weather worsens, Ruby and Fina are drawn into the intrigues of Lady Charlotte's other guests, who include a princess, a furiously left-wing don, a West End starlet—and, it seems, a murderer. After the two resident cads are poisoned, Ruby and Fina must find the culprit and still carry out their secret plans—all before the law arrives. But Pauncefort Hall can remain snowbound for only so long.

The Mystery of Ruby's Sugar is the first book in the Ruby Dove historical cozy mystery series.
Kindle freebie on November 15, 2018   (currently free at Amazon and $3.99 at Barnes & Noble as of writing this post. )
Overall rating 3.72 with 125 ratings and 21 reviews
It was great to have a cozy mystery rather than another holiday romance. The Mystery of Ruby's Sugar is a historical sort of cozy mystery in the style of Miss Marple.  It's a holiday party in a family country home in England over Christmas. Our main detectives Ruby and Fina are students from Oxford University.  Ruby is studying chemistry but the pair is a highly in demand fashion designer / dressmaker team.  I enjoyed the English wordings and customs.  I liked this lovely story.
HoHoHoRAT #14
---
These are only Kindle freebies I get, or ones through author newsletters which anyone can sign up and get for free. I don't include things like Kindle Unlimited or Prime Free Reading (I do have it). Both Tantor and Audible have occasional free audios (to anyone) and I do include those.  Since I one-click on 1-2 freebies a day or probably at least 5 a week, I came up with this feature to make sure I start reading them.
I can't really remember any time when I wasn't reading. I LOVE books and what they give me. It's an opportunity to learn new things, see new places,live different emotions in a "safe" way. It lets me live in a new world.
I read all types of books but my favorites are urban fantasy and romantic suspense.I like some romance and some action / adventure / mystery in everything.I like sex in my books but please, only between TWO people.Intimate conversation is equally important to the sex in a book.It lets me see the characters.The other thing I enjoy is humor.
Friend me at Goodreads.
Related Posts