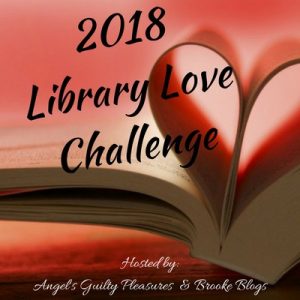 Levels:
Dewey Decimal: Read 12 books
Thrifty Reader: Read 24 books
Overdrive Junkie: Read 36 books
Library Addict: Read 48 books
Library Card on Fire: Read 60+ books
This is my second year in the Library Love Challenge. My goal is 48 books, the Library Addict level.  I read and listen to quite a few but don't always review them all here on the blog. It was reduced in number by my reviewing more new release audiobooks and a trial of Kindle Unlimited. I have a total of 67, unless I read anything more today.
I use my library extensively for all formats. I take the opportunity to read or listen to earlier books in a series when I am catching up, to try out new series, or for non-fiction research.  I do the shortest reviews and the least reviews on the blog for this challenge.  So while I recorded the challenge on the blog, it wasn't very accurate.
---
Anne (reviewed on the blog)
All Library books (including ones not reviewed on the blog)
---
Library savings:       $1,255.30
These are calculated using prices from Amazon for Kindle or Paperback and Audible for audiobooks  ? .
| | |
| --- | --- |
| 1. The Brightest Embers by Jeaniene Frost   🎧      | $24.47 |
| 2. Mean Streak by Sandra Brown    🎧                              | $28.50 |
| 3. City of the Lost by Kelley Armstrong  🎧    | $25.96 |
| 4. Old Bones by Trudy Nan Boyce  | $12.99 |
| 5. About That Kiss by Jill Shalvis    🎧  | $30.79 |
| 6. Sweet Filthy Boy by Christina Lauren  🎧  | $17.00 |
| 7. Cold Days by Jim Butcher  🎧    | $26.95 |
| 8. Until You Loved Me by Brenda Novak 🎧      | $28.61 |
| 9. Barely Breathing by Pamela Claire  | $ 4.99 |
| 10. Bloody Acquisitions by Drew Hayes  🎧      | $26.59 |
| 11. A Darkness Absolute by Kelley Armstrong  🎧    | $37.09 |
| 12. Proof of Life by JA Jance  🎧  | $28.51 |
| 13. Dark in Death by JD Robb      | $14.99 |
| 14. Pulse by Felix Francis  🎧    | $24.49 |
| 15. The Fix Up by Tawna Fenske  | $ 2.99 |
| 16. Sweet Filthy Morning After  🎧  | $ 1.88 |
| 17. The Hookup by Kristen Callihan | $ 4.99 |
| 18. Skin Game by Jim Butcher 🎧 | $24.50 |
| 19. The Life We Bury by Allen Eskens 🎧  | $25.19 |
| 20. The Guise of Another by Allen Eskens 🎧  | $26.59 |
| 21. Bluebird, Bluebird by Atticus Locke 🎧  | $29.65 |
| 22. The Secret, Book & Scone Society   by Ellery Adams 🎧 | $34.99 |
| 23. The Heavens May Fall by Allen Eskens 🎧 | $26.59 |
| 24. What Are You Afraid Of? by Alexandra Ivy  | $ 5.99 |
| 25. Vertigo 42 by Martha Grimes 🎧 | $27.99 |
| 26. Friend Request by Laura Marshall 🎧  | $29.65 |
| 27. The Bear and the Nightingale by Katherine Arden 🎧  | $28.00 |
| 28. The Girl in the Tower by Katherine Arden 🎧  | $28.00 |
| 29. Show No Mercy by Cindy Gerard  | $ 7.99 |
| 30. Unlit by Keri Arthur | $ 3.82 |
| 31. Markswoman by Rati Mehrotra  🎧  | $27.99 |
| 32. The Darkest Thread by Jen Blood 🎧  | $27.99 |
| 33. Hell's Bell by Keri Arthur    | $ 4.99 |
| 34. Now That You Mention It by Kristan Higgins  🎧  | $27.99 |
| 35. The Deep Dark Descending by Allen Eskens  🎧  | $27.99 |
| 36. Provenance by Ann Leckie  🎧    | $29.65 |
| 37. Gone to Dust by Matt Goldman 🎧 | $29.65 |
| 38. Her Darkest Nightmare by Brenda Novak  | $ 7.99 |
| 39. The Wolves of Winter by Tyrell Johnson  🎧  | $17.00 |
| 40. Summit Lake by Charlie Donlea  | $ 8.99 |
| 41. Hello Again by Brenda Novak | $ 7.99 |
| 42. The Knowledge by Martha Grimes   🎧  | $34.99 |
| 43. Kiss Marry Kill by Sidney Halston  | $ 3.99 |
| 44. The Breakers by Marcia Muller  🎧  | $28.50 |
| 45. Hunter Hunted by Keri Arthur  | $ 4.71 |
| 46. Stray Magic by Kelly Meding | $ 3.99 |
| 47. You Belong to Me by Karen Rose  | $ 2.99 |
| 48. Broken Ice by Matt Goldman  🎧  | $24.47 |
| 49. Iron Lake by William Kent Krueger  🎧  | $27.99 |
| 50. The Accidentals by Sarina Bowen | $ 3.99 |
| 51. Boundary Waters by William Kent Krueger  🎧 | $41.99 |
| 52. Purgatory Ridge by William Kent Krueger  🎧 | $27.99 |
| 53. Blood Hollow by William Kent Krueger  🎧  | $36.37 |
| 54. Leverage in Death by JD Robb  | $14.99 |
| 55. Fated by Benedict Jacka  🎧  | $30.09 |
| 56. The Christmas Scorpion by Lee Child  | $ 1.99 |
| 57. Christmas with the Sheriff by Victoria James | $ 2.99 |
| 58. Winter's Bone by Daniel Woodrell    🎧  | $18.24 |
| 59. Fractured Honor by Kaylea Cross | $ 4.99 |
| 60. Wild on My Mind by Laurel Kerr | $ 4.99 |
| 61. All Your Perfects by Colleen Hoover   🎧  | $18.89 |
| 62. Saved by Soup by Judith Barrett | $ 7.49 |
| 63. The Three Beths by Jeff Abbott  | $13.99 |
| 64. Crisis by Felix Francis | $13.99 |
| 65. Down with Love by Kate Meader | $ 4.99 |
| 66. Love and Other Words by Christina Lauren  🎧 | $17.00 |
| 67. Cursed by Keri Arthur | $ 4.92 |
Latest posts by Anne - Books of My Heart
(see all)