Review copy was received from Author. This does not affect my opinion of the book or the content of my review.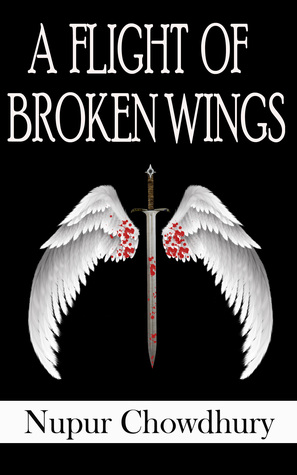 A Flight of Broken Winds

by Nupur Chowdhury
Series: The Aeriel Chronicles #1
on August 26, 2018
Genres: Science Fiction, Urban Fantasy
Pages: 434
Format: eBook
Source: Author
Goodreads
Amazon





Six hundred years ago, humanity rose up in revolt against the Aeriels, who were driven from earth and back into their homeland of Vaan after a bloody and glorious war.

Eight years ago, Ruban's home was destroyed and his family murdered by an Aeriel.

When a new Aeriel threat looms over Ragah, the capital city of Vandram, Ruban Kinoh must do everything in his power to avenge his family's past and protect the future of his country.

Which is hard enough without being saddled with a pretty and pompous aristocrat, who seems as useless as he is vain. Faced with a conspiracy that might cost humanity its hard-won freedom, and accompanied by the bejeweled and glitter-clad Ashwin Kwan, Ruban begins his journey into a land where the past and the future intertwine.
Most of the Angels fled to their homeland, above the clouds, over 600 years ago, when the humans revolted and pushed them out.  Since then, humans and the Angels have mostly lived apart except for a rogue faction that stayed on earth. With the discovery of a formula to make a weapon that can kill any angel, the time clock is ticking and everyone is vying to get their hands on it
Ruben is an angel hunter, one of the best.  He lost his family to an attack by Angels on his home and has carried an even bigger vendetta against them since that day.  Ashwin is an Aeriel Prince sent by his sister to infiltrate the humans and make sure no one gets their hands on this new weapon.  Ashwin needs to team up with Ruben in order to thwart the plot by the rogue angels to take the formula for the weapon for themselves.  The best way to do this is to pretend and be a human Aristocrat from a foreign land and have Ruben assigned to babysit him pretty much.
I enjoyed most of this story, which was a little surprising, since there was no sex really, or love story, or kissing or a hint of a possibly relationship besides the bromance between Ashwin and Ruben.  I tend to stay away from books with Angels as well because they have a tendency to have religious connotations throughout which really isn't my thing either. But the Aeriels in this are another race made mostly of energy so all religious connotations are avoided.  
There was a smidge of a pacing problem for me a few times in the book during some of the dialogue but usually that was short lived and then we were back on track.  Ashwin and Ruben are both pretty likeable and I like what they each brought to the duo. The mystery of who could possibly be the human mole helping the Aeriel Queen living in exile, was a nice addition and while I had my suspicions, they weren't confirmed until the very end.
Overall a solid read, A Flight of Broken Wings is one of those flying a bit under everyone's radars. So if you are looking for a good book with no kissing, then this one could be for you.
Rating Breakdown
Plot
Writing
Characters
Dialogue
Overall:
Reviewer
at
Books of My Heart
Reading is my #1 addiction…I'd go to a support group for it but who are we kidding -  I have no intentions of quitting anytime soon. By day, I'm a chemist and can be found sciencing and listening to books. On nights and weekends, I'm a wannabe Spartan and am often training and listening to books. I straight up LOVE almost everything by Brandon Sanderson and Ilona Andrews; they are my flagship authors and I might be slightly impartial where they are concerned. My other guilty pleasures are unusual fairytale retellings and uber alpha males.
Friend me at Goodreads.
Related Posts