Review copy was received from Author, Purchased. This does not affect my opinion of the book or the content of my review.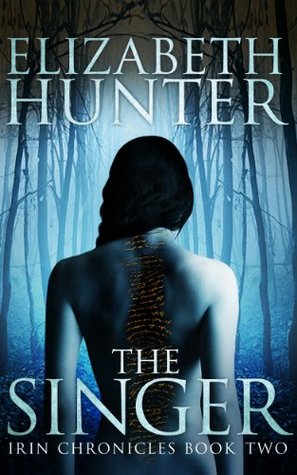 The Singer
by
Elizabeth Hunter
Series:
Irin Chronicles #2
Published by
Self-Published
on May 6, 2014
Genres:
Urban Fantasy
Pages:
330
Format:
eARC
,
eBook
Source:
Author, Purchased
Goodreads
Amazon
, 
Audible
, 
Audiobook






When you've lost everything you love, how do you fight the darkness?

Ava left Istanbul with a new identity, new name, and new magic she could barely control. Laid low by Malachi's sacrifice, she searches for help from the fabled Irina. But will the secretive women of the Irin race welcome or shun her? Ava's origins are still a mystery, and her powers are darker than any they've encountered before.

The Irin world hangs in the balance. And as the children of angels battle their own demons, ancient rivalries among the Fallen threaten to wreak havoc on earth.

Thousand of miles away, a warrior wakes with no memory of his identity or his people. Stumbling through the twisted schemes of fallen angels, ravenous Grigori, and even his own leaders, he must find a way back to the one thing he remembers. A single voice calls him. Malachi has one mission.

"Come back to me."
ICYMI is a post from my early days of blogging at Yummy Men & KickAss Chicks.   You can see the original review here.  This is currently in Kindle Unlimited so only Amazon links.
Yummy Man – Malachi
Kick Ass Chick – Ava Matheson
---
This is the second book in the Irin Chronicles urban fantasy series by Elizabeth Hunter. I think like most urban fantasy, because it is one long story with appropriate stopping points, it is better and almost necessary to read the books in order. (Book one, The Scribe, is amazing and you can read my review here.) I try not to do much spoiling in my reviews but this will spoil some for the first book even if I am careful.
In the first book, Ava and Malachi meet, fall in love and are bound as mates. There is a war going on and Malachi is killed. But Ava, not knowing what she is or her powers, wails the words "Come back to me," over and over in her grief.
The Singer is a fast paced book because one can't help but read quickly. I was on edge, devouring the pages, anxious, totally filled with fear and hope throughout.
Ava is grieving for Malachi in this book. She is with friends and learning about her abilities, being trained to physically defend herself, be fit, and learn her own skills. There are seven families of Irina and she is from perhaps the rarest. Her days are filled with training but she longs to go to bed and sleep where she can soothe her grief with dreams of Malachi.
Malachi is actually alive. But he is like a newborn babe in that he has to relearn things, remember things and his protections and skills. He is driven to find Ava. He also dreams at night with her.
Jaron is a bizarre character. He is a Fallen and supposed to be an enemy. Both in The Scribe and The Singer, he is somewhat helpful. I don't know what to make of him. I don't exactly trust him, though. And he gives us a new shock at the end of The Singer, much in the way he did at the end of The Scribe.
If you loved The Scribe, you will love The Singer. It is a rush, with so much action and feelings and WANTING TO KNOW! It is filled with characters we are beginning to know and many new ones. I anticipated and dreaded what would happen all the way. I'll be waiting and wanting to know more, until the next book, which likely is a year away.
If you need more of a reason to buy this book, read this excerpt 🙂
Ava. The name fell into his mind and filled it. It brought the memory of air tinged with cloves and roasted hazelnuts.
"Who is she?"
The old man looked at him, pity in his eyes. "She is your mate. You remember nothing of her?"
"My mate?" Not a wife. More than a wife.
"Your mate. Your reshon. It is a sacred union."
"Reshon?"
"Your souls were created for each other. And when you marked her with magic, they bonded."
"Where is she?"
Evren and Rhys exchanged a look. Rhys said, "We don't know, but we're going to try to find her. We will find her."
She wasn't here. He felt as if he were stumbling through the dark, looking for something just out of his reach.
"Malachi," Evren asked. "When you woke, you were like this?"
Malachi frowned. "I was by the river. There was nothing around. But I followed the water and found the farm."
"The old retreat," Evren said. "He woke near the old retreat. I think when he came back, he was reborn in the exact place he was born the first time."
Rhys said, "You think Ava—"
"It must have been. I don't know how, but it is the only explanation."
"No Irina has the power to—"
"No Irina is like Ava. She has no training. She has never been told what she may not do, so who knows what she is capable of?"
Malachi broke into their quiet conversation. "You're telling me I died?"
Evren and Rhys turned to him.
"I died?" he asked again. "Truly? I died. And I came back to life?"
"What do you remember?"
"Nothing. I remember nothing. Just her voice on the wind and the stars overhead. I've been getting flashes here and there, but I don't remember her. How could I forget her?" He felt torn. Incomplete. And it wasn't just the memories he was missing. "And you think she did this somehow?"
Evren said, "We don't know. Not really. But there is no other explanation. Your brothers saw you die. Saw your body turn to dust. Your mate saw you die—felt you die."
"But why would Ava be able to—"
"She said the words," Rhys said. "The words she had heard her whole life. From the souls of everyone who mourned. She came to me before she left. Asked me what it meant. Vashama canem. Come back to me." He turned to Evren. "I had no idea. How could I?"
"There was no way of knowing she could do this, Rhys. No way—"
"Wait!" Malachi felt a chill creep along his skin. "You're telling me she spoke this command and I answered. Even from beyond death?"
"He's telling you words have power," Evren said. "Ava asked you to come back to her. And you did."
I can't really remember any time when I wasn't reading. I LOVE books and what they give me. It's an opportunity to learn new things, see new places,live different emotions in a "safe" way. It lets me live in a new world.
I read all types of books but my favorites are urban fantasy and romantic suspense.I like some romance and some action / adventure / mystery in everything.I like sex in my books but please, only between TWO people.Intimate conversation is equally important to the sex in a book.It lets me see the characters.The other thing I enjoy is humor.
Friend me at Goodreads.
Latest posts by Anne - Books of My Heart (see all)
Related Posts