Review copy was received from Publisher. This does not affect my opinion of the book or the content of my review.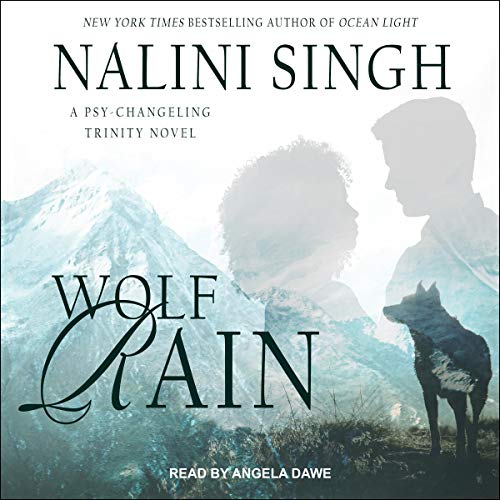 Wolf Rain
by
Nalini Singh
Narrator:
Angela Dawe
Series:
Psy-Changeling #18
,
Psy-Changeling Trinity #3
Published by
Tantor Audio
on June 4, 2019
Genres:
Paranormal Romance
Length:
13 hours, 23 minutes
Format:
Audiobook
Source:
Publisher
Goodreads
Amazon
, 
Audible
, 
Audiobook
, 
Barnes & Noble






The end of Silence was supposed to create a better world for future generations. But trust is broken, and the alliance between Psy, Changeling, and human is thin. The problems that led to Silence are back in full force. Because Silence fixed nothing, just hid the problems.

This time, the Psy have to find a real answer to their problems—if one exists. Or their race will soon go extinct in a cascade of violence. The answer begins with an empath who is attuned to monsters—and who is going to charm a wolf into loving her despite his own demons.
Wolf Rain is both the 3rd book in the Psy-Changeling Trinity and the 18th book in the Psy-Changling story. Every story follows one couple on their journey to love while building on a bigger story arc overall.  You could probably read one without reading others but there would be a lot of world building and backstory that wouldn't be as engaging if you started with this book.  That said you could definitely start with Silver Silence, book one of the Psy-Changeling Trinity and have everything you need, but the series is a lot of fun and so starting at the very beginning with Slave to Sensation shouldn't be a hardship.
I loved that we are back with the Snowdancer pack in this.  The wolves are always a lot of fun and I love how the pack lives together.  Alexi, is part of Snowdancers pack but he has kept himself on the outside since his brother went Rogue and had to be put down.  He has felt the pain of that everyday since it happened and no one has been able to pull him back.
Memory has been kept as a captive since she was eight.  The only things she has known of the outside word are what she has seen on tv shows.  Her gift is one we haven't really explored before, she is an empath but she is something more.  Her gift understands that monsters are in the Psy-net; it has been used to cause harm all of her life and so Memory sees it as a curse, but what if it could be more, much much more.  
Alexi might have saved Memory from the prison she was held in for over a decade, but maybe she can also save him right back from the demons that haunt him from his past and the fear that just like his brother he will one day go rogue and kill those he once loved.  Their journey to love, acceptance mixed with a little revenge was really wonderful and Nalini Singh at her best.
There are some other troubles going on in the background.  The Psy-net is failing as it needs something more than just the Psy to hold it together and the humans and changelings are not not forming emotional ties to the Psy quickly enough.  There are also sleepers in the psy, people whose silence really saved from accidentally killing others and now one's power has been awoken and the Pack and Arrows must find out who it is before they kill more people.
It was so great to get cameos from some of my favorite Wolves, Leopards and Arrows.  Seeing Sasha and her kid was so adorable that I almost couldn't contain my happiness at seeing how the toddler is doing.  Wolfe, Kaleb and Tammy also play small parts in the story and it was like being home again to see them all.
Psy-Changling remains one of my favorite PNR series ever.  I love how each story evolves the series and I never get bored with any of it.  Another wonderful book in this world with two characters I'm glad found a way to each other.
Narration:
Angela Dawe has been the narrator of all of the Psy-Changling books.  She is the voice I expect and the one I hear in my head even if I read them on my own.  She captures the voice of the story and her narration is always very good and really evokes the emotion of the story.  Wolf Rain is no exception and it too is performed very well by Angela Dawe.
Listen to a clip:  HERE
Rating Breakdown
Plot
Writing
Characters
Dialogue
Narration (Audio)
Overall:
Related Posts