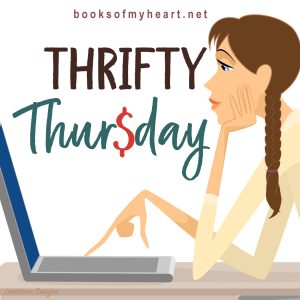 The purpose of Thrifty Thursday is to read a book which was free (at some point).
Audible freebie on December 20, 2016 (currently $24.95 at Audible and $16.51 at Barnes & Noble as of writing this post)
Overall rating 4.46 with 199,496 ratings and 21,840 reviews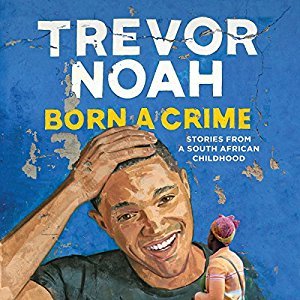 Born a Crime
by
Trevor Noah
Narrator:
Trevor Noah
Published by
Audible
on November 15, 2016
Genres:
Non Fiction
Length:
8 hours, 50 minutes
Format:
Audiobook
Source:
Purchased
Goodreads
Amazon
, 
Audible
, 
Audiobook
, 
Barnes & Noble




Trevor Noah, one of the comedy world's fastest-rising stars and host of The Daily Show, tells his wild coming-of-age story during the twilight of apartheid in South Africa and the tumultuous days of freedom that followed. In this Audible Studios production, Noah provides something deeper than traditional memoirists: powerfully funny observations about how farcical political and social systems play out in our lives.

"Nelson Mandela once said, 'If you talk to a man in a language he understands, that goes to his head. If you talk to him in his language, that goes to his heart.' He was so right. When you make the effort to speak someone else's language, even if it's just basic phrases here and there, you are saying to them, 'I understand that you have a culture and identity that exists beyond me. I see you as a human being.'" (Trevor Noah)

Attuned to the power of language at a young age - as a means of acceptance and influence in a country divided, then subdivided, into groups at odds with one another - Noah's raw, personal journey becomes something extraordinary in audio: a true testament to the power of storytelling. With brutal honesty and piercing wit, he forgoes an ordinary reading and, instead, delivers something more intimate, sharing his story with the openness and candor of a close friend. His chameleon-like ability to mimic accents and dialects, to shift effortlessly between languages including English, Xhosa, and Zulu, and to embody characters throughout his childhood - his mother, his gran, his schoolmates, first crushes and infatuations - brings each memory to life in vivid detail. Hearing him directly, you're reminded of the gift inherent in telling one's story and having it heard; of connecting with another, and seeing them as a human being.

The stories Noah tells are by turns hilarious, bizarre, tender, dark, and poignant - subsisting on caterpillars during months of extreme poverty, making comically pitiful attempts at teenage romance in a color-obsessed world, thrown into jail as the hapless fall guy for a crime he didn't commit, thrown by his mother from a speeding car driven by murderous gangsters, and more.
I can't remember how this freebie became available but I was ecstatic to get Born a Crime. I love Trevor on The Daily Show. He's adorable and funny.   The writing and narration are by Trevor Noah.
The topics of Trevor's life are thought-provoking and show the realities of a child in South Africa. As non-fiction, it provides some insight to history and politics in a humorous and easy way.
Narration:
I loved listening to Trevor!  I actually enjoy having the author narrate their work since I figure they know and understand the emotional tenor of the story.  I listened comfortably at 1.5x speed.
Listen to a clip here:

---
These are only Kindle freebies I get, or ones through author newsletters which anyone can sign up and get for free. I don't include things like Kindle Unlimited or Prime Free Reading (I do have it). Both Tantor and Audible have occasional free audios (to anyone) and I do include those.  Since I one-click on 1-2 freebies a day or probably at least 5 a week, I came up with this feature to make sure I start reading them.
So I have thought about doing a Thrifty Thursday Challenge someday. For now,  what I think would be fun is if you have read and reviewed  a freebie, link up to your review (Goodreads, blog, facebook or wherever) below.
---
Add your review link here: 
Mister Linky's Magical Widgets — Thumb-Linky widget will appear right here!
This preview will disappear when the widget is displayed on your site.
If this widget does not appear,
click here
to display it.
Rating Breakdown
Writing
Narration (Audio)
Overall:
Latest posts by Anne - Books of My Heart
(see all)
Reading this book contributed to these challenges:
Related Posts