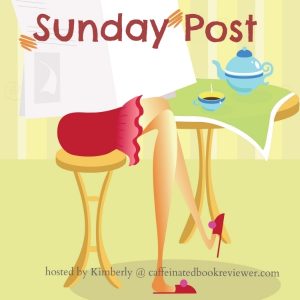 The Sunday Post is a weekly meme hosted by Kimberly  @ Caffeinated Reviewer. It's a chance to share news~ A post to recap the past week on your blog and showcase books and things we have received.
Stacking The Shelves
is also a weekly meme hosted by 
Tynga's Reviews
and Marlene from
Reading Reality.
It's all about sharing the books you are adding to your shelves, may it be physical or virtual. This means you can include books you buy in physical store or online, books you borrow from friends or the library, review books, gifts and of course ebooks!

Don't forget to look at my giveaways on the right sidebar.
I thought I was exhausted last week. Hahaha  It was just a warmup for this week.  It wouldn't be as hard if the temperature wasn't in the mid to upper 90s.   My pants no longer stay around my waist (too big). I'm showering twice a day because I get so hot, sweaty and dirty with the moving, packing and scrubbing.
I love the new place, so many things are better.  The kitchen is a joy, in layout. I love our new appliances – the fridge, washer and dryer.   I'm drinking water from the fridge door all day long; no more bottled water for me.  It's great to get everything where we need it to go and make a home.
Of course, there have been a few glitches.  My daughter's toilet was leaking from the bolts so I've already used the home warranty I had the seller purchase for me.  Part of a table leg connector got broken but I was able to figure out a way to fix it with an electrical part from Lowe's. We have needed to buy some things so the money is flying out fast, which I expected.
Lulu is awesome.  She's friendly and not barky.  She does like to chew so we have to watch her on that a bit.  We are really enjoying her.
I'm listening to audiobooks but I've only been sleeping about 6 hours a night so I haven't been reading much before bed.  I hope to get back into that routine this week.   I had one round with movers who were late but very good, and I have another round this Thursday.  I've been hauling loads in the car at least daily.  Saturday, I rented a cargo van and hoped to haul 3-4 bigger loads, but only managed 2 loads.  Still I accomplished quite a bit.  I like to take the more fragile stuff myself this way.  I'm so tired after hauling stuff for 12 hours again today.
Sunday I plan to just stay home at the new house.  I need to scrub out bookcases we brought over today and put away things in boxes we hauled over today (Saturday).  I am going to need to plan 1-2 days a week to do those things at home to rest a bit and eat more regular meals or I won't make it through the month.  I'm one huge bruise all over.

Stacking the Shelves is hosted by Tynga's Reviews and Reading Reality.  These are the exciting ARCs I received this week:
Thank  you Macmillan Audio!
Nope.

Now the really scary one. This is all the Kindle and Audible freebies I grabbed this past week. You can see why I need to do Thrifty Thursday to be sure I read a few at least one each month.
I really meant to cut back on freebies BUT  they are free so I guess that won't be happening.

I'm not including things like reviews posted or upcoming as they are always in the right sidebar. And, my challenge status is also there.
If you like this and want to see me do the Sunday post, as often as I can manage, leave me a comment and let me know.
Anne
Latest posts by Anne - Books of My Heart
(see all)