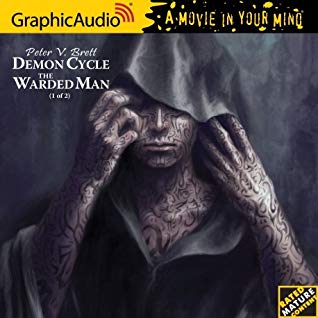 The Warded Man
by
Peter V. Brett
Narrator:
Full cast
Published by
Graphic Audio
on September 2008
Genres:
Fantasy
Length:
18 hours, 10 minutes
Format:
Audiobook
Source:
Purchased
Goodreads
Amazon
, 
Audible
, 
Audiobook
, 
Barnes & Noble
, 
Apple





As darkness falls after sunset, the corelings rise—demons who possess supernatural powers and burn with a consuming hatred of humanity. For hundreds of years the demons have terrorized the night, slowly culling the human herd that shelters behind magical wards—symbols of power whose origins are lost in myth and whose protection is terrifyingly fragile. It was not always this way. Once, men and women battled the corelings on equal terms, but those days are gone. Night by night the demons grow stronger, while human numbers dwindle under their relentless assault. Now, with hope for the future fading, three young survivors of vicious demon attacks will dare the impossible, stepping beyond the crumbling safety of the wards to risk everything in a desperate quest to regain the secrets of the past. Together, they will stand against the night.
The Demon Cycle series is a fantasy that has been in my TBR pile for years and I've finally found time and a group to read it with making it more of a priority.  The Warded Man is a really good introduction to the world of the Demon Cycle, a lot of it is world-building and I really didn't mind that since it was all pretty interesting.  This is a world that could have been ours once upon a time, but it has been broken back to small towns and cities where elemental demons come out at night and the only thing between you and them are the ward on your house or around your city.
We follow three different people from their childhoods into different stages of adulthood:  Arland, was a boy from a small hamlet who learned young how fear ruled his home and his family.  He ends up leaving for a walled city never to return to the home of his youth and has a special kind of vendetta against the demons.  I liked the journey Arland has and how his journey lead him to become the Warded Man later. He has seen some stuff and taken risks that no one else has dreamed of.
Leesha is the second character we follow.  She also grew up in a small town and found out that she had an aptitude for healing.  In the early story, I liked her chapters the best as she chose between the life she always thought she would have to the life she was meant to live.
Last, but not least, is Rojer.  He lost his parents at a very young age due to failing wards and was taken in but a Jougler (man who entertains for a living).  You realize at this point that sometime Arland, who once became a messenger and Rojer will eventually meet up but I didn't guess how that was going to come about.
I totally loved the different world-building in this and the nightly fight against the Corelings or Demons as they are known.  Every type of town has a different method of protection but you could see how fear and hiding were the method most used. I was extremely caught up in the journey all of the PoVs were taking.
This would have been a near perfect introductory story except for an event that happens near the 90% mark that just made me roll my eyes  at Peter V. Brett and how he definitely doesn't seem to understand women or how they would react in a certain situation.  The event is super spoilery but I'll just say this lost an entire star because of it. The book got ridiculous for about 5% but then we were back to fighting the Corelings and everything was back on track.
I'm totally excited to see where this journey takes us and how the new trio of Arland, Leesha and Rojer will carry all of their new findings to more people to try to help move all of the humans out of being on the defensive only against the Demons to starting to think offensively and what that will bring.  
There are some hints along the way that the demons we have been shown in this installment aren't the only ones out there and this is just the tip of the iceberg in the war to come.
"We are what we choose to be, girl,' she said. 'Let others determine your worth, and you've already lost, because no one wants people worth more than themselves." 
"I think, sometimes, when he's busy loving you, he forgets to hate himself." 
Narration:
I got this on Graphic Audio which is a full cast reading with sound effects, like there advertisement says it is like a movie for your mind.  Graphic Audio is a lot more money than just an audiobook but for some of my favorite series it is totally worth it. I did have a little trouble with this production because the demons make a lot of noise and sometimes that could be distracting from the actual story.  I haven't really had that issue with other Graphic Audio I've listened to so it could just be this story production didn't work as well. I do love how the music and the full cast of voices can add so much more emotion to the story and would recommend Graphic Audio versions in general if you have a chance to check them out. 
Listen to a clip: HERE
Rating Breakdown
Plot
Writing
Characters
Dialogue
Narration (Audio)
Overall:
Related Posts