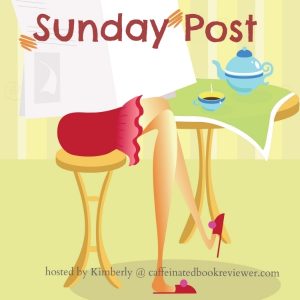 The Sunday Post is a weekly meme hosted by Kimberly  @ Caffeinated Reviewer. It's a chance to share news~ A post to recap the past week on your blog and showcase books and things we have received.
Stacking The Shelves
is also a weekly meme hosted by 
Tynga's Reviews
and Marlene from
Reading Reality.
It's all about sharing the books you are adding to your shelves, may it be physical or virtual. This means you can include books you buy in physical store or online, books you borrow from friends or the library, review books, gifts and of course ebooks!

Don't forget to look at my giveaways on the right sidebar.
OMG.  I am just so glad to be home. And now scrambling to catch up.  For weeks, I have had trouble getting ebooks read because I get up earlier to try to do things and then can't manage to read at bedtime; I just fall asleep.  I have many eARCs which I am 60% through and abandon to keep up with others.  That has to change.


I started the week in Iowa. Brrrr.  I took my daughter to the airport and headed south. Lulu and I had 2 more days with about 12 hours in the car.  She was a trooper but geez, she is a bed hog.  I don't let her sleep with me at home but I couldn't put her in the crate after she was in the crate or anxious in the car.  I barely got everything in the car but I did.
Two things were happening in Iowa.  One was an event with a museum opening for the company my Dad built with his cousins.  So many family members from all over the country and people who worked at the company who are old friends, and townspeople were there.   Then my Mom's house sold last week so we were going through everything and deciding what to sell, what to ship and what to put in the car to take home.  I got a dresser my daughter wanted, a plant stand, and a mirror.  The rest of the things were pictures and papers,  and a couple quilts.  No one else was interested in the quilts – weird.  My daughter noticed them,  and she also was happy to take all Mom's jewelry (not anything valuable).  My daughter makes jewelry and so she was very excited to have them to wear or repurpose.
My daughter did not have an easy trip.  She flew Raleigh to Chicago last Friday and that flight was delayed. So she missed her flight from Chicago to Waterloo.  She tried to go rewrite her ticket and then went standby to Cedar Rapids and was the only one who didn't make standby. She was so overwhelmed and exhausted after a full day of classes and stranded at 11:30pm.   She was such a trooper though, found a hotel and took an Uber there.  I was still driving to Waterloo with my niece I picked up in Indianapolis after her optometry classes ended.
I had to pick up my daughter at the airport last Saturday, so I missed the main events at the museum. We went over to see it and some people were still there. But that gave us only about an hour to go through things at Mom's house instead of a few hours.  It's my childhood home and I barely had time to walk through or look at anything.  Lack of time forced us to be efficient and it's done.  My brother talked about taking everything left to storage and me coming up in December to help him go through it.  I told him it would cost me another couple thousand dollars to come up there either drive or fly and rent a car, so put the papers in boxes and ship them here, it's cheaper and NC would be warmer.  I asked him when I was driving Sunday how many boxes of papers he was sending.  ONE.  A big box but I am SO glad I made the decision to not go there for sorting. He lives in FL and can fly here for cheap and stay in my guest room and I'm a great cook.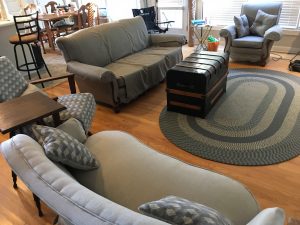 Tuesday was a gorgeous day at home.  Almost 80 but it's mostly nice 60-70s now (about 20C).   I wrote reviews, did laundry, tried to catch up on emails and a little visiting.  I had to unload the car, and get out the garbage /recycle, along with other household chores.  Wednesday we made it to quilting. My daughter wanted to make the Christmas tree skirt pattern Bonnie has but this week and next will be working on the charity quilts and receiving blankets. I finally put one of the receiving blankets together as a sample. Now I just need to put together the squares I have already cut into kits for next week.  Thursday, I rented a U-haul and picked up the sofa and big chair, so all the upholstery is complete!  Friday, I continued to restock fresh groceries, cook some things, and work my way through writing reviews and handling emails.  Saturday was dog training and a few errands.
I'm still very tired and working on catchup. Every day, I'd like to go to bed rather than cook dinner.  I'm enjoying the cooler weather and hope I'll feel more energy after being home a few more days.

Stacking the Shelves is hosted by Tynga's Reviews and Reading Reality.  These are the exciting ARCs I received this week (If you click on the cover, it will take you to the Goodreads entry):
Thank you so much Social Butterfly PR,
(If you click on the cover, it will take you to the Goodreads entry)
NOTHING.

Now the really scary one. This is all the Kindle and Audible freebies I grabbed this past week. You can see why I need to do Thrifty Thursday to be sure I read a few at least one each month.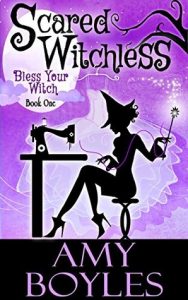 I really meant to cut back on freebies BUT  they are free so I guess that won't be happening.

I'm not including things like reviews posted or upcoming as they are always in the right sidebar. And, my challenge status is also there.
If you like this and want to see me do the Sunday post, as often as I can manage, leave me a comment and let me know.
Anne
Latest posts by Anne - Books of My Heart
(see all)