Review copy was received from Publicity team. This does not affect my opinion of the book or the content of my review.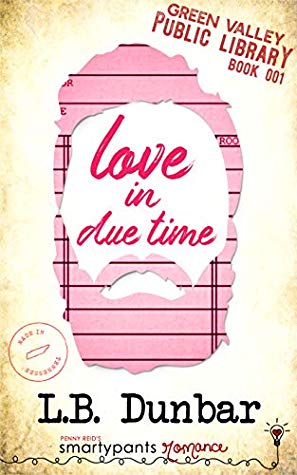 Love in Due Time
by
LB Dunbar
Series:
Green Valley Library #1
Published by
Smartypants Romance
on October 22, 2019
Genres:
Contemporary Romance
Pages:
411
Format:
eARC
Source:
Publicity team
Goodreads
Amazon
, 
Barnes & Noble





Naomi Winters will be forty—soon-ish—and she's only been with one man. One night. One time. Long ago. She believes everything happens for a reason, and the universe spoke about Nathan Ryder.

Nathan Ryder isn't the same man who hightailed his bike out of Green Valley eighteen years ago. As a rule breaker, women are one area he acts a fool. Case in point…the local librarian. He can't get a read on her, but she's one risk he's willing to take. Again.

What do an eccentric librarian and a sexy silver biker have in common? More than you think.
The due date on their love might not be expired after all.
Here we are in another aspect of the Penny Reid universe. Love in Due Time is the first of the Green Valley library series set in Tennessee.  This is the town where the Winston Brothers grew up and the library is where Bethany Winston worked.  This author has some experience with older couple romances. The couple here is around 40 and are giving their romance a second chance. The chapters alternate between Naomi and Nathan's point of views.
Naomi is the inexperienced librarian. Her reactions feel authentic, although it is a bit confused with the Wiccan trappings at some points. Her thoughts at times were a bit ridiculous.  But she is kind and hard-working and deserves some fun. She IS fun and has her own personality.
Nathan left town rather than patch in with the Iron Wraiths. He seems to not have been a bad guy but had a questionable taste in friends and women. He is raising his two daughters. Now almost 20 years later, he has come back to his home town to be closer to his mom. He's run into Naomi, his one night stand from the night he left, and the Iron Wraiths again.  I didn't quite find his reaction to Naomi to pick up a relationship with such kindness and persistence believeable.
I did root for this couple and was happy to see them find their way. Their connection was sexy both emotionally and physically.  They also did especially well with the daughters. The characters from the original series were not heavily involved. We get brief appearances by Jackson James and Cletus Winston.  There are some happenings at the library and I look forward to the rest of the series to see how those progress.
Excerpt:
"Naomi?" My hands cover her shoulders, holding her steady.

"This is all my fault." Her eyes widen, the widest I've ever seen. Panic fills them.

"What do you mean?"

"I … I can't believe this happened again." Her hands come to my chest, and she gently pushes at me. "You have to get out of here."

"What?" My brows pinch at the harsh tone.

"You need to go. I can't be near you." Her voice struggles to stay level.

Ouch. That stings a little. "Why?" I take one step back under the force of her hands.

"I can't be around you. This can't happen."

"Lady, what are you talking about?" My voice roughens.

"Bad things always happen after I'm with you."

I stiffen, straightening to my full height. My arms cross and I glare down at her. Saying such a thing is just downright mean. Her head shakes as her fingers curl along the open edges of my work jacket. Suddenly, I feel like she's tugging me to her instead of pressing me away.
What the …

"When I'm with you, something happens. Something bad." Her breath catches. "Because we kissed, the library is closing."

I stare at her. She can't be serious, but I see the hysteria in her eyes, like a rabid, trapped animal. She actually believes what she says.

"Well, we didn't kiss," I remind her, my tone stern and condescending. "I kissed you, remember? And you didn't kiss me back, so I don't think it counts."

She glares up at me, her fingers still gripping my open jacket. Her shoulders fall, her head lowers, and it's as if I can visibly see her relax, like water cascading down a building, washing over her.
Exhale. Settle.
Exhale. Calm.

"I didn't kiss you back?" she questions and then her head pops up again. She nearly shrieks with the hesitant realization. Commence inhaling, like she's winding up again. Full steam ahead.
"I didn't kiss you back," she repeats, her excitement growing. Another exaggerated inhale.
"I didn't kiss you back!" Now, she's just downright gloating, and the engine's ready to blow.

"You don't have to sound so pleased," I murmur. I glance up and notice Mrs. MacIntyre watching us through the window of the librarian's office behind the check-out counter. Her eyes narrow and I'm certain we're making too much noise for her liking.

"I … I'm so relieved," Naomi admits, her head falling forward, her fingers loosening on my jacket. Then her face turns up again. Her lids lift, slow and lazy. Her mouth curls in sweet relief, and she pulls herself up on her toes by the open edge of my jacket and does the damnedest thing. She kisses me.
Latest posts by Anne - Books of My Heart
(see all)
Reading this book contributed to these challenges:
Related Posts