Review copy was received from Publisher. This does not affect my opinion of the book or the content of my review.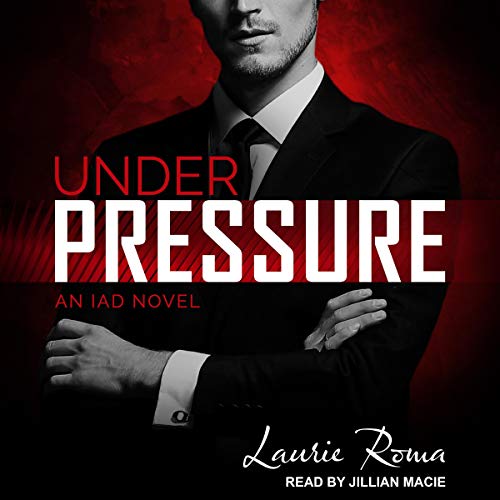 Under Pressure
by
Laurie Roma
Narrator:
Jillian Macie
Series:
IAD Agency #1
Published by
Tantor Audio
on November 5, 2019
Genres:
Erotica
,
Romantic Suspense
Length:
8 hours, 20 minutes
Format:
Audiobook
Source:
Publisher
Goodreads
Amazon
, 
Audible
, 
Audiobook
, 
Barnes & Noble
, 
Apple




Jason MacBain is the perfect agent. Tall, dark, and deadly, he is a man who lives by simple rules-kill the bad guys and protect the world. Closed off from his emotions, Jason has never believed in love and doesn't need anyone. But all that changes the night he meets Bella Moretti...

Isabella Moretti is a famous chef struggling to reclaim her life after she survives a vicious attack. Moving back to Chicago to recover and be closer to her family, Bella meets Jason and is frightened by the passion he stirs inside her. But now that Jason has found Bella, he is determined to claim her as his. And when her stalker reappears, Jason is under pressure to gain her trust, find a way to keep her safe, and do whatever it takes to end the threat to her for good.

Bella is forced to trust Jason with her safety, but does she dare trust him with her heart?
Under Pressure is more romance than anything else but it suffered from a case of insta-love with a little alpha male overload.  Don't get me wrong, I really like alpha males most of the time. However, the constant reiteration that Isabella was Jason's and him getting jealous over EVERY man in her life was a bit OTT for me.
There are some decent things going on in this story.  I liked Isabella for the most part. She has been through a traumatic experience and is trying to take her life back.  When she meets Jason, he is an absolutely beautiful specimen of a man, but then he talks and is a complete jerkface. Still after a single exchange, he likes the stunning woman before him and talks her into going home with him for a night of passion.  He just didn't expect Isabella to run out right after the first round of what was going to be many in Jason's mind.
Isabella is hiding from a stalker, one that almost killed her the last time she saw him.  I really wish there was a little more play on this part of the story. The stalker seems really smart and so intense in his feeling for the object of his affection.  For most of the story, the stalker is kinda an afterthought. I thought there could have been a little more page time for this part of the story. Jason's agency seemed really cool too but it was off to the side and we really didn't see the men doing much action, well, except guarding Isabella.  I did enjoy the cooking stuff in the book, those were some of my favorite moments.
I didn't really like the way Jason and Isabella were all of a sudden together and committed to each other like they'd been together for months or years after barely meeting.  He calls her love all the time and she spends a ton of time sitting in his lap. It was just not my kind of love story. I like alpha males a lot most of the time but something about Jason just rubbed me wrong and I never connected with him.  
I thought some of the other potential couples sounded interesting.  Laurie Roma introduced about four potential new couples for spin off books.  I'm just not sure I like her writing style, I think it will be hit or miss for most.  No offense to her since I love Kristen Ashley and she is hit or miss for everyone too.    
Narration:
Jillian Macie is a new to me narrator.  Overall, I think her performance was about average.  She did well with the material given to her. I never got lost in the story but I think that was more due to content. She made all the characters sound unique.  I listened to this audiobook at my normal 1.5x speed.
Listen to a clip:  HERE
Rating Breakdown
Plot
Writing
Characters
Narration (Audio)
Overall:
Related Posts