The Sunday Post is a weekly meme hosted by Kimberly  @ Caffeinated Reviewer. It's a chance to share news~ A post to recap the past week on your blog and showcase books and things we have received.

Stacking The Shelves

is also a weekly meme hosted by 

Tynga's Reviews

and Marlene from

Reading Reality.  

It's all about sharing the books you are adding to your shelves, may it be physical or virtual. This means you can include books you buy in physical store or online, books you borrow from friends or the library, review books, gifts and of course ebooks!
---
Don't forget to look at my giveaways on the right sidebar.
OK  yeah,  my book haul this week was stupendous.
Sunday, I lamented how I read library books instead of the ARCs I had for blog tours this week.  So I read, did laundry, and cooked. Monday is our long day of school followed up by a medical appt. I read furiously on my ARCs, grocery shopped during her appt and managed to put together a balanced dinner. The boxes started arriving from my online shopping. I finished up my Cyber Monday shopping.  When I was trying to save my review, the blog had issues and even though I stayed up an extra hour and a half, it still wasn't online. I finally gave up and went to bed.
Tuesday I got up and published the review. I was also able to then respond to comments. It turns out when the blog is down, I might as well read because it is what I do the most on the computer. I had some ideas about unpacking. Wednesday  was the usual but we missed quilting with a late afternoon medical appt.
Thursday was a breakthrough. The weather was gorgeous and I went out with the leaf eater and got filthy. I also did a bunch more unpacking PLUS I got my daughter to look in about 5 boxes, take out anything she needed / had been looking to find, then labeled them, sealed them and we put those into the attic for when she has time to unpack them. It felt great. The attic was empty except for a few totes of baby stuff I have saved of hers. There's still plenty of room in there.
I also did more sorting of the bathroom stuff and that is coming along well. I'm doing that for her. I have thrown out a bunch of expired stuff and gotten her to put stuff she wouldn't use in another box. I continued sorting /organizing on Friday. It makes such a difference to clean out the upstairs hall and guest room of boxes. Now she will be able to find her stuff too. (The bathroom and linen closet were mostly empty so there was space for it all; it just needed unpacking / organizing. But I won't have an excuse not to vacuum now!  I got more caught up on ARCs and did a bunch of stuff on the read-along, as well as my usual blog visiting.
Saturday, my daughter wanted to go to some craft fairs. I woke up with a headache and didn't really want to go but I took her to the two she found. I didn't think they were very good. There were a few nice things, but those were things I could make myself rather than spend $$.   She did get one Christmas ornament.  We got home around 4:30 and hadn't had lunch.  I felt frustrated since I didn't get the things worked on which I'd wanted to do. Happily, some neighbors who needed boxes came to get them when I was fixing the meal so those piles are out of the garage!
Today – Sunday – I'll get my Top 10 lists together and into the posts. There will also be blog visiting. Hopefully, also some more work on the bathroom organizing.
---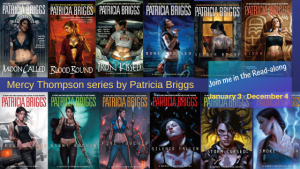 The 2020 Read-along  of the Mercy Thompson series by Patricia Briggs is off and running.  One of the things I love is having various friends share their reviews for different books as we go along.   The full schedule for the Read-along and details are HERE.
---

Stacking the Shelves is hosted by Tynga's Reviews and Reading Reality.  These are the exciting ARCs I received this week (If you click on the cover, it will take you to the Goodreads entry):
I'm on the everything Elizabeth Hunter ARC list, so I happily received her holiday novella in the Elemental World. DAW books sent me a surprise paperback which is 3rd in the series.  Has anyone read the first two? Thank you to Macmillan/Tor/Forge for the next book in the series.  I was ecstatic to discover Recorded Books just re-recorded Red Knife by William Kent Krueger with the primary narrator of the series and was willing to give me a review copy!!!! .  Thank you Tantor for Risk It All.
(If you click on the cover, it will take you to the Goodreads entry)
So first I got sucked into the buy $20, get a $5 ebook credit and grabbed some things that either added to series I am collecting or which the library doesn't have.
Next I perused the Black Friday Audible sale.
And lastly I picked a few things to work on series I am collecting since I had 9 credits to use by the end of the month.

Now the really scary one. This is all the Kindle and Audible freebies I grabbed this past week. You can see why I need to do Thrifty Thursday to be sure I read a few at least one each month.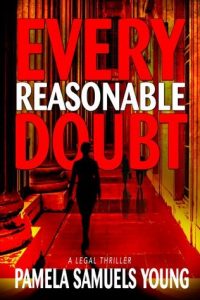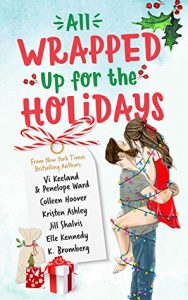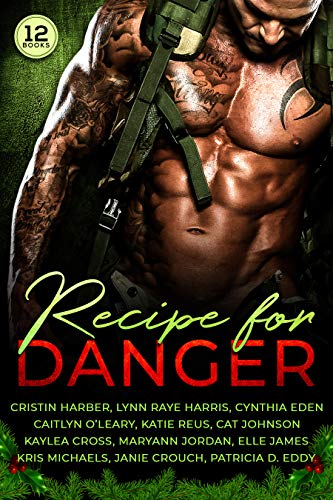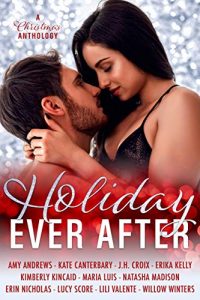 I'm not including things like reviews posted or upcoming as they are always in the right sidebar. And, my challenge status is also there.
If you like this and want to see me do the Sunday post, as often as I can manage, leave me a comment and let me know.
Anne
Latest posts by Anne - Books of My Heart
(see all)