The Sunday Post is a weekly meme hosted by Kimberly  @ Caffeinated Reviewer. It's a chance to share news~ A post to recap the past week, and showcase books and things we have received.

Stacking The Shelves is also a weekly meme hosted by  Tynga's Reviews and Marlene from Reading Reality.  It's all about sharing the books you are adding to your shelves, may it be physical or virtual. This means you can include books you buy in physical store or online, books you borrow from friends or the library, review books, gifts and of course ebooks!
---
It was a busy week even with only 2 days of classes. I filled in with 5 medical appointments for my daughter.  Her PT has been going well and they told her Friday she could go down to once a week instead of twice a week.  Thursday was the day to stay home which I always enjoy.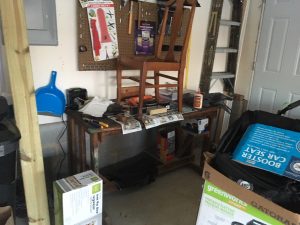 It feels like this week the projects did not progress.  Here is a picture of the new work bench in use, with a kitchen chair being glued for repair.    The new back stairs are almost finished. The old ones were a bit wobbly and rotting underneath.     I did also get my daughter to talk to me about where we would hang different pictures. So I've started hanging them.   I'm very close to the finishing with the flannel project but haven't gotten anywhere this week.  Between colder weather and just feeling tired, things didn't progress.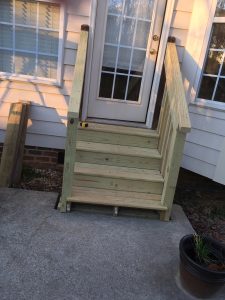 We missed quilting because my daughter had more school projects.  This week looks to be warmer with temperatures in the 50s F (12 C). I'm finally more caught up on email. My reading is more on track.  I'm going to work on some mending yet and work on my daughter's nightstand project.
I'm tired and may just need to rest a day or two.  I've had more low grade headaches this week.  I'm loving all the books I have to read.  I'm really excited about a buddy read Carole and I are doing in February of a Nora Roberts trilogy.  I'm still reading some things from the library, but I am getting to a few things I own, and trying a few things from Audible Escape for the time I have a deal.  Of course, I also got some awesome ARCs this week.
Gah, my computer is acting slow and getting the Chrome (Not Responding).  It's taking forever to get this post finished. I need to run some scans.
---

Stacking the Shelves is hosted by Tynga's Reviews and Reading Reality.  These are the exciting ARCs I received this week (If you click on the cover, it will take you to the Goodreads entry):
Thank you to author Elizabeth Hunter, Tantor Audio,  and Berkley Romance.
(If you click on the cover, it will take you to the Goodreads entry)

Now the really scary one. This is all the Kindle and Audible freebies I grabbed this past week. You can see why I need to do Thrifty Thursday to be sure I read a few at least one each month.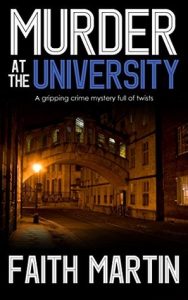 I really meant to cut back on freebies BUT  they are free so I guess that won't be happening.

I'm not including things like reviews posted or upcoming as they are always in the right sidebar. And, my challenge status is also there.
If you like this and want to see me do the Sunday post, as often as I can manage, leave me a comment and let me know.
Anne
Latest posts by Anne - Books of My Heart
(see all)