Review copy was received from Publisher. This does not affect my opinion of the book or the content of my review.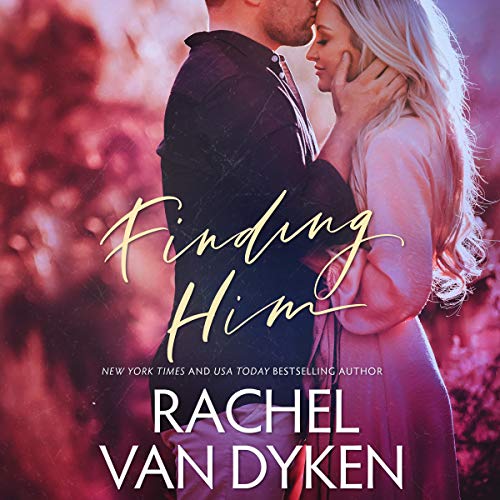 Finding Him
by
Rachel Van Dyken
Narrator:
CJ Bloom
,
Brian Pallino
Series:
Covet #2
Published by
Brilliance Audio
on February 25, 2020
Genres:
Contemporary Romance
Length:
6 hours, 24 minutes
Format:
Audiobook
Source:
Publisher
Goodreads
Amazon
, 
Audible




Coming out of a coma was one hell of a wake-up call. While I was in the dark, my estranged twin brother, Bridge, had replaced me in the company I owned and swept up my fiancée in the takeover. With my ruthless reputation, can I blame them for falling in love? I have to look long and hard at where I've been and where I'm headed. Alone time? The universe has other plans.

Our family's secluded Vermont cabin comes with a gorgeous—if at first, unwelcoming—surprise. She's renter Keaton Westbrook, a social media superstar struggling with her own private grief. As a winter storm bears down, we've found something to keep us warm—an intimacy neither of us expected and both of us need.

After we say goodbye, what happens then? Keaton and I are longing to reconcile with our painful pasts. I can't bear to do it without her. Is it too much to ask of fate to give us a second chance at life and love?
Finding Him is the companion novel to Stealing Her. The  Covet series focuses on twin brothers separated in their teens, parent trap style, to live with one parent and not see the other again.  Both brothers grew up to be very different men.
Finding Him focuses on Julian, who lost his fiancé to his twin brother while in a coma. There are reasons and let's just say he was not the best man or boyfriend pre-coma. However almost dying changes people and Julian wants to be a better man. To recenter himself after another tragedy hits, he heads off to relax and relive some of his favorite childhood memories at the family cabin, only to find it occupied by a familiar looking woman who just won't leave.
Keaton is trying to escape the world as well. She has run off and rented the cabin to remember the man she loved and lost to cancer and figure out how to say goodbye. The last thing she needed/wanted was to share the cabin with some pretty boy who makes her feel things she hasn't felt stirring in her since her love's death.
There are moments in this story that worked rather well for me. The meet cute for instance was a lot of fun even if Julian was a big jerkface. The first time they had to get naked together to share body heat was a nice icebreaker also. I liked how the relationship between them started to build. Julian wasn't a good guy before the coma and I like how he owns it and admits to the mistake he made with the girl he lost.
I did struggle with parts of the story because they used a trope I'm not a huge fan of and it took away from my overall enjoyment. Keaton is also in the limelight in social media and always so worried about what her fans will read into what she is doing. She is so over aware of her public face that it was a real struggle for me to sympathize with some of things she did so others wouldn't know she and Julian were semi together.
This is a cute fluff story with some fun moments and some tender moment that make you go aww. It was just missing the extra something to take it from a good story to a great one for me.
Narration:
The audio had a narrator for both Isobel and Bridge's PoV.  I enjoyed both narrations and thought the male performance improved since Stealing Her. I listened to this at my usual 1.5x speed.
Listen to a clip:  HERE
Rating Breakdown
Plot
Writing
Characters
Dialogue
Narration (Audio)
Overall:
Reading this book contributed to these challenges:
Related Posts