Review copy was received from NetGalley. This does not affect my opinion of the book or the content of my review.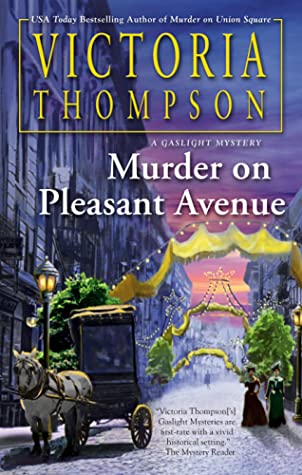 Murder on Pleasant Avenue
by
Victoria Thompson
Series:
Gaslight Mystery #23
Published by
Berkley
on April 28, 2020
Genres:
Historical Fiction
,
Mystery
Pages:
336
Format:
eARC
Source:
NetGalley
Goodreads
Amazon
, 
Barnes & Noble
, 
Apple





A victim is found, brutally murdered and the police are certain they've caught the killer. Their only suspect: Gino Donatelli.

Frank and Sarah know Gino is innocent but the police have a one-track mind. Once Frank struck it rich and left their ranks taking Gino with him, there has been a simmering resentment in the department. And now, someone has pulled out all the stops to make it look like Gino is the only one who could have committed the crime.

With the clock ticking and evidence mounting against their friend, Sarah and Frank will try to unravel a treacherous plot before Gino is sent up the river for good.
I have been loving this Gaslight Mystery series. I started on audio but switched to ebook when the narrator changed after the first 8 or so books. They are so addictive, I read 9 books in one week!  Then I was determined to catch up for the new release, Murder on Pleasant Avenue.  There may be some spoilers for earlier books in this review. I do recommend reading in order, because I always do, but also the personal lives of the characters progresses throughout the series. I especially love Brian and always wanted to know more about how he was doing.
I will say I enjoyed the building relationship between Frank and Sarah in earlier books.   They each developed their bright, young assistants, Maeve and Gino.  I think Maeve is particularly sharp.  I enjoyed the mystery handled by all the secondary characters, but primarily Gino and Maeve while they were on their honeymoon. I don't like them being quite as much of the story as they are though.  Gino seemed less experienced, then he seemed more seasoned after volunteering in Cuba, but now he is back to more mediocre efforts.
I enjoyed this mystery and learning more about the settlement houses in New York City.  The settlement house concept was great but implemented at various levels of competence, like anything. Sarah certainly created a wonderful place with her maternity hospital. I suspected the culprits quite early this time.
I wish there was more Frank and Sarah and a bit less Gino and Maeve.  At least, I wish there were more of their discussions and personal time without the other two.  The mentions of the rest of the family, meals and Mrs. Ellsworth are simplistic, barely more than a mention now. Mother  Malloy does sometimes have a bright observation to contribute.
I got tired of Maeve's sort of whiny attitude at office work and her jumping into dangerous investigating on her own. At the end, however, Maeve comes through playing an integral part in solving the loose ends once the case is solved. Her quick mind and fearless action saved the day.
I'll be thrilled to read more in this series.  I love the characters and the historic setting. I enjoy the author's note ending each book with details about the authenticity of historical aspects.
Latest posts by Anne - Books of My Heart
(see all)
Related Posts