The Sunday Post is a weekly meme hosted by Kimberly  @ Caffeinated Reviewer. It's a chance to share news~ A post to recap the past week, and showcase books and things we have received.

Stacking The Shelves is also a weekly meme hosted by  Tynga's Reviews and Marlene from Reading Reality.  It's all about sharing the books you are adding to your shelves, may it be physical or virtual. This means you can include books you buy in physical store or online, books you borrow from friends or the library, review books, gifts and of course ebooks!
---
Don't forget to look at my giveaways on the right sidebar.
What looked like a week with only 2 days of rain turned into a week with 5 days having some rain.  Sunday was a nice day of blog visiting. Monday and Tuesday, I got things done but woke up early and went to bed late, so by Tuesday afternoon my eyes hurt and I had to nap.  We got applications for absentee ballots from the county so we got those ready to mail back. I was glad to get them; I was going to request them. I want to cook more but without AC it's hot so we are sticking to reheats, scrambled eggs, salads, and sandwiches.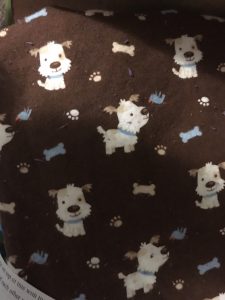 So my daughter wanted to knit a new blanket. I have wool yarn I bought to make a large blanket in 2005. It is blue gray, dark gray and light gray.  None of my color schemes included those colors at the time.  Now we want this for our family room and they are exactly the colors there! Monday night I stayed up late because we were getting out the yarn, figuring out the pattern and I was getting her set up with needles and markers.  I'm really excited to see how this turns out even though I meant to knit it myself.    It's sort of the same story with the flannel dog quilt. I bought the fabric and started it about 5 years ago in Minnesota and the dog on the main pattern looks just like Lulu but we only rescued her last July!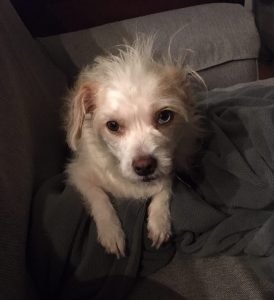 Wednesday I had a very hard time getting up, I just felt so tired.  But I got lots of great new ARCs and got some things accomplished. I have been overwhelmed with all the emails for new ARC possibilities. I have about 10 emails of ones I really might want but couldn't decide. I called again about the HVAC and they told me they would 24 hour escalate it. 8 days now.
Thursday I spent 4 hours researching grass seeds, grass starter and starter fertilizer. I verified my research with the same experts I confirmed the weed killer info last week. Due to a lifelong disinterest in grass lawns and severe grass pollen allergies, I have no experience.  But now I will learn.  I also got a bunch of ARCs.
Friday it finally cooled down and a good north breeze so it was time to mow the lawn. To prep for weed killer, I had to learn how to put the bag on the mower so I could catch the cuttings.  I read the instructions which made more sense than the last time I tried it and watched a Youtube vidoe. It went pretty well after a few tries.  The lawn looks great again, nice and short. What a gorgeous day.
Saturday was the time to kill the weeds.  In a week or two, then I will try some "test" lawns to see what works best to grow grass better.  Later, I made a quick run to pick up scripts from the pharmacy drive-thru and to get all the grass seed, starter fertilizer topsoil, turfbuilder, a sprinkler, a broadcast spreader and a garden rake from curbside pickup at Home Depot. I made my favorite chard dish for dinner which takes over 2 hours plus a steak on the grill. Lulu and I got in another round of watching fireflies in the backyard.
Sunday I will try to seed a small section of the front yard that the utility people dug up last fall.  It should be another gorgeous day, then it will be back to 3-4 days of rain.  I'm now making daily calls about the HVAC to the warranty company. (12 days now) At least the weather now is cooler. I am sleeping much better.

Stacking the Shelves is hosted by Tynga's Reviews and Reading Reality.  These are the exciting ARCs I received this week (If you click on the cover, it will take you to the Goodreads entry):
Thanks to Elizabeth Hunter, PRH Audio,  Recorded Books, MacMillan Audio, and Tantor Audio.
(If you click on the cover, it will take you to the Goodreads entry)
Nothing.

Now the really scary one. This is all the Kindle and Audible freebies I grabbed this past week. You can see why I need to do Thrifty Thursday to be sure I read a few at least one each month.
Nothing!!!!!

I'm not including things like reviews posted or upcoming as they are always in the right sidebar. And, my challenge status is also there.
If you like this and want to see me do the Sunday post, as often as I can manage, leave me a comment and let me know.
Anne
Latest posts by Anne - Books of My Heart
(see all)