Review copy was received from NetGalley. This does not affect my opinion of the book or the content of my review.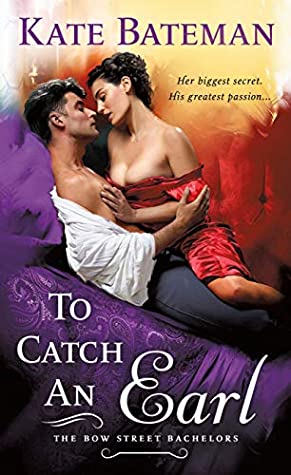 To Catch an Earl
by
Kate Bateman
Series:
Bow Street Bachelors #2
Published by
St. Martin's Press
on June 30, 2020
Genres:
Historical Romance
Pages:
320
Format:
eARC
Source:
NetGalley
Goodreads
Amazon
, 
Barnes & Noble
, 
Apple





There's only one case Bow Street agent Alex Harland, Earl of Melton, hasn't cracked: the identity of the mysterious woman who stole a kiss from him before he left for war. He's neither forgotten--nor forgiven--her for leaving him wanting. When he starts investigating the Nightjar, an elusive London jewel thief, he keeps running into the alluring Emmy Danvers, who stirs feelings he hasn't felt in years.

Even though Emmy's loved Alex for years, she can't risk revealing her heart, or her identity as the Nightjar. With Alex on her case, Emmy knows that her secrets are in danger of being discovered. Their cat and mouse game heats up with every interaction, but when Emmy's reputation--and life--is at risk, will Alex realize that some rules are made to be broken for love?
He stole a kiss at a masquerade ball, she stole his heart without leaving a hint to who she was.  Now it is years later and he is determined to find her; she is determined to evade him even though she has a huge crush on him.
In To Catch and Earl, the second book of the Bow Street Bachelors , Emmy asks for a dance and ends up dancing away with Alex's heart.  Problem #1 she is a notorious Jewel thief.  Problem #2 he is an agent of Bow Street and is looking for her secret identity the Nightjar.  Problem #3 she is being blackmailed and needs to steal some very famous gems in the next few weeks or her family will be ruined.
I very much enjoyed this book.  Emmy is a lot of fun.  She sneaks around stealing things and has an aunt who is pushing her into finding a good time with a rogue, or even a pirate would do, but a man in uniform is preferable.  Emmy's father was once a great jewel thief and on his death left the great task of reuniting the French Royal Jewels to their original home.  She could possibly let that all go if it wasn't for the blackmailer.  She has also loved Alex Harland from afar for years.
Alex is an easy man to like as well.  He is smart and catches on right away to the fact Emmy is more than she seems.  Still the chase is on and he can't decide what he will do with the woman once he catches her. The Agent in his says to turn her in, but the man… Well the man has other plans for her.
There are some fun characters and good times to be had along with a few inventive heists, all a win in this reader's book
"Sometimes the chase is such fun that the catching is quite a disappointment." she took another bite of teacake. "One the other hand, sometimes being caught is only the start of the adventure."
Rating Breakdown
Plot
Writing
Characters
Dialogue
Overall:
Related Posts