Review copy was received from NetGalley. This does not affect my opinion of the book or the content of my review.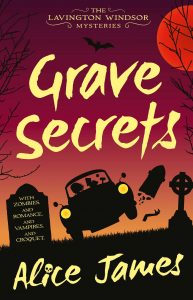 Grave Secrets
by
Alice James
Series:
Lavington Windsor Mysteries #1
on September 11, 2020
Genres:
Urban Fantasy
Pages:
300
Format:
eARC
Source:
NetGalley
Goodreads
Amazon
, 
Barnes & Noble




Toni Windsor is trying to live a quiet life in the green and pleasant county of Staffordshire. She'd love to finally master the rules of croquet, acquire a decent boyfriend and make some commission as an estate agent.

All that might have to wait, though, because there are zombies rising from their graves, vampires sneaking out of their coffins and a murder to solve.

And it's all made rather more complicated by the fact that she's the one raising all the zombies. Oh, and she's dating one of the vampires too. Really, what's a girl meant to do?
Grave Secrets by Alice James is the first book in The Lavington Windsor Mysteries and piqued my interest when the book blurb indicated it is Agatha Raisin meets Sookie Stackhouse, with croquet and zombies.  The summary of the book made it sound like it would be a lot of fun and quirky enough to keep my interest.  The sad truth though is the characters were under developed, the romance was eh, the murder mystery was a sub-sub-sub-plot of the story and I just struggled through most of it.
The good parts.  The main character Toni is interesting enough.  She raises the dead as a necromancer and is pretty strong as a necromancer, but really doesn't know what that means.  She has a few good friends and a loving cop brother who sometimes has her revive victims of crimes to find out who dun it.  There are vampires in this world and in America, it is pretty much stake them on sight is the motto, but in England they are a protected class.  I was enjoying the beginning enough and then we meet the vampire love interest and it was really all downhill from there.
Now the stuff that didn't work for me.  The romance is just smashed together, literally.  There is no build up, there is no tension.  Toni meets Oscar, they go on one half date and then they are in love.  The MC spends way more time with the vampire's number one guy Peter than she ever spends with the Vampire so I really never bought into the relationship or her devotion to him.  Toni is also really squeamish about letting Oscar bite her, it was just so strange, she'd have sex with him but be totally creeped out by the biting.
So, the romance didn't work for me, all the men seem to want to sleep with or grope Toni and the murder mystery was so back burner it was practically non-existent.  I just would have appreciated some more character development, better scene transitioning, more time spent on the case and general build up to the story.
Not really my cup-o-stuff but for early reviewers I seem to be in the minority so it is working for a lot of people.
Rating Breakdown
Plot
Writing
Characters
Dialogue
Overall:
Related Posts