Review copy was received from Publisher. This does not affect my opinion of the book or the content of my review.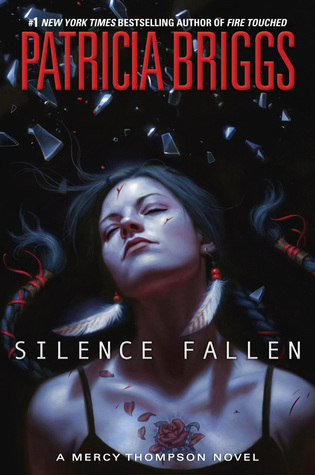 Silence Fallen
by
Patricia Briggs
Series:
Mercy Thompson #10
Published by
Ace
on March 7, 2017
Genres:
Urban Fantasy
Pages:
379
Format:
eARC
Source:
Publisher
Goodreads
Amazon
, 
Audible
, 
Libro.fm
, 
Barnes & Noble
, 
Apple





Attacked and abducted in her home territory, Mercy finds herself in the clutches of the most powerful vampire in the world, taken as a weapon to use against alpha werewolf Adam and the ruler of the Tri-Cities vampires. In coyote form, Mercy escapes—only to find herself without money, without clothing, and alone in the heart of Europe...

Unable to contact Adam and the rest of the pack, Mercy has allies to find and enemies to fight, and she needs to figure out which is which. Ancient powers stir, and Mercy must be her agile best to avoid causing a war between vampires and werewolves, and between werewolves and werewolves. And in the heart of the ancient city of Prague, old ghosts rise..
Kimberly graciously allowed me to share her review, originally posted here.
Silence Fallen by Patricia Briggs is the tenth novel in the wildly popular Mercy Thompson urban fantasy series. Trouble has a way of finding Mercy and this time she ends up alone and in Europe. From the non-linear timeline to the Doctor Who comments I loved Silence Fallen.
I devoured Silence Fallen in a single day and enjoyed seeing the supernatural creatures of the Tri-Cities work together.  The tale is broken up into chapters giving us both Mercy's and Adam's perspective. It is told in a non-linear fashion, but don't worry, Briggs aids us with clever messages atop of each chapter.
There were so many things I loved about Silence Fallen
Mercy is smart, resourceful and badass. We learned more about Mercy and her abilities while she moved through Europe. She found herself in more than one pickle and handled it well.
We spend time with Adam and his wolf. Gads, I love the man and love that he is both diplomatic and a complete alpha. We see him engage in enemy territory and use the resources and friendships he and Mercy have formed.
Adam doesn't go to Europe alone, and I loved seeing these characters work together. It was impressive to see this motley team of power address the enemy.
Doctor Who. I loved, loved, loved how Briggs weaved in Doctor Who references. I think I swooned when Adam knew who the doctors were. Briggs fed my inner nerd, and the whole character..yeah. AWESOME!
The Vampire empires and Wolf clans of Europe….have mercy! I loved the darker threads, the ghosts, and other creatures we encountered. It was fun, exciting and dangerous with just enough flair that I could not set the book down.
Despite the danger, Briggs managed to weave in the humor, snark, and bite I have come to expect.  I love these characters and cannot wait for more.
I highly recommend you grab Silence Fallen, snuggle up in your favorite chair and travel with the pack to Europe. You won't be sorry.
---
Games:
Who said (enter the answer in the Rafflecopter, don't put in the comments)
" If you are taken by your enemies," … said, "don't wait to escape. he hour you are taken is when you will be at your strongest. Time gives them the opportunity to starve you, to torture you, to break you and make you weak. You have to escape as soon as you can. "
There are other options in the rafflecopter for you to enter discussion questions and quotes to share.
---
Share your review/ thoughts on Silence Fallen:
I thought it might be fun to link up reviews so we can find them all easily.  It can be a link to Goodreads or a blog, or wherever you have a review (short or long).
Mister Linky's Magical Widgets — Easy-Linky widget will appear right here!
This preview will disappear when the widget is displayed on your site.
If this widget does not appear,
click here
to display it.
---
Observations and questions you shared from Fire Touched:
(Thank you  so much for sharing!)
I think Aiden will have an important role in future books given his knowledge of the fae and his power.
---
Quotes you readers shared from Fire Touched:
(Thank you for sharing!)
"Now this little gem"— Izzy's mother pulled out yet another bottle—"this is one of my favorites, guaranteed to improve your love life or your money back. Does your husband ever have trouble keeping up?" She held up a finger, then curled it limply downward as her eyebrows arched up."
---
Schedule:   
We are doing one book every 4 weeks, posting on Fridays.
Sep 11:    Silence Fallen – Kimberly at Caffeinated Reviewer
Oct 9:     Storm Cursed  – Angela at My Guilty Pleasures
Nov 6:    Smoke Bitten   –  Anne
Miss a post?
Jan 3:    Moon Called – Anne
Jan 31:   Blood Bound  – Melanie
Feb 28:   Iron Kissed – Carole at Carole's Random Life in Books
Mar 27:   Bone Crossed – KC
Apr 24:   Silver Borne – Berls at Because Reading
May 22:  River Marked – Rachel at Waves of Fiction
Jun 19:   Frost Burned   –  Sophia
Jul 17:    Night Broken – Jennifer the Book Nympho (now at That's What I'm Talking About)
Aug 14:   Fire Touched – Robin
---
Be sure to enter the giveaways!!!
Giveaway: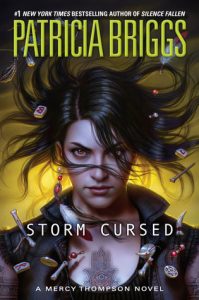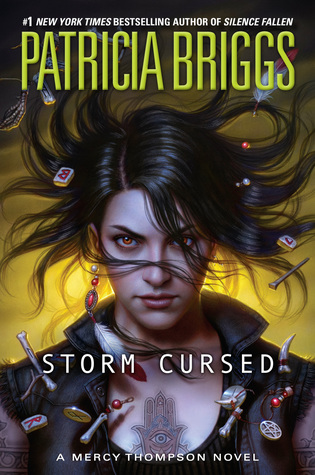 Print copy of Storm Cursed (open Intl ) :

Grand Prize Giveaway:
I am still developing the complete grand prize package which I will update here as we go along in the Read-along. I know it will contain the MP3 audio versions of the books from Brilliance Audio, probably signed as I intend to go see Patricia Briggs at a conference or two this year.  It will also contain swag from those events.  There will be a Mercy Thompson enamel pin from AceRoc.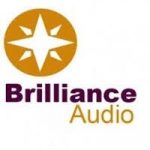 Latest posts by Anne - Books of My Heart
(see all)
Reading this book contributed to these challenges:
Related Posts