The Sunday Post is a weekly meme hosted by Kimberly  @ Caffeinated Reviewer. It's a chance to share news~ A post to recap the past week, and showcase books and things we have received.

Stacking The Shelves is also a weekly meme hosted by  Tynga's Reviews and Marlene from Reading Reality.  It's all about sharing the books you are adding to your shelves, may it be physical or virtual. This means you can include books you buy in physical store or online, books you borrow from friends or the library, review books, gifts and of course ebooks!
---
Don't forget to look at my giveaways on the right sidebar.
Today is the last day for two giveaways!    Last Sunday was filled up with going to get the armoire. I was glad to have good weather and not too hot.  Luckily, the seller's husband and neighbor loaded into into our Uhaul and we didn't struggle too much getting it unloaded, as it is one big heavy piece.  The upcoming week looks delightful with less rain and more 70s than 80s.
Sunday morning, I got the idea to go to the North Carolina website because I know they started mailing ballots Sept 4 and we didn't have ours yet.  the last time I looked the Ballotrax portal wasn't functional yet.  But now it was and I could see our ballots were mailed Sept 11, and they track all the stages so you know if they got it and if there were any issues. So we should be able to vote next week!
Sunday, my daughter got a perfect score on her Music quiz. Monday, she had her first Sociology test.  She got 93 out of 100.  Her new gastro medication seems to be starting to work for her. This next Sunday, she has her first Music exam.  She likes the online classes better than she expected.
Monday was supposed to have some rain but it didn't rain.  I got caught up in reading for the Read-along. Tuesday I decided I had to get things done.  I did a bunch of household chores.  The weather was gorgeous and I walked with Lulu over to a neighbor's to drop off her Doterra order. I've never sold to anyone else but there are a few people in this neighborhood who order from me now. Anyway Lulu and I had a nice 2 mile walk around the hood.  After a short break, I went out to finish some mowing and weeding.  I cooked us a nice dinner, then we did the Lulu nail trim torture.
Wednesday, I got a Food Lion Instacart and stupidly forgot to get milk which is why I was doing an Instacart.  So then I had to do a Publix Instacart to get it, but then I also was able to get some things which weren't available at other places.   I really should have done yard work since it is going to rain the next 2 days but I wrote some reviews, and did some warranty registrations. I also checked out Audible and Chirp deals. We got dinner delivery from the neighborhood personal chef.  He does daily specials every week. It is a little tough to get gluten free ones that have only ingredients both my daughter and I will eat.  I wasn't sure she would eat this but she liked it – Chicken Enchiladas with Red Sauce, Black beans and rice.  We're getting another one Friday – is Singapore Noodles with Shrimp & Veggies.
Thursday we had our day of rain.  I've done a lot of reading and some blog ahead type stuff this week.   Friday, though, I went out to the nursery and got the broccoli and lettuce plants. I got a new chive plant because the mint killed the old chive plant. No you can't kill chives by freezing weather but mint is so invasive.   Saturday, I read all of Shadows in Death by JD Robb which had just come in on my library reserve. Then I did plant all the lettuce, half the broccoli and the chives. I replanted the mint in a pot, since my daughter wanted it but I don't care if it dies.  I'll plant the rest of the broccoli and spinach once we get the garden bed expansion built.  Finally, we got our ballots in the mail Saturday, 8 days after they mailed them.  We will vote on Sunday and then deliver them to the Board of Elections office next week.
---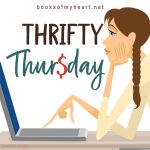 Don't forget Thrifty Thursday is this week!

Stacking the Shelves is hosted by Tynga's Reviews and Reading Reality.  These are the exciting ARCs I received this week (If you click on the cover, it will take you to the Goodreads entry):
So many thanks to AceRoc,  Red Adept Publishing,  and  Penguin Audio,
(If you click on the cover, it will take you to the Goodreads entry)
I bought a couple titles at the Audible $5 sale.
I got these 3 deals on Chirp for $5, $4 and $4.

Now the really scary one. This is all the Kindle and Audible freebies I grabbed this past week. You can see why I need to do Thrifty Thursday to be sure I read a few at least one each month.
I really meant to cut back on freebies BUT  they are free so I guess that won't be happening.

I'm not including things like reviews posted or upcoming as they are always in the right sidebar. And, my challenge status is also there.
Thank you so much for visiting!  I appreciate it and your comments so much.
Anne
Latest posts by Anne - Books of My Heart
(see all)