Review copy was received from NetGalley. This does not affect my opinion of the book or the content of my review.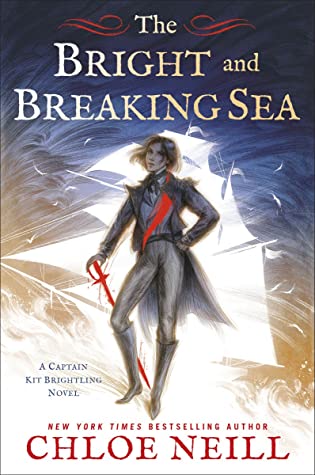 The Bright and Breaking Sea
by
Chloe Neill
Series:
Captain Kit Brightling #1
Published by
Berkley
on November 17, 2020
Genres:
Science Fiction Fantasy
Pages:
368
Format:
eARC
Source:
NetGalley
Goodreads
Amazon
, 
Audible
, 
Audiobook
, 
Barnes & Noble
, 
Apple






Kit Brightling, rescued as a foundling and raised in a home for talented girls, has worked hard to rise through the ranks of the Isles' Crown Command and become one of the few female captains in Queen Charlotte's fleet. Her ship is small, but she's fast--in part because of Kit's magical affinity to the sea. But the waters become perilous when the queen sends Kit on a special mission with a partner she never asked for.

Rian Grant, Viscount Queenscliffe, may be a veteran of the Continental war, but Kit doesn't know him or his motives--and she's dealt with one too many members of the Beau Monde. But Kit has her orders, and the queen has commanded they journey to a dangerous pirate quay and rescue a spy who's been gathering intelligence on the exiled emperor of Gallia.

Kit can lead her ship and clever crew on her own, but with the fate of queen and country at stake, Kit and Rian must learn to trust each other, or else the Isles will fall..
I am fond of this author's work but the description of this new series, Captain Kit Brightling, didn't really appeal to me. Wow, was I wrong. Still, it took me a bit to get started on reading (as is often the case this year), but I was drawn into story quickly.
Bright and Breaking Sea has so many things I love. The setting is some sort of historical fantasy world. There is a class system with the elite, Beau Monde, and the regular folks. Women are considered inferior by the misogynistic which is many Beau Monde men. After marriage, they would be expected to stop their career and cater to the home. However, the ruler is a queen. She took over when her father the King died and is savvy and capable. The world has an interesting magic system we only begin to see.
Of course, characters are key to a great book. Kit has an interesting backstory as a foundling. Her current work as a sea captain is a position she loves and handles very well. She has amazing intelligence, care for her crew, abilities with magic and strategies. Kit is also better able to control her temper and follow orders, even when there is bias or injustice than I would be. She has the support of a great found family.
There are other characters who add to the development. There are the key members of Kit's family and crew, as well as those in the palace. The queen has a bit of personality as does one of her advisors, Chandler. She has a few male friends, Kingsley and Dorian. And for her new mission, she is teamed with a soldier, Rian Grant, part of the Beau Monde. Grant has fought in the war recently ended in some horrific battles with great loss of life.
The missions here take place mostly at sea with wind, sails, storms, pirates, and magic affecting the travel, and strategy, magic and guns part of the battles. But sea battles are not all of the action. There is covert surveillance, theft of documents, and retrieval of key individuals from kidnap. So the queen assigns diverse tasks to Kit and Grant.
I liked this more than a little and highly recommend it. The writing was charming, but the clincher is the humor. The banter between Kit and Grant is distrustful at first and then teasing as they learn to work together. I ran looking for when there would be more, as the threats from the Queen's enemies will undoubtedly continue.
Latest posts by Anne - Books of My Heart
(see all)
Reading this book contributed to these challenges:
Related Posts