Review copy was received from Publisher. This does not affect my opinion of the book or the content of my review.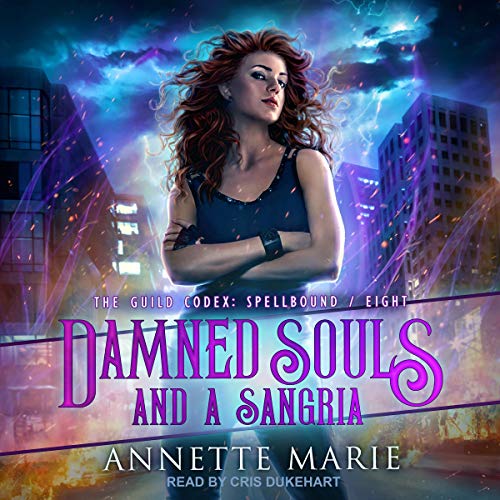 Damned Souls and a Sangria
by
Annette Marie
Narrator:
Cris Dukehart
Series:
The Guild Codex Spellbound #8
Published by
Tantor Audio
on November 24, 2020
Genres:
Urban Fantasy
Length:
7 hours, 55 minutes
Format:
Audiobook
Source:
Publisher
Goodreads
Amazon
, 
Audible
, 
Audiobook






Once upon a time, I was your average spunky redhead with the lamest employment history ever, a shaky relationship with my only family member, and no idea what I was doing with my life.

Now, I'm a pseudo mythic with the best bartending job in the world, the most amazing (and hot) best friends I never knew I needed, and a guild of misfit magic-users who've become my extended family.

And I'm about to lose it all.

In my desperation to save Ezra, I stumbled into a web of ruthless deception—and seriously pissed off a sleeping hydra. Now its every murderous head is turned toward me and my guild, and I don't know how to stop it. I'm not sure I can.

I'm not sure anyone can. But if we don't, we're all doomed—Ezra, Aaron, Kai, and my beloved guild.
The Guild Codex Universe  has worked slowly to the point where Guild Codex Spellbound  series is at the same situation as the Guild Codex Demonized.   I thought they might merge but they have not.  It is intriguing to see some events from two different viewpoints.  And now there are going to be two more storylines within Guild Codex. There is reading order on Goodreads which combines the various series in the world.  The overall story arc is connected and like most urban fantasy, I would read them in order.
Damned Souls and a Sangria is the final book in the Spellbound story.  Tori is trying so hard to get solutions to help Ezra and time is running out for them.  Robin and Zylas have been helping and waiting for them to figure some things out is excruciating.  Tori helps however she can to stop her worry.
Things really explode into action with many players affecting the outcomes. It was exciting because many things happened which I didn't expect. The demon contractors and the demon mage cult and the MPD and the Crow & Hammer all end up in the battles.  The fighting is intense and dangerous. Things seem dire more than one time.
I really enjoyed seeing the Crow & Hammer team come together. Darius is all kinds of awesome, and so is Tori.   We see an old favorite of mine – Zak, the Crystal Druid – who is getting his own series.  Kit, and Agent Shen, who just started their own related series, jump into the fray.  And I have yet to read the final book in the Demonized series with Robin and Zylas (waiting for the audio).  The layers of people I care about have so much happening.
I loved this inspiring ending with solutions for so many characters I have come to love.   You'll want to read this series, the whole Universe in order and you won't want to miss a single thing.  It's amazing fun and heartwarming with good triumphing over evil.
Narration:
Cris Dukehart has been the main voice for this world.  I am so comfortable with her voice for Tori, and Robin as well. She is one of my favorite narrators. She is able to infuse character emotions into her performance. I was able to listen at my normal 1.5x speed.
Listen to a clip: HERE
Rating Breakdown
Plot
Writing
Characters
Narration (Audio)
Overall:
Latest posts by Anne - Books of My Heart
(see all)
Reading this book contributed to these challenges:
Related Posts