Review copy was received from Publicity team. This does not affect my opinion of the book or the content of my review.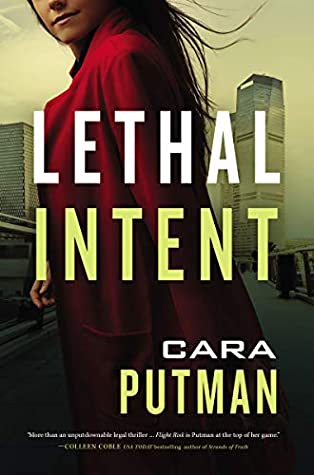 Lethal Intent
by
Cara Putman
Published by
Thomas Nelson
on January 12, 2021
Genres:
Romantic Suspense
Pages:
336
Format:
eARC
Source:
Publicity team
Goodreads
Amazon
, 
Audible
, 
Libro.fm
, 
Barnes & Noble
, 
Apple




When the judge she's clerked for dies, Caroline Bragg starts over as in-house counsel for a pharmaceutical start-up working on innovative adult stem cell research with the potential to save thousands of lives. But when her charismatic new boss ignores her legal advice, Caroline's left unsettled. Then the company launches into headlines when a furious family demands answers regarding how the start-up used their deceased relative's cells for innovation—with neither informed consent nor agreement for compensation. Caroline must defend the work of the company even as she realizes informed consent couldn't have been given and the business is operating on questionable legal and ethical grounds.

Caroline's friend Brandon Lancaster is at risk of losing his life's work—a group foster care called Almost Home that has provided for sibling groups needing a landing place. He's desperate for a solution, but then the pharmaceutical company's he invested his last dime in is losing value fast. He's been counting on the eventual sale of the start-up to save Almost Home, but with every other effort failing, he's out of options and out of time.

With the start-up in trouble, Caroline's and Brandon's problems intersect. He needs the story to end so he can salvage his investment, and she wants the truth to come out. Will their relationship survive? And will they survive the changes that are inevitably headed their way?
Lethal Intent has so many aspects to enjoy.  The main character, Caroline, is an attorney. She has a new job with a leading edge medical startup.  I thought both legal and medical work would be interesting and they were.  All the uncertainty in her childhood has left her a bit insecure but she does have a really supportive and knowledgeable group of friends from college.  Her new job is challenging, mostly because the executives at the company aren't being open with her.
Brandon is a retired football star.  He lived in the foster system, and was separated from his brother. So he is running group homes with an eye towards taking sibling groups so he can keep them together. He isn't too knowledgeable about the financing but he has good help, at least. He is completely dedicated to the children and spends a lot of time with them.
We get both Caroline and Brandon's point of view, but mostly Caroline.  They are good people, who do the right things and care about others.  They both have some friends and are not alone, in spite of their issues from the past.  Somehow while I felt for the kids in the story, most of the adults, including Caroline and Brandon felt a little flat. Some of their reactions didn't seem realistic.
The mystery was suspenseful but I would have been a lot more worried about things which happened than Caroline.  She was in mortal danger, more than once, but didn't seem terrified. It was good she kept a cool head in some circumstances but that doesn't mean it's smart going right into the lion's den.
The ending had me less than satisfied.  All of sudden, the executives just listen to everything Caroline suggests and work with her.  We don't get resolutions about Bethany or Trevor, two storylines which I connected to emotionally.
Excerpt:
Caroline shifted in the high-backed chair. The massive conference room table made her feel more petite than usual. Quentin Jackson, the man propelling Praecursoria through its rapid growth, vibrated with energy as he studied her.
"We are on the cusp of amazing developments and a transition from the lab to trials. We have a few CAR T-cell therapies in early stages now with more in our pipeline."
She racked her mind for the importance of T cells, and he gave a hearty laugh.
"Don't worry if the science overwhelms you. We'll have you up to speed in no time. All you need to know right now is that T cells are one of the two cells that make up white blood cells. The treatments we're working on could be the difference between life and death for young cancer patients. We need your legal expertise and quick mind to synthesize the science with the map to market."
"I've overseen several court trials related to patents, which should help with that process." It had been an unforeseen aspect of her days clerking for Judge Loren. She swallowed against the lump in her throat that still welled up when she thought about his untimely death from pneumonia. A month ago she couldn't imagine interviewing for a job somewhere else, even if a part of her knew that she should stretch her wings.
"When can you start? Today?"
She felt rooted to the chair. Everything was moving so fast. Could she really transition her experience managing clerks for a judge into managing patents and contracts for a start-up? While Praecursoria had been around for a decade as a cancer research lab, about eighteen months ago Quentin sold off its lucrative genetic testing branch to focus exclusively on the development of cutting-edge CAR T-cell therapies. Starting over that way was a bold if risky move.
She lifted her chin and forced a smile that didn't waver. "If that's what you need. First we have a few details to work out."
He laughed. "I like the way you tackle issues head-on. That will be key in this role. I know how to steer the ship, and my chief scientist can navigate the research, but you'll keep us on the legal straight and narrow." He tapped his pen against the legal pad in front of him. Then he picked up her résumé and named a salary that pressed her against the chair. "There will be performance bonuses tied to the successful conclusion of trials. We want to look into stock options as well. That will be one of your assignments in conjunction with HR." He slapped his hands on the table and she jumped. "My enthusiasm gets away from me sometimes." He shrugged but never wavered as he examined her. "Let's start with a field trip. The best way for you to understand why we're doing this work and research is to show you."
Tour Giveaway:
This is a rafflecopter giveaway hosted by Partners in Crime Virtual Book Tours for Cara Putman. There will be three (3) winners of one (1) physical copy of Lethal Intent by Cara Putman (US ONLY). The giveaway runs through February 7, 2021. Void where prohibited.
Tour Participants:
Visit these other great hosts on this tour for more great reviews, interviews, guest posts, and giveaways!
Latest posts by Anne - Books of My Heart
(see all)
Reading this book contributed to these challenges:
Related Posts