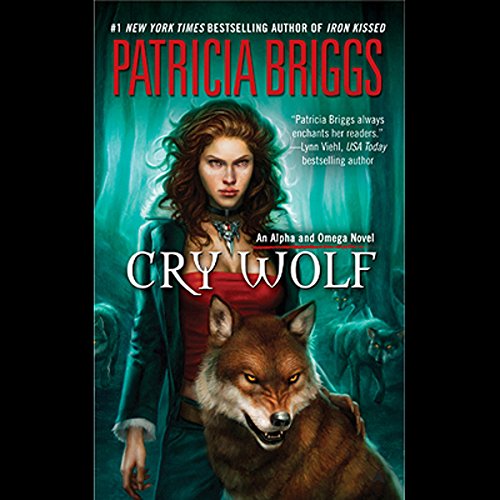 Cry Wolf
by
Patricia Briggs
Narrator:
Holter Graham
Series:
Alpha and Omega #1
Published by
Penguin Audio
on January 15, 2019
Genres:
Urban Fantasy
Length:
10 hours, 2 minutes
Format:
Audiobook
Source:
Library
Goodreads
Amazon
, 
Audible
, 
Audiobook
, 
Barnes & Noble
, 
Apple






Anna never knew werewolves existed, until the night she survived a violent attack... and became one herself. After three years at the bottom of the pack, she'd learned to keep her head down and never, ever trust dominant males. Then Charles Cornick, the enforcer—and son—of the leader of the North American werewolves, came into her life.

Charles insists that not only is Anna his mate, but she is also a rare and valued Omega wolf. And it is Anna's inner strength and calming presence that will prove invaluable as she and Charles go on the hunt in search of a rogue werewolf—a creature bound in magic so dark that it could threaten all of the pack.
I've been in a bit of a book slump.  I've been so caught up in what is going on in the world that it is really hard to find anything else that can hold my interest for even just a little while.  This is the worst it has ever been for me.  My solution was to take an author I have really loved and read another series written by them.  I am all up to date on the Mercy Thompson series, thanks to the Read-along last year, but I'd not read the side series in the same world Alpha & Omega.  Cry Wolf is the first book of that series set directly after Moon Called the first book of the Mercy Thompson series.
I know some about Charles from the other series.  He is portrayed by Mercy as scary, well at least to her and Bran's enemies.  The story starts with Anna having just been rescued from an abusive pack by Charles.  Their wolves recognize a connection right away and connect as mates immediately, a little backwards to the regular way things are done.  Anna is coming back to Montana with Charles and Bran as they figure things out.
Anna is so easy to like.  She has been through hell with her pack, being forced into becoming a wolf and then abused.  She is a strong woman and an Omega (they are able to sooth the wolves in others) but that kind of abuse leaves some pretty big emotional scars for her to work through.  Good thing there is a possible rogue wolf in the mountains and Charles and Anna will go together in order to find the wolf and see if they can save him.
I really enjoyed Cry Wolf, I might even like the characters more than its side series.  Charles and Anna are a really good fit together, both are strong and vulnerable in their own ways.  Charles as Bran's enforcer is feared by many.  He is worried that Anna seeing him kill others will fear him too.  I loved getting some back story on both Bran and Samuel that we didn't see in the Mercy Thompson series.  The characters in this series really open up more discovery of the past and how greater wolf politics work along with some of the dangers in the world.
What a great side series, I was engaged the whole time and was able to relax out of the world's happenings, which was really what I was going for.  This was a good way to start my reading slump recovery.
Narration:
Holter Graham has a truly enchanting voice that fit Charles really well.  He performed the story so well and made it easy to connect with all the characters.  I listened to this at my usual 1.5x speed.
Listen to clip:

Rating Breakdown
Plot
Writing
Characters
Narration (Audio)
Overall:
Related Posts