The Sunday Post is a weekly meme hosted by Kimberly  @ Caffeinated Reviewer. It's a chance to share news~ A post to recap the past week, and showcase books and things we have received.

Stacking The Shelves is also a weekly meme hosted by  Tynga's Reviews and Marlene from Reading Reality.  It's all about sharing the books you are adding to your shelves, may it be physical or virtual. This means you can include books you buy in physical store or online, books you borrow from friends or the library, review books, gifts and of course ebooks!
---
Don't forget to look at my giveaways on the right sidebar.
Sunday,  I made blueberry buttermilk scones for breakfast.  Then I did the usual blog visiting.  I'm still reading for the Valentine's RAT with books which have love.   I didn't make any dinner, we ate some leftovers.  I got some chores done and my daughter took the ornaments off the tree.
Monday, I got a Food Lion Instacart with getting everything.  I did a bunch more chores which feels great.  I was able to do the stairs twice almost with ease.  Now if I can just get some sleep instead of reading until 3 or 4 in the morning.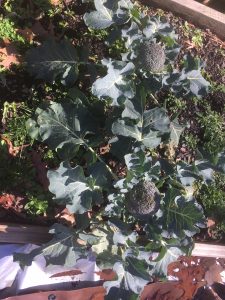 Tuesday, thankfully I did get some sleep last night. I woke to the first sun in days and the temp will get up to around 60F!  I happily managed some chores.  The broccoli, planted in September, is getting close to eating even with snow and freezing temps.  I did take Lulu for a short walk for the first time since December.   I even grilled burgers for our dinner.  My daughter helped me get the Christmas tree out to the street with the garbage and recycle.  We had the last of the mini cheesecakes with fresh strawberries.
My daughter is knitting the blanket more consistently now.  I bought these 3 cones of yarn in 2006 intending to make a blanket.  She wanted to knit a blanket so I put together the yarn and a pattern. It even matches our colors in the new family room. I went to take this picture and said to Lulu to stay over where she was (not on the sofa) so she came right up and joined the photo, of course! We looked through my yarn stash to find some to make Lulu a winter sweater. We only found one we liked and ordered 2 more closeouts.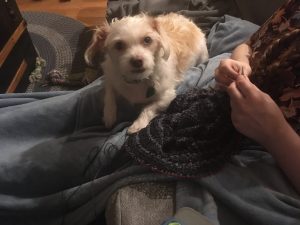 Wednesday, one more sunny day.  I was a little stiff overnight but still improving.    We had to go out for our chiro appt. Our chiro is having surgery so she's out this week and maybe next so it was a fill in guy.  He was ok.  After dinner, my daughter and I finally filled in the "dogs" photo collection for our photo wall.  I'd meant to do it over Christmas.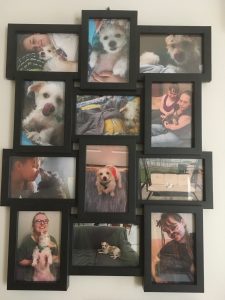 Thursday,  I baked another batch of blueberry buttermilk scones.  I had just gone upstairs and of course, Fedex delivered our meat package.  Usually it takes 2 days to arrive and they deliver it about 3 or 4 in the afternoon.  So it took 1 day and came just after 1, so I had to make another trip up and down the stairs.  I'm having a little more pain today than the last 5 days.  I found the yarn we want to use for her sweater and cast on to get started.  I knit while I watched the new Equalizer show on cbs.com.  They have 2 episodes out there which can be streamed for free.  I loved it.  Probably the first tv or streaming I have watched in months.  I got my phone stuck in Zoom mode and it dialed my brother. Luckily he knew how to get out of it.
Friday,  it finally wasn't raining.  The yard is still puddles.  I got an Aldi Instacart.  My brother suggested, and I think he's right, regular movement may be important.  So I am setting my phone timer for an hour, and then getting up and walking a little.   I've been working hard on a combo of emails, reviews, blog visiting and a Library Love email.  So many great freebies available today. I managed to cook a batch for Lulu and a chicken pot pie for us.
Saturday, it's cold sun today.  Now that my legs hurt less I can feel my actual back pain.   But I'm feeling better and doing more.  Carole and I discussed our buddy read which I am posting my review this afternoon. I got a few more reviews written, and did some knitting on Lulu's sweater.   We will have a few more cold and rainy days but about 3 days of sun near 60F ( 15C) midweek!
Today is the COYER Facebook Read-along for Caressed by Ice by Nalini Singh!
---
After much deliberation about whether to read books I own or get at the library, ebooks or audiobooks, I reached a decision.   I didn't want to read more than 4 books.  I didn't want to choose a fantasy since that is the genre we are reading for COYER Book Club.  So I chose to read an ebook series from the library, The John Puller series by David Baldacci.  I feel a little badly it is not books I own. I also might regret not choosing audio because if my pain is over I'll be wanting to do gardening and projects which mix better with audio books.  I've read and enjoyed the first book in the series, so I have the last three to read in March.
---

Stacking the Shelves is hosted by Tynga's Reviews and Reading Reality.  These are the exciting ARCs I received this week (If you click on the cover, it will take you to the Goodreads entry):
Thanks so very much to Penguin Audio,  Tantor Audio, Montlake and St. Martin's Press!
(If you click on the cover, it will take you to the Goodreads entry)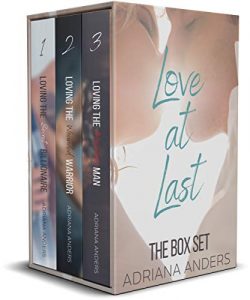 I got this box set of novellas for 99¢ when usually they are $2.99 each.  I have enjoyed this author in the past.  I did have the first book already as a freebie.

Now the really scary one. This is all the Kindle and Audible freebies I grabbed this past week. You can see why I need to do Thrifty Thursday to be sure I read a few at least one each month.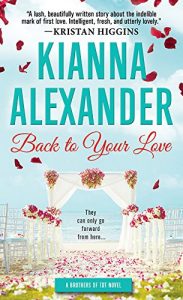 I really meant to cut back on freebies BUT  they are free so I guess that won't be happening.

I'm not including things like reviews posted or upcoming as they are always in the right sidebar. And, my challenge status is also there.
Anne
Latest posts by Anne - Books of My Heart
(see all)