Review copy was received from Publisher. This does not affect my opinion of the book or the content of my review.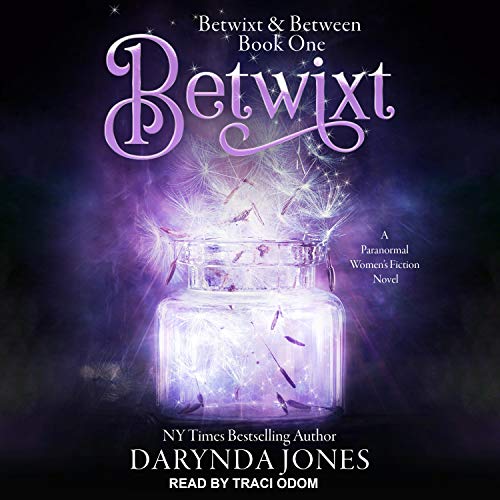 Betwixt
by
Darynda Jones
Narrator:
Traci Odom
Series:
Betwixt & Between #1
Published by
Tantor Audio
on March 2, 2021
Genres:
Paranormal Romance
Length:
6 hours, minutes
Format:
Audiobook
Source:
Publisher
Goodreads
Amazon
, 
Audible
, 
Libro.fm




Divorced, desperate, and destitute, former restaurateur Defiance Dayne finds out she has been bequeathed a house by a complete stranger. She is surprised, to say the least, and her curiosity gets the better of her. She leaves her beloved Phoenix and heads to one of the most infamous towns in America: Salem, Massachusetts.

She's only there to find out why a woman she's never met would leave her a house. A veritable castle that has seen better days. She couldn't possibly accept it, but the lawyer assigned to the case practically begs her to take it off her hands, mostly because she's scared of it. The house. The inanimate structure that, as far as Dephne can tell, has never hurt a fly.

Though it does come with some baggage. A pesky neighbor who wants her gone. A scruffy cat who's a bit of a jerk. And a handyman bathed ink who could moonlight as a supermodel for GQ.

She decides to give it three days, and not because of the model. She feels at home in Salem. Safe. But even that comes to a screeching halt when people begin knocking on her door day and night, begging for her help to locate their lost objects.

Come to find out, they think she's a witch. And after a few mysterious mishaps, Dephne is beginning to wonder if they're right.
Betwixt is the first book in a new Paranormal Women's Fiction series Betwixt and Between by Darynda Jones.  This newer genre follows grown women who are around forty-ish and close to midlife when they discover the paranormal world.  It is refreshing to not always read something staring people in their mid-twenties and so I'm really glad this genre is picking up a little steam with some of my favorite authors.
Defiance has just hit rock bottom for the most part.  She just went through a divorce, in which her ex got everything and now has no plan, no marriage, no prospects and almost no hope for her future.  So when she learns she has just been left a house in Salem MA and needs to be there in three days to claim it, she really didn't have anything holding her back.
Defiance, with the help of her trusty side chick BFF will discover the secrets of her family and a past she doesn't know anything about.  There is magic afoot in Percival,  the slightly haunted house she has inherited.  There is also a hot handyman in a kilt, a surly cat and a secret tunnel just for good measure.  The weirdest thing is that people keep showing up at the door expecting Defiance to be able to help them.
There are a few OTT moments that Darynda is kind of known for in her dialogue between friends.  Some were funny but there was one joke that felt super flat and I rolled my eyes for its two time appearance.  I did get a little frustrated with Defiance in this as she was, for lack of a better term defiant and I just wanted her to draw the stupid protection symbol already.  She seemed so obstinate and I didn't think there was a great reason as to why.  There are also a few little timeline things that didn't seem to add up to me like I thought someone was in the room but then they just seemed to disappear and not be there anymore.  They were small and didn't detract too much from the story.
This has a decent set up for a new series.  A few really likable characters and an interesting small town to play with.  Defiance needs a little work but there is a cool friendship, an interesting history and love interest with a lot of potential.  The ending was a bit of a cliffhanger of sorts but not enough of one that if you didn't like the first book you'd feel compelled to continue.
Narration:
Traci Odom fits how I would expect Defiance to sound.  She is a good pick for the series and performed the cast well.  She really did a great job with the humor between the BFFs and how they bantered together.  I was able to listen to this at my usual 1.5x speed.
Listen to the clip:  HERE
Rating Breakdown
Plot
Writing
Characters
Dialogue
Narration (Audio)
Overall:
Related Posts