Review copy was received from Publisher. This does not affect my opinion of the book or the content of my review.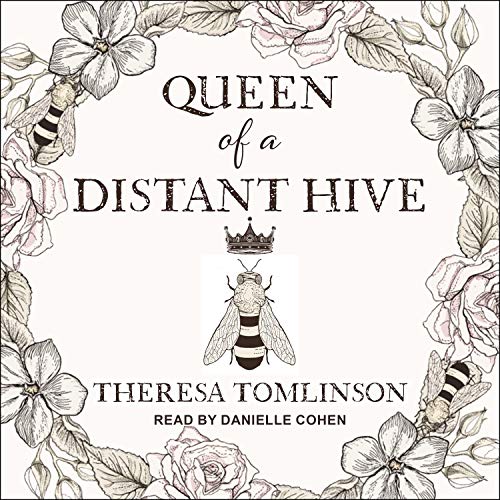 Queen of a Distant Hive
by
Theresa Tomlinson
Narrator:
Danielle Cohen
Series:
Fridgyth the Herb-Wife #2
Published by
Tantor Audio
on December 17, 2020
Genres:
Historical Fiction
,
Mystery
Length:
7 hours, 24 minutes
Format:
Audiobook
Source:
Publisher
Goodreads
Amazon
, 
Audible
, 
Audiobook





When an unwelcome visitor arrives at Hild's monastery, Fridgyth the herb-wife is forced to hold her tongue. The widow of the fierce Mercian king, who once brought death and destruction to the coastal community, is an uneasy sight for many. Although everyone is thankful for Northumbria's fragile peace, painful memories are still fresh and some can think of nothing but revenge.

A young tanner is found dead after a mysterious liaison - his brother is nowhere to be seen, and the boy that used to help him is terrified to speak. While the Abbess is busy trying to secure an on-going peace for the kingdom, Fridgyth starts her own investigation, though she has no idea what she is dealing with or the danger she is in…
In the Anglo-Saxon period of post-Roman Britain, before all the British tribes were united or a Battle of Hastings was fought, England was a chessboard of maneuvers to many rulers and even the fledgling beginnings of the Christian faith there.  It was darker times when plague and ambitious royalty could decimate towns and villages.  Shining a light back to this moment in history and providing a clever mystery at the same time, the latest herb-wife mystery as told by a gifted narrator had me fascinated by the descriptions, the real-life characters blended in with the engaging fictional ones, and of course, mystery itself.
Queen of a Distant Hive was the second book in the series and followed on the heels of the events in the first book.  While I was able to follow the plot of this book and enjoyed it just fine without listening to book one, I think if I did it over again, I'd have started from the beginning and recommend others do the same.
Fridgyth learns that the old Queen of Mercia is coming to Abbess Hild's abbey at Whitby and she is livid with fresh anger because the Mercian king was responsible for decimating her people and their goods so that those who survived the war starved to death and were vulnerable to the plague that came through.  Fridgyth lost her husband and children and her grief is still strong at the thought of this queen coming  and her having to tend her in her duties of the abbey herb-wife.
But before that event takes place, a gruesome murder is discovered in the village when the tanner's son is found dead in the tanning vat.  He is tied with rosemary and a pagan rune of revenge is left with him.  Fridgyth has not embraced the new Christian faith so she is familiar with the symbols and is chilled by the implications especially when they turn up elsewhere around the abbey after the Mercian queen, the Deirian King, and other nobles come together to cement the peace.
It will take all her cleverness and the help of the abbess, the reeve, an orphan boy, and others for Fridgyth to get to the truth in time to stop the final, awful act of revenge and discover the truth behind the avenger.
I was enthralled from begin to end.  I love ancient history and learning about those times and places through stories.  Especially stories where I can tell the author did her homework to provide an authentic historical world.  I knew little about English history of this time period and looked up several places and names that were mentioned to get further background.
Related to this, I was fascinated by Fridgyth's natural medicine knowledge and how she treated arthritis, wounds, and illness and knew how to isolate and protect from the plague as well as birth children.  Her duties put her right in the middle of things in the abbey and in the town.  She had earned respect which gave her rank that her birth did not and especially since she was the abbess' good friend.
While this was a mystery, it was also a weaving of several story threads.  There was political intrigue, family elements particularly among the royals, the life at the abbey, the waxing of one religion while another waned, personal relationships, and personal growth.  I found it all together one well-layered story I appreciated as a whole.
All in all, this was a wonderful find and I'm so glad I tried and loved this one.  I have a new to me series to pursue and I definitely want to go back for book one, A Swarming of Bees.  Those who enjoy a more primitive historical setting for their mysteries with a fabulous cast of characters should definitely give this a go.
Narration:
Danielle Cohen voiced this colorful and diverse cast of characters well.  She got the class differences, the old tricky names, and caught the spirit of the writing so I was carried right into the story with no trouble seeing it all in my mind.
Listen to a clip: HERE
Related Posts