The Sunday Post is a weekly meme hosted by Kimberly  @ Caffeinated Reviewer. It's a chance to share news~ A post to recap the past week, and showcase books and things we have received.

Stacking The Shelves is also a weekly meme hosted by  Tynga's Reviews and Marlene from Reading Reality.  It's all about sharing the books you are adding to your shelves, may it be physical or virtual. This means you can include books you buy in physical store or online, books you borrow from friends or the library, review books, gifts and of course ebooks!
---
Don't forget to look at my giveaways on the right sidebar.
Sunday, I woke up early but wasn't in pain and was able to go back to sleep for a bit.  The weather is gorgeous now.  The garden is planted.  My ex gave my daughter an Easter basket and she's eating candy. I did my Sunday visiting.  Then I went to link up the rest of my March reads to the Library Love and COYER.  Whoops, the Library Love is already closed.  I tried a restore from my iDrive from my old computer to my new one  I made Lulu a new batch of food with chicken thighs, brown rice, kale and the 4 veg mix.  We had a shrimp risotto from a NEW neighborhood chef.  After dinner we untangled the "fence" for the snow peas to climb.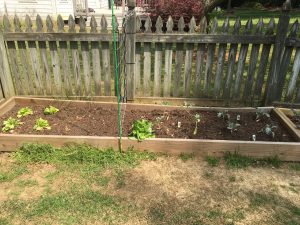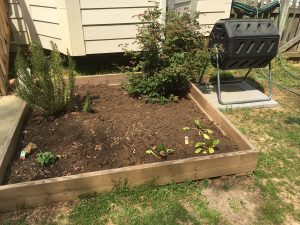 Monday, I woke up to another gorgeous day feeling pretty good. We spent several hours working on my daughter's computer.  I was finishing my audio for tomorrow's review. I also worked on setting up my new computer.  We decided to take her computer to a local place we trust to get a diagnosis and possibly even to install a new HD because we could get an SSD one instead of mechanical.  The warranty would be free repair and or replacement but 10 days minimum.  This way it will be done in 2-3 days.   I drove her there.  The ex did more weeding and planted the snow peas.
Tuesday, it's almost hot today.  The standing is not going as well as yesterday.  The repair guy called and it's definitely the hard drive. He offered a great deal on a 1TB SSD drive instead of the 512GB so we are getting it and it was done by early afternoon!   So a less than one day turnaround!   I had two authors thank me for the reviews which is always nice but unusual.  I felt a little better later in the day and managed to try using the ex's kneepads to do some weeding on my hands and knees.  I could get up by hanging on to the fence or house.  No pain doing that!  The ex was getting the composter settled in its new place and power washing the driveway.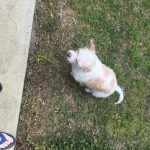 Wednesday, we had to get up and go early to get our second vaccine. I wasn't having the best morning but sitting in the car wasn't a problem.  Everything went well.  Afterward we came home. I tried to nap and got woken up by a phone call just as I fell asleep. GRrrr. I couldn't go back to sleep and felt tired and achy.  I read a bit and my daughter wanted me to fix dinner.  We got it together and I turned on the AC because it was almost 80F / 27C in the house.  When it cooled down, I felt normal.  No arm pain either.  I just read more.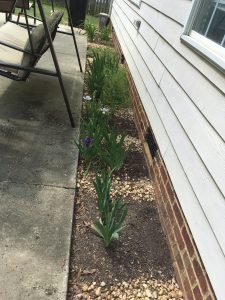 Thursday,  a better morning where I got laundry and dishes going.  I tried out the new freeze-dried human grade dog food we may use for traveling instead of kibble or homemade food.  I didn't get upstairs to the computer yesterday at all.  So today will be a rush to catchup on things before the chiro / massage appts.  The massage really helps.
Friday started out pretty well.  I did a few chores and got a Food Lion Instacart.  My daughter had a video visit with the GI specialist and will have a new medication.  The rose bush bloomed and my favorite SDB iris.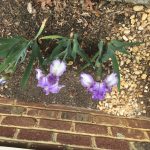 Saturday was a flurry of activity.  I talked to my brother for 2.5 hours about Mom and my niece's upcoming wedding in May.  Then I got to work on the final stuff to move to the new laptop.  I loaded 2 new audiobooks to iTunes on the new laptop and transferred them to my phone – which worked!  I also had to bring over my configuration file for Feedly.  There will be things to fix up like that but I'm switched over, even though I have the old computer sitting next to the new one if I get stuck or need to create an export file like for Feedly. I spent over 2 hours looking at classes options and professors for my daughter's Summer and Fall registration which is next week.   I tried out my new kneepads and finished weeding the iris bed along side the house with almost no pain.
---
How do I do it? Do you have UBB?
I use the Ultimate Book Blogger.  There were some changes this week which were mostly for the better.  Fields like Author, Narrator, Series, etc  only have to be entered on the book instead of the Post settings. BUT   I was using the Author to set up all my Guest posters.  I put them in the Post settings but not the author on the book and it worked perfectly.    The way many people do it is create them as users, but that is a lot more work, has to have email verification,  and doesn't have as many nice social media links as the Author bio boxes do.
But now my guest posters show up as authors of the book.  I am wondering if anyone knows about another author bio box plug-in which creates its own database with social media tags in the box, instead of using the users set up for the blog.
If you have any tips for me, please comment.
---

Stacking the Shelves is hosted by Tynga's Reviews and Reading Reality.  These are the exciting ARCs I received this week (If you click on the cover, it will take you to the Goodreads entry):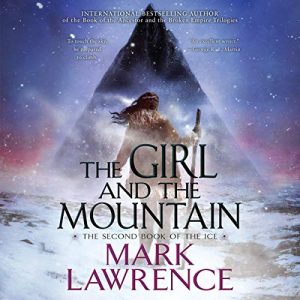 Thanks so much to Del Rey/Ballantine / Random House,   CaffeinatedPR,   and PRH audio.
(If you click on the cover, it will take you to the Goodreads entry)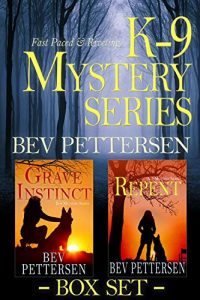 I couldn't resist this 99¢ deal.

Now the really scary one. This is all the Kindle and Audible freebies I grabbed this past week. You can see why I need to do Thrifty Thursday to be sure I read a few at least one each month.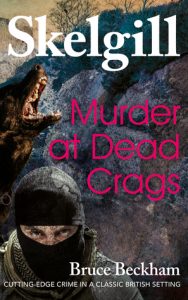 I really meant to cut back on freebies BUT  they are free so I guess that won't be happening.

I'm not including things like reviews posted or upcoming as they are always in the right sidebar. And, my challenge status is also there.
Anne
Latest posts by Anne - Books of My Heart
(see all)