Review copy was received from Publisher. This does not affect my opinion of the book or the content of my review.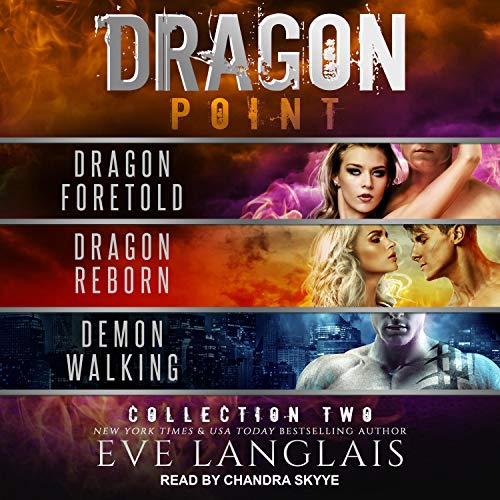 Dragon Point Collection Two
by
Eve Langlais
Narrator:
Chandra Skyye
Published by
Tantor Audio
on January 26, 2021
Genres:
Fantasy
Length:
20 hours, 13 minutes
Format:
Audiobook
Source:
Publisher
Goodreads
Audible
, 
Libro.fm




The humans don't know it yet, but dragons live among them. Actually, more like above them for they are the superior species, even if they must hide. Humanity is not ready for their greatness, but they hunger for the day they can spread their wings and terrorize the countryside. Because it's time they took back what was once theirs.

Includes:

Dragon Foretold Can she stop the dragon the world has been waiting for?

Dragon Reborn Can he find redemption for his crimes?

Demon Walking Now that he's escaped his prison, the dragons will pay... (
Dragon Point Collection Two continues the Dragon Point series with the next three books (#4-6),  finishing out one series arc and opening others, with the focus on dragons though broadening to include a few other secrets emerging into the light. When I want to simply relax and be entertained, this series delivers.
Dragon Foretold
Sue Ellen Mercer finally gets her story and it's full of stunning twists and turns, as she learns just how wrong she got the people around her, until she reunites with a secret from her past, who will change everything for the whole world. Sue Ellen wants nothing more than to be free and make her own choices after being a doormat, but there is one being she can't resist.
This is exciting and has some good twists, but sadly I struggled with the heroine. First of all, she hits the hero a few times in anger. She runs off to her uncle because she wants nice things and ditches her family, then she hangs out with someone who treats her badly and then the one who was good to her got her queen B routine and very little thanks. I do get that part of that is meant to be humorous, but unfortunately it missed with me. Still, this was not a wash out because a certain secret dragon along with the Silver Dragon clan were a smash as usual. I need to know what is up with our cloaked figure.
Dragon Reborn
Nothing like a good redemption of a villain story, right? Samael greedily tried to steel his brother, Ramiel's throne, and lost. Now he's captured by the mysterious entity threatening dragon kind. Samiel's disappearance is a relief to most, but Deka who finds the thwarted male golden dragon exactly right for her. She's audacious and maybe certifiable, but she will hunt down her male. Finding him proves the easy part, but if the powerful being imprisoning him thinks Deka's going to go into a dirty cell submissively, think again.
I had such a good time with this one. Both Samael and Deka are over the top arrogant and so dragon. They have good banter no matter what the situation and their chemistry is off the charts hot. But, there is also the mystery surrounding Samael's captor and crew as well as the end-of-the-world excitement. I think I found my new favorite in the series.
Demon Walking
In the last book when Samael and Deka escaped the other dimension, they unwittingly didn't come back alone. A prisoner escaped and now he is set on revenge against the race that was responsible for wiping out his whole race and forcing him to watch his parents destroyed. Luc hates dragons and plans to annihilate them. His plans become a tad sketchy when flamboyant, joyful Elsie crashes into his life. All her life, Elsie has been the oddball dragon in her family even when crazy is pretty common. She's an optimist on meds and her hoard is made up of happy memories. She also carries a special gift that is deadly to her, but has led her to a demon at just the right point.
Luc and his naive, but determined need for revenge was just the hero who could handle buxom, sweet Elsie who sees only the good, even when he point blank states he plans to kill her and her race and take over the world. They were fun and flirty- laugh out loud often, but also really got each other and saw the person behind the front they both put on. There is spice and good suspense that builds to an exciting climax. I have a new favorite couple and book in the series.
All in all, this second collection of Dragon Point series books was entertaining and I enjoyed spending time in the world. I would definitely recommend these to paranormal romance fans who like light and spicy.
Narration:
Chandra Skye continues to narrate this series and I enjoyed her voices for all the characters and found even her sound effects that are part of the storyline whimsical and in keeping with the tone of the stories. She catches the wry humor and the laugh out loud moments mixed with seductive and action times so well.
Listen to a clip:   HERE
Rating Breakdown
Narration (Audio)
Overall:
Related Posts