Review copy was received from NetGalley. This does not affect my opinion of the book or the content of my review.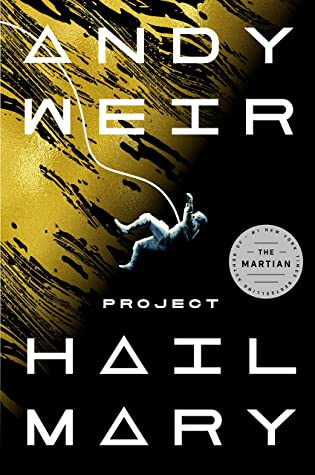 Project Hail Mary
by
Andy Weir
Published by
Ballantine
on May 4, 2021
Genres:
Science Fiction Fantasy
,
Space Opera
Pages:
496
Format:
eARC
Source:
NetGalley
Goodreads
Amazon
, 
Audible
, 
Barnes & Noble
, 
Apple






Ryland Grace is the sole survivor on a desperate, last-chance mission--and if he fails, humanity and the earth itself will perish.

Except that right now, he doesn't know that. He can't even remember his own name, let alone the nature of his assignment or how to complete it.

All he knows is that he's been asleep for a very, very long time. And he's just been awakened to find himself millions of miles from home, with nothing but two corpses for company.

His crewmates dead, his memories fuzzily returning, he realizes that an impossible task now confronts him. Alone on this tiny ship that's been cobbled together by every government and space agency on the planet and hurled into the depths of space, it's up to him to conquer an extinction-level threat to our species.

And thanks to an unexpected ally, he just might have a chance.

Part scientific mystery, part dazzling interstellar journey, Project Hail Mary is a tale of discovery, speculation, and survival to rival The Martian--while taking us to places it never dreamed of going
I loved The Martian, in fact it made my top 5 the year it was published, and Andy Weir has captured that same magic for me again in Project Hail Mary.
Ryland Grace wakes up in a room with no recollection of how he got there and what he is supposed to be doing.  All he knows is the computer isn't very smart and keeps knocking him out when he answers a question wrong.  He has got to figure out where he is, what he is supposed to be doing, why things feel off and why there are two other people in beds that have been dead awhile.  He is a lone man figuring out what he needs to do to survive and to do that he will need to science the crap out of stuff.
The world is doomed, but at least this time it isn't due humans.  We can blame some space algae feeding on our sun for this calamity.  In a long shot to save humanity, all of the earths resources are combined to put the best people through a space voyage to figure out why another system with the same space algae isn't dying like ours and a few others are.  Grace has boldly gone where no man has gone before. What he finds there is so unexpected, the scientist in him just might have squeeded like a little girl.
Grace thought he was going to have to save the world all alone.  He thought he was going to have to endure all of the hardships by himself.  He did not expect another ship to be there waiting trying to figure out the same mystery.  Alien life has been found and it is not like any I've seen before.  I applaud Weir's direction and imagination here in the best intergalactic bromance since Enemy Mine (I might be showing my age with that reference) or more widely known Han and Chewy.
This is a fantastic story told in both Present and Past as Grace tries to figure out how he even ended up on this suicide mission.  Along with his new bff, they will try to figure out how to save two solar systems and possibly make it back home.  There are plenty of obstacles stacked against them and they will need to solve some huge problems and do a few very dangerous things.
I loved the format of this story.  It really added to the suspense to try and see what happened in the past to put a junior high teacher on a spaceship towards certain death.  Stratt, the woman who put everything in play and made sure the mission happened was fantastic and exactly what humanity needed to cut through all the red tape and keep everyone on target.  She was an administrative super hero.  Giving Grace an alien bff to talk was fantastic as well.  Rocky is unexpected and perfectly named really.  He adds both someone for Grace to interact with and an interesting look at a different possible evolutionary track.
If you enjoyed the Martian, then Project Hail Mary should scratch your Sci-Fi reading itch.  The blend of survival story and science as Grace MacGyvers it all up is a really fun read for someone like me.  I personally loved this book and can see it making my top 10 this year, also I'd love to see this in a limit season or movie format so I hope that is a possibility.
"Forty-six years?! i gasp, "Earth years?!"

"I am here forty-six Earth years yes."

He's been stuck in this system for longer than I've been alive.

"How…how long do Eridians live?"

He wiggled a claw. "Average is six hundred eighty-nine years."

"Earth Years?"

"Yes," he says a little sharply, "Always Earth units, You are bad at math, so always Earth units."
Rating Breakdown
Plot
Writing
Characters
Dialogue
Overall:
Related Posts