Review copy was received from Publisher. This does not affect my opinion of the book or the content of my review.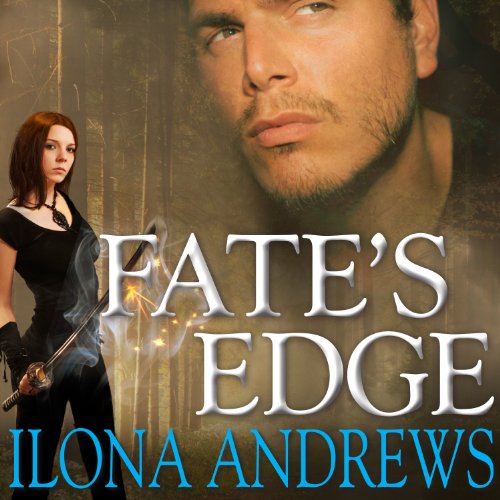 Fate's Edge
by
Ilona Andrews
Narrator:
Renée Raudman
Series:
Edge #3
Published by
Tantor Audio
on March 9, 2021
Genres:
Urban Fantasy
Length:
14 hours, 18 minutes
Format:
Audiobook
Source:
Publisher
Goodreads
Amazon
, 
Audible
, 
Audiobook
, 
Barnes & Noble
, 
Apple






Audrey Callahan left behind her life in the Edge, and she's determined to stay on the straight and narrow. But when her brother gets into hot water, the former thief takes on one last heist and finds herself matching wits with a jack of all trades...

Kaldar Mar-a gambler, lawyer, thief, and spy-expects his latest assignment tracking down a stolen item to be a piece of cake, until Audrey shows up. But when the item falls into the hands of a lethal criminal, Kaldar realizes that in order to finish the job, he's going to need Audrey's help...
It's great reading this The Edge series, all together but I didn't remember much from reading the paperbacks as that read was almost 10 years ago.  I'm happy to have the chance to read them all on audio.
I really remembered nothing about Fate's Edge, or Kalder or Audrey from the previous read.  I even read my short Goodreads review from my earlier read and still didn't really remember.  It seems I didn't like Audrey though.
Well,  this time, I loved Audrey.  I hated her family. She really was strong and doing the right things with no support.  She didn't always make the best choices but she did her best with the situations.  She grew up learning criminal ways until she was old enough to make her own way.
Kaldar was another guy I didn't trust.  He was introduced in the previous book, Bayou Moon, as a bit of a criminal and trickster.  In that style, he and Audrey could certainly understand each other, even if they didn't trust each other. Kaldar had his mission, which he probably would have done without the support of the Mirror, but it was easier to work for them.
I just noticed reading the series all together in a month, the stories aren't exactly enemies to lovers but they are competition to lovers or don't trust at all to lovers in each case.   It's true of most of this authors' work.  It does allow for a slower build journey and perhaps a more realistic couple in the end.  It certainly keeps my emotions high from start to finish.
An added plus is the inclusion of George and Jack on this "mission". They are so dear and still young, but their talents are incredible.  There is no lack of bravery or intelligence in this pair.
I was skeptical of Kaldar's devotion to Audrey but they each gave their all to save the other.  Their skills were complementary even in the very dangerous roles they took.  Both Kaldar and Audrey have known great loss, so they understood that too.  At first, I just wanted to roll my eyes at some things Kaldar said.
There was a bit of a loose end in the status of Audrey's parents.  Hopefully they never darken her door again. We get a nice reunion with William & Cerise, and Rose & Declan which I enjoyed so much.  The humor is completely on point.
"That's alright. Just stay close to us.  If we get in trouble, we'll kill everything."
Narration:
Renee Raudman continues to provide engaging narration for the series.  Characters from all the books show up here with their individual voices.  I really enjoyed her performance.  I listened at 1.5x speed.
Listen to a clip:  HERE
Rating Breakdown
Plot
Writing
Characters
Narration (Audio)
Overall:
Latest posts by Anne - Books of My Heart
(see all)
Reading this book contributed to these challenges:
Related Posts